Mike Pompeo Says Iran Must Listen to U.S. 'If They Want Their People to Eat'
U.S. Secretary of State Mike Pompeo has said that it is in Iran's best interests to toe the line and listen to Washington or else its people will pay the price.
Iran has vowed to fight back against Washington after the Trump administration reinstated on November 5 sanctions on Iran that were removed under the 2015 nuclear deal.
Trump wants Iran to accept tougher restrictions on its nuclear activity, end its ballistic missile program and stop support for proxies in Middle East conflicts ranging from Yemen to Syria.
However, in an interview with BBC Persian, Pompeo said that since the re-introduction of sanctions, there is no sign yet that Iranian leaders will return to the table.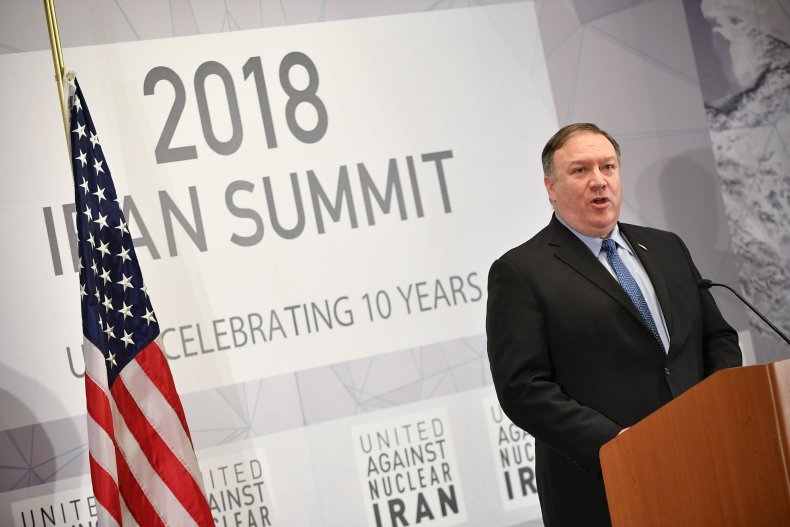 He reiterated Washington's intention with the sanctions on Iran was "to change their behavior," curb its support of Hezbollah and "stop Iran's destabilizing influence in the region." He denied that the Iranian people were being punished.
"The leadership has to make a decision that they want their people to eat. They have to make a decision that they want to use their wealth to import medicine and not use their wealth to fund [Iran's Quds Force commander] Qasem Soleimani's travels around the Middle East, with causing death and destruction."
"That's the Iranian government's choice on how to use Iranian wealth. If they choose to squander, if the Iranian leadership chooses to spoil it, if they choose to use it in a way that doesn't benefit the Iranian people. I'm very confident the Iranian people will take a response that tries to fix that themselves as well," Pompeo said.
A U.S. State Department spokesperson told Newsweek that the Secretary had emphasized in the BBC interview that none of the sanctions imposed prevented humanitarian assistance and that the U.S. has never sanctioned humanitarian trade, including food, medicine, medical devices, and agricultural commodities.
The State Department pointed to Pompeo's other comments that "not only are the transactions themselves exempted- that is, the transactions in medicine, for example- but the financial transactions connected to that activity also are authorized. There's nothing that prevents this from happening in the sanctions that have been reimposed."
The other signatories to the nuclear deal, including Germany, France, and the U.K., condemned the latest move by the U.S. Meanwhile, the EU is looking at ways to pay for Iranian oil and other exports without using U.S. dollars.
Iran should be able to cope with the sanctions due to rising crude prices, experts have said. "Iran's situation is better than pre-2016 because of high oil prices and the fact that the U.S. is isolated this time," a European diplomat told Reuters.
Fitch Solutions analyst Andrine Skjelland told Reuters that the sanctions will not affect Iran's foreign exchange earnings. "This will enable Tehran to continue subsidizing imports of selected basic goods, keeping the costs of these down and thus limiting inflation to some extent," Skjelland said.
This story has been updated to include a statement from to Newsweek by the U.S. State Department.