Russia and Turkey Promise to Defy Donald Trump's Iran Sanctions
Turkey and Russia have both blasted President Donald Trump's latest round of sanctions against Iran, promising to find ways to defy the punitive financial measures.
"We will not obey such sanctions," Turkish President Recep Tayyip Erdogan said on Tuesday, adding that his government saw Washington's move as "violating the global balance," Russian news agency Tass reported. The Turkish leader underscored that the sanctions "contradict the norms of international law" and he did not wish "to live in an imperialistic world."
Voicing similar sentiments, Russian Foreign Minister Sergey Lavrov pledged on Tuesday that Moscow would find ways to circumvent the sanctions and continue financial ties with Tehran. The top Russian diplomat also called Washington's sanctions "unacceptable methods," The Moscow Times reported.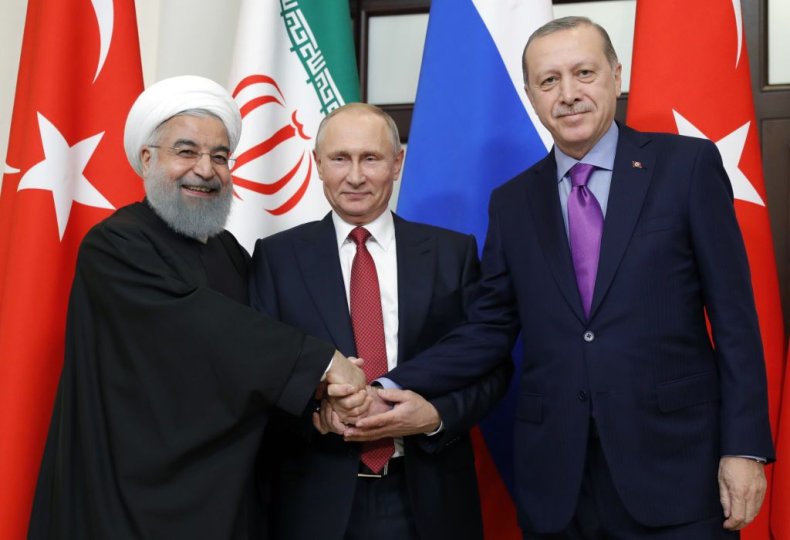 "Mechanisms are being currently hammered out within the framework of the joint group of participants in the Joint Comprehensive Plan of Action [for the Iranian nuclear program], which will make it possible to continue performing provisions of this document, primarily with respect to economic ties with Iran, and without U.S. participation," Lavrov explained, according to Tass.
"Experts are vigorously dealing with this matter, and they have quite a stable understanding that this is possible and that such measures will be found," he said.
In May, Trump removed the U.S. from the Joint Comprehensive Plan of Action, commonly known as the Iran Nuclear Deal, despite strong criticism from European signatories, as well as Russia and China. Washington then moved in August to implement the first round of punitive financial measures against Iran.
Although Trump has warned allies and foes against supporting Tehran, European leaders, along with China and Russia, have worked to keep the agreement alive without the U.S.
Focusing on energy and banking, the second round of U.S. sanctions against Iran had targeted more than 700 entities. The majority of these companies and subsidiaries were initially hit by sanctions from former President Barack Obama, before the signing of the international treaty in 2015.
With the official announcement of the latest punitive financial measures, the Trump administration also revealed that eight nations would be granted a temporary pass from new oil sanctions. China, Greece, India, Italy, Japan, South Korea, Taiwan and Turkey would all be granted six-month exemptions, according to Secretary of State Mike Pompeo. Although Turkey was included, its president's most recent remarks suggest the country plans to avoid obeying the sanctions even after the temporary stay has ended.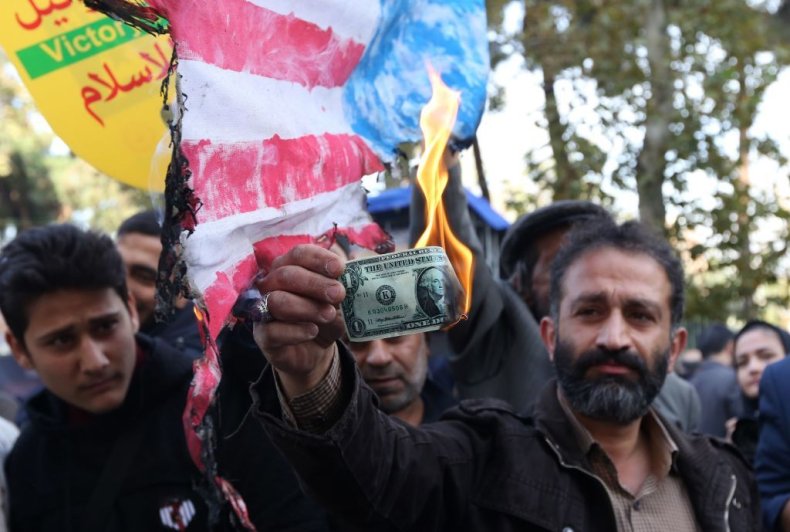 Meanwhile, Iranian leaders have publicly scoffed at Washington's efforts, saying the U.S., not Iran, has become isolated.
On Monday, Iranian Foreign Minister Javad Zarif tweeted that "U.S. bullying is backfiring." Arguing that the nuclear agreement is "important," the minister said that "the world can't allow Trump & Co. to destroy global order." He also added: "The US—& not Iran—is isolated."
The Islamic Republic's President Hassan Rouhani also lashed out at the U.S. on Monday.
"We are in the war situation," he said. "We are confronting a bullying enemy. We have to stand to win."