U.S. Oil Sanctions on Iran Are Back and These Eight Countries Get a Temporary Pass
President Donald Trump's administration announced that eight countries would receive a temporary pass from new U.S. oil sanctions against Iran that came into effect Monday.
After the White House initially suggested it would take a hard line against all countries looking to do business with revolutionary Shiite Muslim Iran's energy sector following U.S.'s withdrawal of a multilateral nuclear deal and its decision to reimpose sanctions, Secretary of State Mike Pompeo announced November 5 that eight nations—China, Greece, India, Italy, Japan, South Korea, Taiwan and Turkey—would be granted six-month exemptions.
The latest sanctions prohibit trading with Iran's lucrative oil and gas sector, the profits of which, President Trump said, were devoted toward supporting militant groups and ballistic missile technology.
"Our objective is to starve the Iranian regime of the funds it uses to fund violent activity throughout the Middle East and around the world. Our ultimate goal is to encourage them to abandon their revolutionary course," Pompeo told reporters.
Washington's top diplomat justified the move by claiming the eight governments were working with the U.S. to cut down on Iranian oil imports, something he hoped would convince Tehran to make a "180-degree turn from its outlaw course of action" and "act like a normal country." Iranian officials, however, remained defiant, noting that the U.S. had failed to reduce their nation's oil exports to zero by Monday's date and gain global backing for its actions.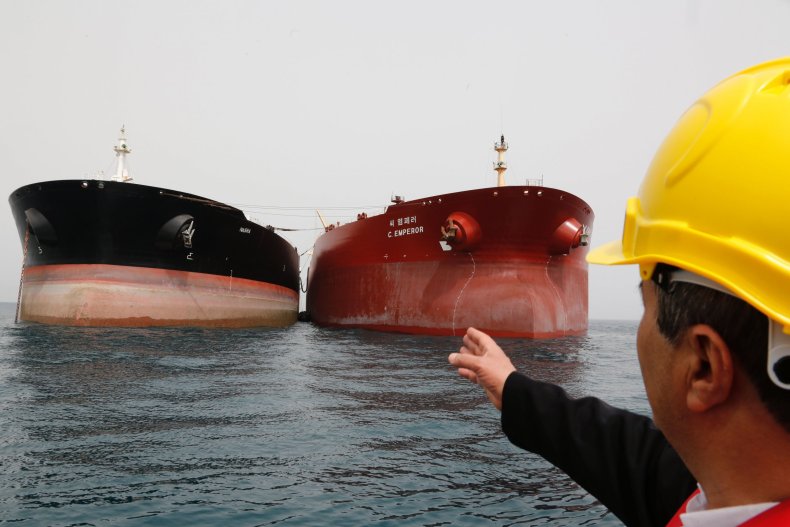 Iranian Foreign Minister Mohammed Javad Zarif told a parliamentary session that "the U.S. was forced to withdraw a claim that it can cut Iran's oil exports to zero," and that the exemptions signaled that this goal "has been postponed for six months," according to the semiofficial Tasnim News Agency.
Oil industry analysts quoted November 2 by CNN estimated that Iran was still exporting up to 1.5 million barrels in October, defying expectations that those figures would fall ahead of the November 5 deadline. The article cited the International Atomic Energy Agency—which has repeatedly certified Iran's compliance with the 2015 nuclear agreement—as saying the latest restrictions were likely to be "more substantial than" pre-deal sanctions in 2012, while Facts Global Energy estimated that Iranian oil exports would stabilize at around 800,000 barrels per day in the first half of 2019.
Zarif also took to social media to note that the U.S. had failed to gain widespread support for its exit from the Iran deal, which China, France, Germany, Russia and the United Kingdom also signed and still support. In a tweet using an acronym for the agreement's official name—the Joint Comprehensive Plan of Action—Zarif wrote: "Today, US defied UN top court & Security Council by reimposing sanctions on Iran that target ordinary people. But US bullying is backfiring, not just because JCPOA is important, but because the world can't allow Trump & Co. to destroy global order. The US—& not Iran—is isolated."
Despite Beijing being granted interim sanctions relief, Chinese Foreign Ministry spokesperson Hua Chunying told reporters Monday that "China is always opposed to unilateral sanctions and long-arm jurisdiction." She said "the Chinese side will continue to make unremitting efforts to uphold the JCPOA and firmly safeguard its own legal and legitimate interests" and that "the normal cooperation between China and Iran within the framework of international law is legal and legitimate, which should be respected and safeguarded."
China is Iran's largest oil export partner, at around 650,000 barrels per day, followed by India, at about 550,000, and South Korea, at roughly 250,000. Greece, Italy and Japan were also among the biggest consumers of Iranian oil. Experts said that the effectiveness of U.S. sanctions largely depended on international willingness to comply, and warned that the mounting frustration over Washington's domination of the global financial system could compel countries to seek new solutions.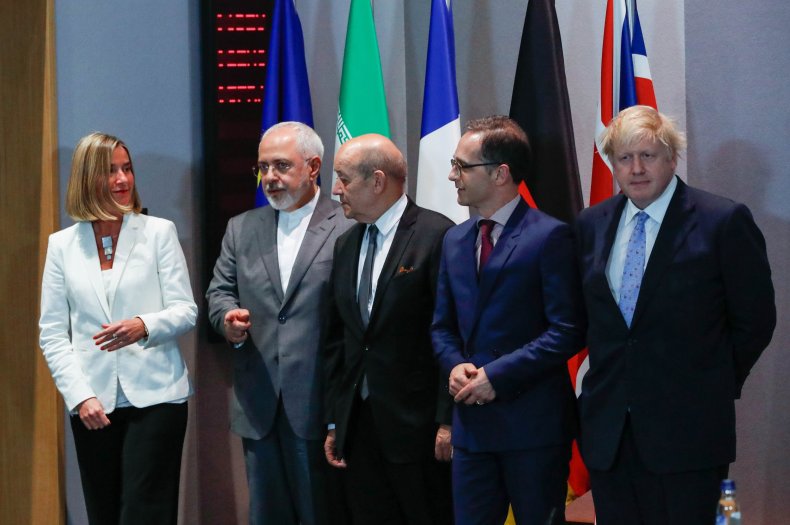 Reports suggested that India may defy U.S. sanctions to keep purchasing Iranian oil, as it did in buying restricted Russian weapons last month. Turkey has also been a vocal critic of Trump's sanctions on Iran. Facing U.S. sanctions against his own country at the time. Turkish President Recep Tayyip Erdoğan told a New York business conference in September that "none of us can remain silent to the arbitrary cancellation of commercial agreements and the use of economic sanctions as weapons."
In addition to China, European allies and Russia criticized the Trump administration's approach to the Iran deal. The five fellow nuclear accord signatories vowed to develop an alternative payment system to continue doing business independent of U.S. dollars and financial institutions.
Trump said in an August statement that "individuals or entities that fail to wind down activities with Iran risk severe consequences." The following month, John Bolton, his national security adviser, pledged that the country's "enforcement of our sanctions is aggressive and unwavering" during an annual conference that gathered critics of the Iranian government, including officials from Saudi Arabia and Israel.