India Will Buy Weapons from Russia and Oil from Iran, Ignoring U.S. Warnings
India was set to enter lucrative bids for Russian weapons and Iranian oil, despite warnings and potential sanctions from Washington.
Indian Prime Minister Narendra Modi and Russian President Vladimir Putin concluded a multibillion-dollar deal Friday for Moscow to provide New Delhi with the advanced S-400 surface-to-air missile system. The agreement was among a number of measures related to defense, economy and energy forged between the two leaders during Putin's two-day visit to India, whose head of state praised the country's "special and privileged strategic partnership" with Russia.
These moves come at a time when the U.S. was trying to crack down on Russia's growing international influence, accusing it of interfering in the 2016 presidential elections and of pursuing destabilizing activities across the globe. Washington has moved to enforce sanctions on those buying Russian arms and, while India has sought a waiver for its purchase of the S-400, the Trump administration has displayed an unwillingness to make exceptions to its economic restrictions.
Friday's joint statement by Modi and Putin also took things a step further by noting that "that military and military-technical cooperation between the two countries is an important element of their strategic partnership," signaling further cooperation.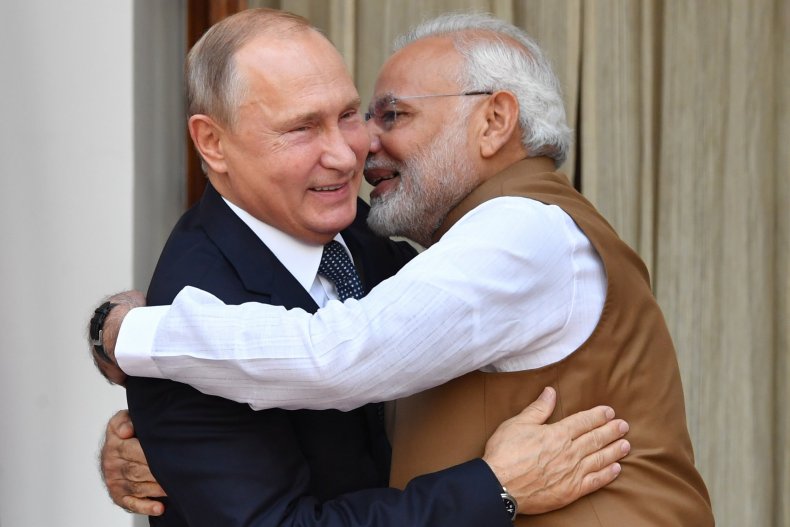 The Countering America's Adversaries Through Sanctions Act, introduced and signed into law last summer, established a list of banned Russian individuals and entities, including those related to the defense and intelligence sectors. The U.S. enforced the act for the first time last month when it targeted the Chinese military's Equipment Development Department for acquiring Russian Sukhoi Su-35 jets and S-400 systems, angering China and sending a message to other prospective S-400 customers such as India, Qatar and Saudi Arabia.
On Friday, however, Modi said that India and Russia, which maintained strong ties throughout the Cold War, "are unanimous in strengthening multi-polarity and multilateralism in the rapidly changing world." In yet another pushback against Washington's attempts to rally the international community, Modi and Putin "stressed the importance of the full and effective implementation of the Joint Comprehensive Plan of Action," the official name for the Iran nuclear deal abandoned by Trump in May.
The U.S. exit has been met with opposition from China and Russia, as well as traditional allies France, Germany and the U.K., all of which signed the accord and continue to support it. While the International Atomic Energy Agency has affirmed Iran was sufficiently curbing its nuclear activities, Trump has accused the revolutionary Shiite Muslim power of propping up powerful militias across the Middle East and developing threatening ballistic missile technology. As a result, those doing business with Iran would be sanctioned and the administration has warned allies specifically.
National security adviser John Bolton told reporters at the White House on Thursday that, in discussions with countries like Iraq and India, the U.S. has "gone to really extra lengths to try and find substitute sellers of oil so that there would be alternative supplies at market rates," according to Indian newspaper The Economic Times. India's NDTV cited traders and shipping intelligence firm Kpler as indicating that India's imports of Iranian crude shot up nearly five times throughout August as imports from the U.S. fell 75 percent, ahead of the sanctions deadline on November 4.
Nevertheless, India would reportedly continue buying from Iran once this date passes. The Press Trust of India cited top industry sources Friday as saying the country was planning import of about 1.25 million tons of crude oil and would use the rupee instead of the dollar as the currency for trades. Iranian Foreign Minister Mohammad Javad Zarif also said last month that he was assured India would continue their energy imports, according to Reuters.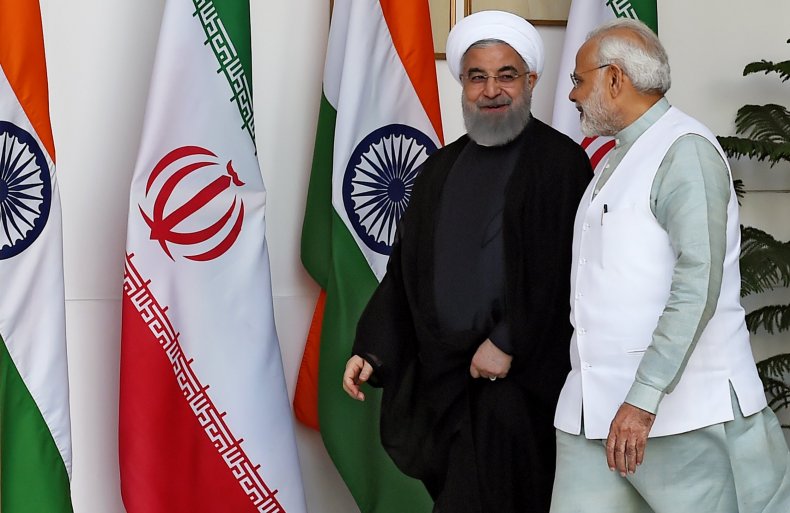 The U.S. has struggled to gather international support against the Iran deal, which Tehran has continued to abide by in the wake of Trump's pullout. The EU announced last month that China, France, Germany, Russia and the U.K. would develop an alternative payment system to skirt the U.S. and continue doing business with Iran. The International Court of Justice ruled Thursday that the U.S. must lift some of its sanctions targeting humanitarian trade, food, medicine and civil aviation in Iran, prompting the U.S. to officially discard a 1955 friendship treaty upon which the claim was based.
India and the U.S. have traditionally maintained strong ties and signed their own defense deal last month. India has also worked with both Iran and Russia in an attempt to improve the security situation in Afghanistan, where the Taliban Islamist militant group has challenged a 17-year, U.S.-led war effort. Last month, India and Russia joined Iran's first-ever Regional Security Dialogue, which also included Afghanistan and China.