'No Difference' Between Donald Trump and Iraq's Saddam Hussein, Iranian President Says As New U.S. Sanctions Take Effect
Iran's President Hassan Rouhani compared U.S. President Donald Trump to Iraq's former strongman leader Saddam Hussein, and said there was "no difference" in the threat as new U.S. sanctions took effect on Monday.
"Yesterday, Saddam was in front us, today Trump is [in] front of us. There is no difference. We must resist and win," the Iranian leader said, The Associated Press reported.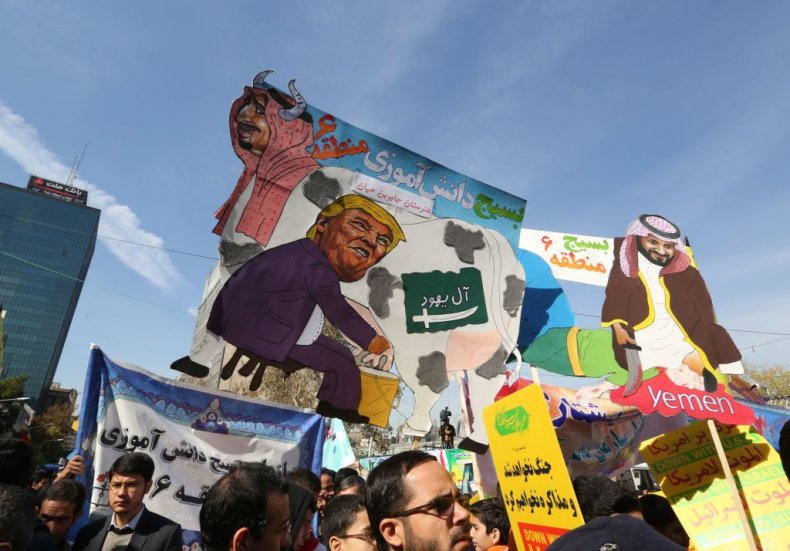 Hussein was president of Iraq from 1979 until 2003, when the U.S. invaded his county and overthrew his government under the administration of former President George W. Bush. The U.S. had previously backed Hussein and his government when it invaded and took control of part of Iran in 1980, leading to a war between the two Persian Gulf nations.
Marking the reimposition of Washington's sanctions on Monday, Tehran carried out air defense drills in a showing of military strength, with Rouhani classifying relations between the U.S. and his country as a "war situation." He warned that his people must "win" against a "bullying enemy," and vowed to continue selling oil in defiance of the punitive financial measures.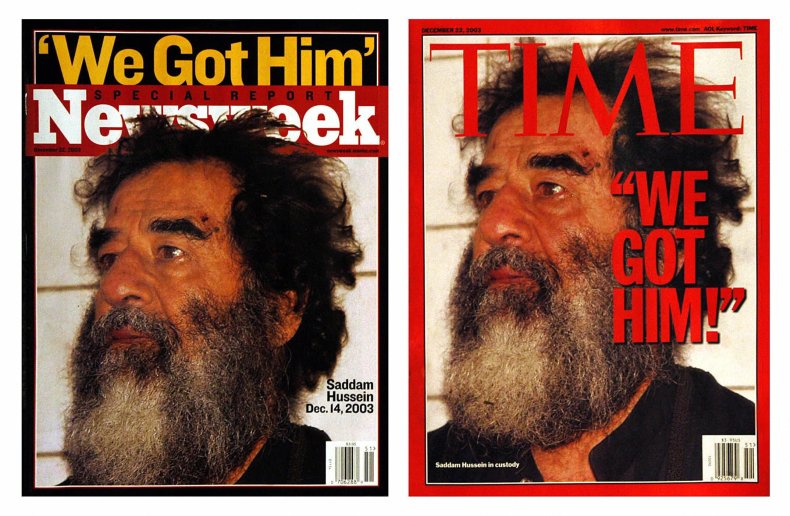 "Today, Iran is able to sell its oil and it will sell," the Iranian leader promised. He went on to say that "We are in the war situation... We are in the economic war situation. We are confronting a bullying enemy. We have to stand to win."
Trump withdrew the U.S. from the Joint Comprehensive Plan of Action (JCPOA), commonly known as the Iran nuclear deal, in May. The 2015 agreement was made under his predecessor, former President Barack Obama. European signatories of the deal, as well China and Russia, criticized the Trump administration's decision and have worked to salvage the international treaty as the United Nations International Atomic Energy Agency (IAEA) has consistently found that Iran remains in full compliance with the pact. Washington moved to reimplement the first round of sanctions in August.
Iran's Foreign Minister Javad Zarif also spoke strongly against the U.S. Monday, referring to Washington's actions as "bullying" and suggesting that Trump is attempting to "destroy global order."
"Today, U.S. defied U.N. top court & Security Council by reimposing sanctions on Iran that target ordinary people," Zarif wrote on Twitter. "But U.S. bullying is backfiring, not just because JCPOA is important, but because the world can't allow Trump & Co. to destroy global order. The US—& not Iran—is isolated," he added, sharing images of international media headlines showing that other nations stood against U.S. efforts.
The new wave of sanctions specifically targets Iran's energy, shipping and financial sectors. More than 700 companies will be impacted in total, most of which were initially targeted under Obama-era sanctions and saw the punitive financial measures removed with the JCPOA, according to CBS News. Some 300 are newly blacklisted companies.