Donald Trump's Iran Sanctions Target Sunken Ship and Bank Closed for Six Years, Foreign Minister Says
Sanctions against Iran imposed by the Trump administration on Monday have targeted a sunken ship as well as a bank that was shuttered six years ago, according to the Islamic Republic's Foreign Minister Javad Zarif.
Accusing Washington of carrying out a "desperate PSYOP [psychological operation]," the minister said the list of sanctioned Iranian entities had been padded with at least two defunct targets. "The U.S. designated a bank that was closed 6 years ago, and a ship that sank last year in a widely televised saga," Zarif wrote on Twitter.
The minister did not specify which financial institution or ship he was referring to. More than 50 Iranian banks and their foreign and domestic subsidiaries were targeted by Monday's sanctions, according to an official statement by the U.S. Treasury Department. An Iranian oil tanker reportedly sank in the East China Sea in January, whereas an Iranian cargo ship sank in the Arabian Gulf en route to Qatar last October.
"We're not going to respond to every public comment made by Iran's leaders," a State Department spokesperson told Newsweek when asked about the accusation.
The Treasury Department did not immediately respond to Newsweek 's request for comment.
Focusing on energy and banking, the second round of U.S. sanctions against Iran have targeted more than 700 entities. The majority of these companies and subsidiaries were initially hit by sanctions from former President Barack Obama, prior to the signing of the Joint Comprehensive Plan of Action (JCPOA), commonly known as the Iran Nuclear Deal, in 2015.
Trump removed the U.S. from the international agreement in May, despite strong criticism from European signatories, as well as Russia and China. Washington then moved in August to implement the first round of punitive financial measures against Iran. Although Trump has warned allies against supporting Tehran, European leaders, along with China and Russia, have worked to keep the agreement alive without the U.S.
Earlier on Monday, Zarif tweeted that "U.S. bullying is backfiring." Arguing that the nuclear agreement is "important," the minister said that "the world can't allow Trump & Co. to destroy global order." He also added: "The US—& not Iran—is isolated."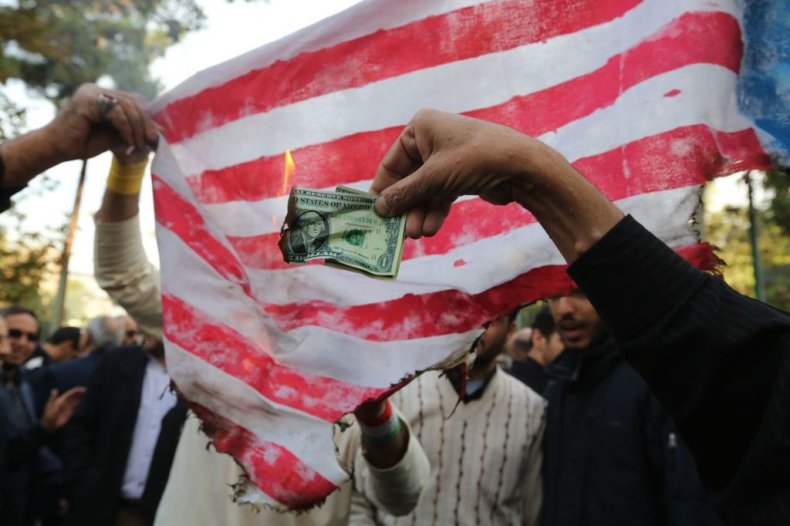 Iran's President Hassan Rouhani also referred to U.S. sanctions as "bullying."
"We are in the war situation," he said. "We are in the economic war situation. We are confronting a bullying enemy. We have to stand to win."
Despite the strong statements from Iran's leaders, the country has begun to feel the impact of economic sanctions. Large protests have rocked major cities throughout the country in recent months, while the International Monetary Fund (IMF) recently predicted the Middle Eastern nation would be forced into an economic recession.
The IMF's October report forecast that the economy would contract by 1.5 percent in 2018, with the trend continuing and increasing in 2019, shrinking by 3.5 percent. In May, before President Donald Trump withdrew from the JCPOA, the global financial organization predicted 4 percent growth for this year and next.