President Donald Trump's threats to target Iranian cultural sites has drawn substantial criticism within the U.S., and now America's closest ally, the United Kingdom, has warned the White House against carrying out such attacks.
"There are international conventions in place that prevent the destruction of cultural heritage," a spokesperson for British Prime Minister Boris Johnson, whom Trump has repeatedly praised and called "a friend," told reporters on Monday.
"Let this serve as a WARNING that if Iran strikes any Americans, or American assets, we have targeted 52 Iranian sites," Trump tweeted on Saturday. Continuing, the president warned that "some" of the designated targets were "important to Iran & the Iranian culture, and those targets, and Iran itself, WILL BE HIT VERY FAST AND VERY HARD."
After significant criticism domestically, Trump doubled down on the threat on Sunday evening.
"They're allowed to kill our people. They're allowed to torture and maim our people. They're allowed to use roadside bombs and blow up our people. And we're not allowed to touch their cultural sites?" he asked in comments to reporters. "It doesn't work that way."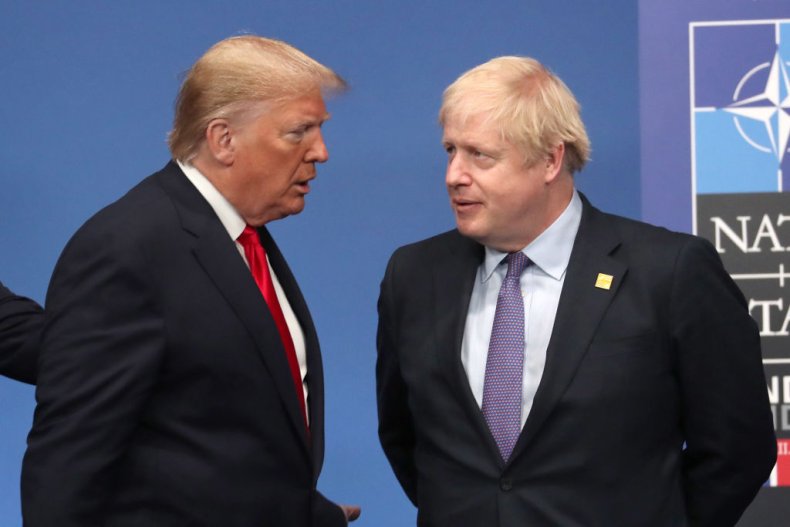 While some Democratic lawmakers in the U.S. argued that an attack on a cultural site would constitute a "war crime" under international law, Johnson's spokesperson declined to make the same point. The spokesperson also suggested the British government supported the U.S. military strike ordered by Trump that killed top Iranian military commander Qassem Soleimani, who led the elite Quds Force.
Newsweek has reached out to the White House and the State Department for comment on Johnson's spokesperson's statement.
Presidential candidate Elizabeth Warren and Democratic Representatives Ilhan Omar of Minnesota and Alexandria Ocasio-Cortez of New York argued that such an attack by the U.S. would be a "war crime."
"You are threatening to commit war crimes. We are not at war with Iran. The American people do not want a war with Iran," Warren, a Democratic senator, wrote in a Saturday tweet, sharing a screenshot of Trump's post.
"The President of the United States is threatening to commit war crimes on Twitter," Omar tweeted. "God help us all!"
"Targeting cultural sites is a war crime," Ocasio-Cortez tweeted adding that such threats make Trump a "monster."
George Friedman, founder and president of Geopolitical Futures, told Newsweek that an attack on a cultural site could be a war crime, depending on what the location is used for.
"It is a war crime only if it does not house military capabilities or serve a military purpose," he explained. Friedman pointed to attacks targeting cultural sites in Germany and Italy during World War II, saying they weren't war crimes because of their location and what they were used for.
"The U.S. attack on Monte Cassino [in Italy] or the Cologne Cathedral [in Germany] were not war crimes. It really depends what is there, and where it is located," he said.
Iranian Foreign Minister Javad Zarif accused Trump of threatening to commit a war crime, noting that the Islamic State militant group (ISIS) had faced international condemnation for its destruction of cultural sites in the Middle East.
"A reminder to those hallucinating about emulating ISIS war crimes by targeting our cultural heritage: Through MILLENNIA of history, barbarians have come and ravaged our cities, razed our monuments and burnt our libraries," Zarif wrote on Twitter. "Where are they now? We're still here, & standing tall."
Tensions have escalated rapidly between Tehran and Washington since last week's killing of Soleimani, after the Iranian leader had arrived in Iraq. The Trump administration has argued that the attack was justified because the general was planning imminent attacks on U.S. interests in the region. However, The New York Times reported that government sources said the evidence for the administration's claim was "razor thin."
Trump also ordered the strike without notifying leaders in Congress or the Iraqi government. The targeted attack also took out a prominent Iraqi military leader, leading the Iraqi parliament to vote to expel U.S. troops from the country. But it remains unclear whether the troops will be withdrawn, as many parliament members did not attend the extraordinary session and Trump has threatened to target the U.S. ally with sanctions worse than those against Iran if it goes forward with the resolution.