Donald Trump's Friend Boris Johnson Set to Become U.K. Prime Minister Imminently as Brexit Destroys Theresa May's Leadership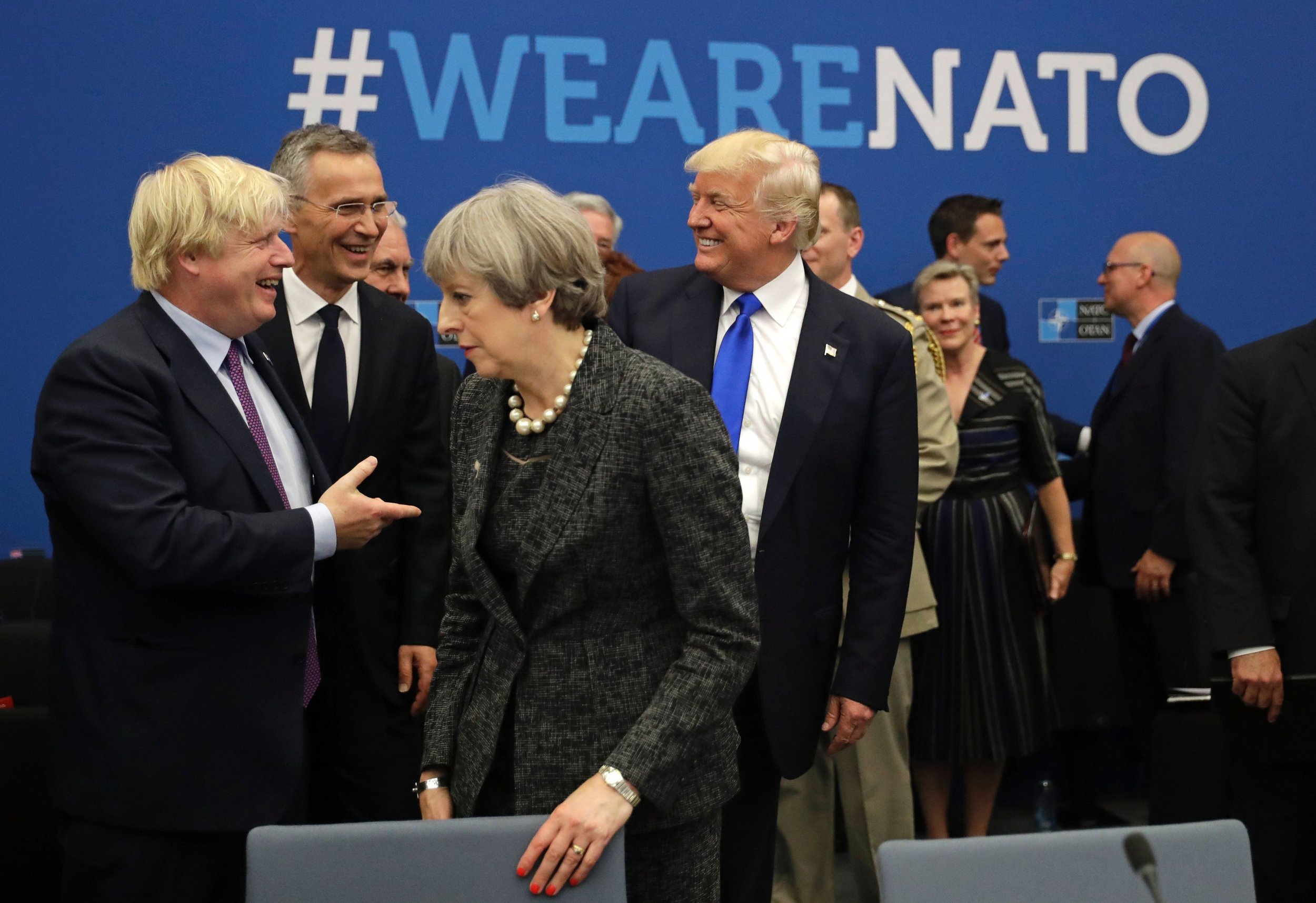 With the messy Brexit process having doomed British Prime Minister Theresa May's leadership, the person most likely to take over for her, fulfilling his lifelong ambition, is Boris Johnson, the former British foreign secretary whom President Donald Trump calls a friend.
Johnson is a favorite both among Conservative members of Parliament—and the bookmakers—to succeed May, whose government he quit last year in protest over her Brexit plans. The upper-class former London mayor, a leading Brexiteer, is to his fans an eccentric, affable character who embodies the essence of British identity.
To his critics, Johnson is a shameless, malleable, and gaffe-prone opportunist who seeks power as an end in itself. And to Trump, Johnson is a friend who would make a good prime minister, having said as much during his U.K. visit last July.
May, who is deeply unpopular, could resign by Sunday after what is expected to be a disastrous performance for her Conservative Party in the European parliamentary elections on Thursday. Both those who voted to remain in the European Union and those who backed leaving it have fled to rival parties.
According to BBC News, May will announce on Friday a date for her departure, which is expected to be before the end of July, by which time a new Conservative leader will be in place. The leadership contest looks set to start around June 10, just days after U.S. President Donald Trump's state visit to the U.K.
The Brexit Party, founded in January by the populist Nigel Farage, has capitalized on Brexiteer anger and cannibalized votes from both the Conservative and Labour parties. Labour has been accused of having a vague Brexit stance, of sitting on the fence.
According to an Ipsos Mori poll taken before the European elections, the Brexit Party came in first at 35 percent of the vote, followed by the Liberal Democrats with 20 percent of the vote, Labour with 15 percent, the Greens with 10 percent, and the Conservatives with 9 percent.
If Farage's Brexit Party wins, his will be the dominant British force in the European Parliament. His goal is to send the British Parliament a message and pressure the Conservatives into taking a harder line on Brexit, forcing Great Britain out of the EU as soon as possible.
May's hated Withdrawal Agreement could not, despite repeated attempts, pass Parliament, which has delayed Brexit. If no agreement can be reached before October 31, Britain will, on the current timetable, crash out of the EU with no deal, likely triggering an economic crisis.
Many Brexiteers say the finer details of May's deal would keep Britain shackled to the EU, specifically the Irish "backstop," which was intended to ensure that the border between southern and northern Ireland stayed open if no deal was reached.
The EU says May's is the best deal possible outside of remaining in the union, or a so-called "soft Brexit" in which the U.K. maintains a relationship akin to that of Norway or Switzerland, which are closely aligned but are not EU members.
Remainers argue May's deal is a so-called "hard Brexit" that goes further than mandated in the 2016 referendum, which the Leave campaign won by 52 percent to 48 percent.
On Wednesday night, a minister in May's Cabinet resigned over May's handling of Brexit. Andrea Leadsom, leader of the House of Commons, wrote in a letter to May that she no longer believed the government's Brexit policy delivered on the referendum result.
Other ministers may soon follow. They are said to be furious with May for tacking a second referendum onto her Brexit Withdrawal Agreement, without consulting her Cabinet, in the hope that it would be enough to win over opponents in Parliament to pass the deal.
May is also under growing pressure to resign from her backbench members of Parliament, many of who are ardent Brexiteers and opposed to her deal. Some even favor leaving the EU without a deal, despite the economic and political risks, to ensure Brexit moves ahead.
The prime minister has now delayed her latest efforts to push her Withdrawal Agreement through Parliament and secure Brexit. The bill is scheduled to appear again in early June. May already indicated she would resign once Brexit was settled.
But her critics in the party demand that she set a fixed date for her departure, and some want her gone now. When she does go, an interim prime minister would take over while the Conservative Party holds a leadership election, which Johnson is a clear favorite to win.
But there would be significant pressure from the opposition parties for the Conservatives to call an early general election, which could either delay further or derail entirely the Brexit ordeal. For an early election to take place, two-thirds of MPs must vote for one.
The coronation of a new prime minister by the Conservative Party would create legitimacy questions for whoever wins. The Labour Party's priority is for a new election, and it will use any Conservative leadership contest to campaign for one.
Labour, fronted by the socialist Jeremy Corbyn, currently leads in the Westminster polling and it could possibly win a majority to form a government. But Labour faces its own Brexit difficulties. Remainers accuse it of pushing for Brexit, while Brexiteers claim it is trying to put an end to it. Labour says it could negotiate a better Brexit deal.
This article was updated with more background information.