IOC Says Sanctions for Russian, Belarusian Olympians Are 'Not Negotiable'
The International Olympic Committee (IOC) said Tuesday its sanctions currently in place for Russian and Belarusian athletes "are not negotiable" despite calls for changes from Russian Olympic Committee (ROC) President Stanislav Pozdnyakov
The IOC decided during a December meeting of its executive board to reinforce its solidarity with Ukraine as the Russia-Ukraine war approaches its one-year mark next month.
The IOC said it also "unanimously" decided during that meeting to retain previously announced sanctions for athletes from Russia and from Belarus, which has acted as an ally to Russia during the war in Ukraine.
The IOC's sanctions include banning the display of Russian and Belarusian flags at IOC events and withholding event invitations from Russian and Belarusian state and government officials. It also requires Russian and Belarusian competitors to participate as "neutral" athletes, meaning they cannot officially represent their countries at forthcoming IOC events.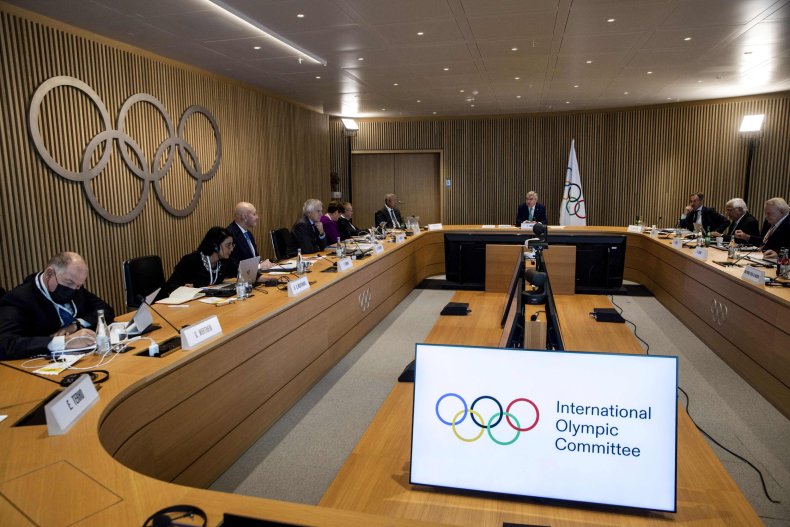 After the IOC announced last week that it will stand behind the sanctions currently in place, Pozdnyakov released a statement of his own. He said the ROC will still "reject any restrictions, additional requirements and sanctions related to the nationality of our athletes that are again offered to us as a condition for our return to the international stage."
The IOC's Tuesday statement was released in "reaction" to Pozdnyakov's comments, the organization said.
Newsweek reached out to the ROC and the National Olympic Committee for the Republic of Belarus for comment.
Russia is not the only country that has criticized components of the IOC's recent decisions. Ukrainian President Volodymyr Zelensky has also voiced frustration that the IOC will allow Russian and Belarusian athletes to compete in future IOC events.
Zelensky previously urged the "complete isolation" of Russian athletes at international sporting events leading up to the 2024 Summer Olympics in Paris. Zelensky said last week that he was "disappointed" by the IOC's decision to allow Russian athletes to participate and suggested any "neutral" flags carried by Russian athletes would be "stained with blood."
"There is no such thing as neutrality when a war like this is going on," Zelensky said during a January 27 video address.
Mykhailo Podolyak, an adviser to top officials within Zelensky's office, on Monday accused the IOC of being "a promoter of war, murder & destruction." The IOC watches the war "with pleasure," he alleged on Twitter, and is providing Russia with "a platform to promote genocide & encourages their further killings."
The IOC responded to Podolyak's comments on Tuesday, saying in a statement to CNN that it "rejects in the strongest possible terms this and other defamatory statements."