International Space Station Astronauts Eat Red Romaine Lettuce Grown in Space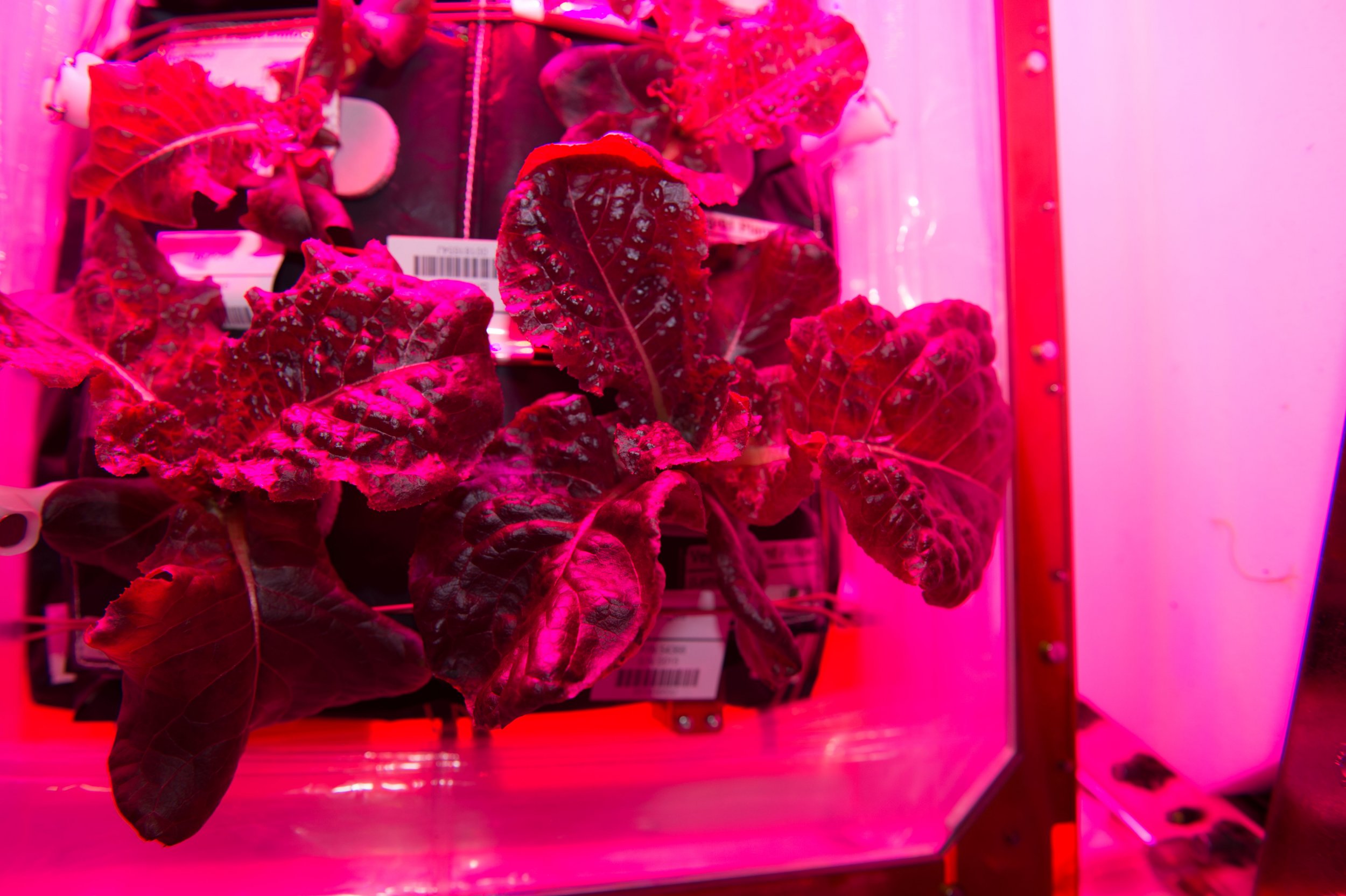 Bon appétit to the astronauts of Expedition 44 aboard the International Space Station (ISS). After harvesting a crop of red romaine lettuce, the crew became the first to feast on space-grown produce. The ability to grow fresh fruits and vegetables in space could have significant implications for long-term missions and is part of the crucial step of developing sustainable food supplements before sending humans to Mars.
The current ISS crew, which includes astronaut Scott Kelly, is not the first to use the Veggie plant growth system developed by Orbital Technologies Corp. in Madison, Wisconsin. Part of NASA's Veg-01 experiment, the system is composed of a collapsible unit with a light bank of red, blue and green LED lights and root pillows containing seeds that were watered and cared for in the low-Earth orbit of the ISS over the course of 33 days. It was tested at Kennedy Space Center before Expedition 39 flight engineer Steve Swanson grew the first in-orbit batch of plants in May 2014. Back on Earth in October, the plants were analyzed for food safety.
"Microbiological food safety analysis looks very good on the first Veg-01 crop of romaine lettuce," Dr. Gioia Massa, NASA payload scientist for Veggie, is quoted as saying in a press release.
After Kelly activated a second set of seed pillows on July 8 and the crew waited just over a month to harvest a variety of romaine called "Outredgeous," the first fresh space-grown food was ready for consumption. The astronauts needed to clean the lettuce with citric acid–based, food-safe sanitizing wipes, then they munched on half of what they produced. The rest was to be frozen for scientific analysis back on Earth.
The astronauts are likely to appreciate the freshly harvested food. There is no refrigeration on the ISS, salt and pepper come in liquid form, and most of the food the crew eats needs to be rehydrated before it can be consumed.
"The crew does get some fresh fruits or vegetables, such as carrots or apples, when a supply ship arrives at the space station. But the quantity is limited and must be consumed quickly," Massa said. Kelly's fellow astronaut, Kjell Lindgren, reacted to the space-grown lettuce thus:
Space-grown produce may sound like science fiction, in particular like Andy Weir's popular book The Martian, in which the protagonist grows potatoes on Mars to survive. A movie based on the book is scheduled for release this fall, and its social media team didn't pass up the chance to comment on the real-life space lettuce at the ISS:
Testing the Veggie technology is part of NASA's effort toward long-term manned space missions that venture farther out in the solar system, such as its "Journey to Mars" proposal, which aims to send humans to Mars—at its closest point roughly 34 million miles from Earth—by the 2030s. The ability to grow fresh food in space is not only vital for food supply reasons, but it could also have an important psychological benefit, especially on long-term missions, Massa said.
"The farther and longer humans go away from Earth, the greater the need to be able to grow plants for food, atmosphere recycling and psychological benefits," she said. "I think that plant systems will become important components of any long-duration exploration scenario."