NASA was forced to abandon a planned five minute boost test on the International Space Station (ISS) after just five seconds, the reason for which is unclear.
The failure of the planned maneuver has propmpted an investigation by NASA and U.S. aerospace and defense firm Northrop Grumman.
NASA is currently testing its ability to use a U.S.-built cargo ship to complete orbital boosts of the ISS—a maneuver usually carried out with Russian technology.
Orbital boosts are crucial for the safety of the crew aboard the ISS. This is because the ISS is constantly experiencing trace amounts of atmospheric drag, meaning its speed and altitude slowly decrease over time. An occasional thruster boost is a way of ensuring the ISS does not re-enter Earth's atmosphere, which would destroy it.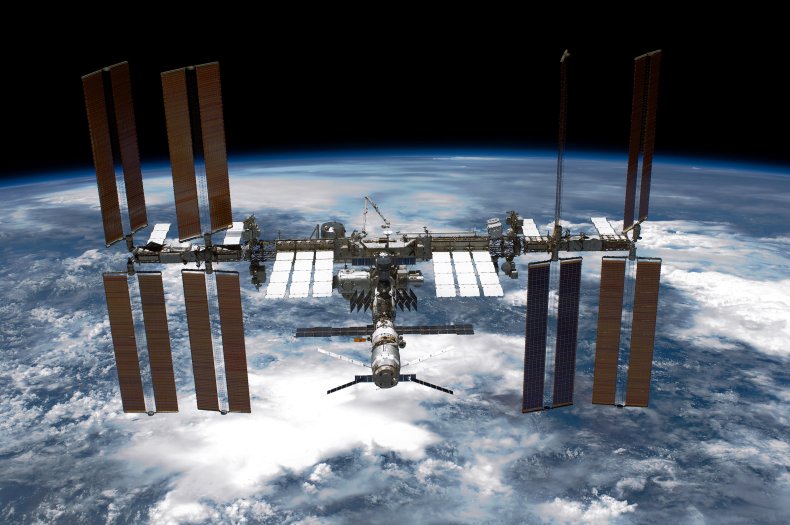 Typically these boosts are carried out by Russian capsules. But earlier this year the head of Russia's Roscosmos space agency, Dmitry Rogozin, warned that Russia could pull out of the ISS and decide to no longer conduct these orbital boost procedures in response to sanctions over Russia's invasion of Ukraine.
This needn't be the end of the station, though. U.S. space technology is capable of carrying out orbital boosts instead.
On Monday this week, U.S. aerospace company Northrop Grumman tried to use one of its own Cygnus cargo capsules to do just that. However, the test didn't go to plan.
The idea was for Northrop Grumman's Cygnus-17 supply capsule, which was already docked to the ISS, to fire its engine for just over 5 minutes as a test of its boosting capabilities. However, while the engine did begin firing the test was called off after just five seconds, according to a NASA press release.
No information has been given as to why the test was called off, except that the Cygnus team was investigating. NASA said another boosting attempt could go ahead as soon as Saturday, June 25, pending discussions with ISS partners.
The aborted test is not thought to pose any kind of risk to the ISS crew. "The Expedition 67 crew, which was never in any danger, is continuing its regular regime of work aboard the complex, which is orbiting around 260 miles (418 kilometers) above the Earth," the initial NASA statement said.
Russia and the U.S. continue to work together on the ISS despite ongoing political turmoil over Russia's invasion of Ukraine.
Russia has said it will commit to its ISS presence until 2024, though it's uncertain what will happen after that. NASA, on the other hand, has indicated that it would like to keep the station running for much longer, until the end of this decade.