Internet Amazed As Ragdolls' Reply to Owner: 'Are You My Handsome Boy?'
A couple of cats, named Eevee and Yoshi, have melted hearts all over the internet after a video of them reacting to their owner's compliments went viral on social media.
The video, shared on TikTok on Wednesday by their owner under the username Eeveeandyoshi, shows the two ragdolls meowing back at her as she pays them compliments.
Eevee can be seen standing up and meowing as her owner asks her whether she's her tall baby. Yoshi also meows back and gives his paw as she asks "are you my handsome boy?"
In the hilarious clip, the owner of the cats can be heard saying: "You're Mrs. Tall and Mr. Handsome!" The post's caption says: "Cat moms be like."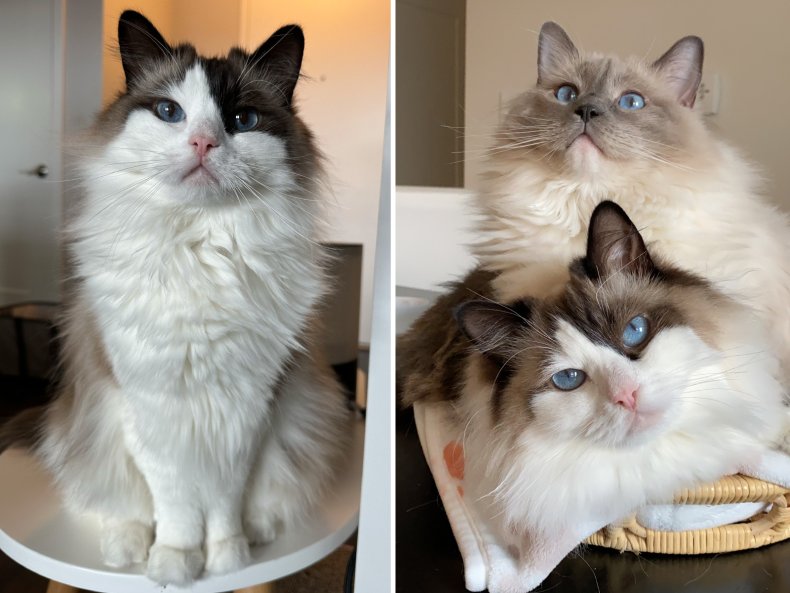 The cats' owner, Kara, told Newsweek that Eevee and Yoshi are very talkative and always have something to say.
"We have daily conversations and they love it so much. I feel like cat parents all over the world can relate to the video, our fur babies deserve to know how special they are!
Some of Eevee's favorite things are talking, dancing, playing, blanket forts and belly rubs. Yoshi loves to learn new tricks, play with water and watch us cook. There is never a dull moment with these two!"
According to pet food company Hill's Pets, cats don't have the cognitive skills to interpret human language, but they recognize when we talk to them. They compare the way cats comprehend human language to the way we understand meowing: "It's similar to how you interpret your cat's language by "reading" how they arch their back or swish their tail."
However, according to the cat resources website Animal Path, the felines usually understand around 20 to 40 words, while some understand as many as 50; they can also learn and identify their name.
The website says that rather than understanding words, cats have the ability to distinguish and associate words with things.
"Felines can associate words with body language, tone of voice, and vocalization and connect them with playtime, rewards or treats, feeding, petting, and other actions."
The video quickly attracted animal lovers from all over the platform and has received over 8.4 million views and 2.7 million likes so far.
One user, Brenna, commented: "She really stood up and said 'I am." User Turi said: "I like to believe cats understand us." User godeepinme23 added: "I JUST LOVE CATS UGHHH."
Deanna pointed out: "Omg the SQUEAKS." User moni.tricia said: "OMIGOD I wouldn't be able to leave the house." Blushbearyy said: "They are so proud to be tall and handsome."
Another user, Sara, wrote: "He really was like hey excuse me I'm over HERE." And Amanda joked: "you got cute cats, I got demons." Rachel added: "Handsome boy is so handsome."
Newsweek reached out to Eeveeandyoshi for comment. We could not verify the details of the case.
Do you have funny and adorable videos or pictures of your pet you want to share? Send them to life@newsweek.com with some details about your best friend and they could appear in our Pet of the Week lineup.