Internet Applauds Worker's 'Mic Drop' Resignation Moment: 'Totally Served'
Online commenters applauded a worker who quit his job without providing a two-week notice.
Posting in Reddit's "Antiwork" forum under the username u/DnkyXPnch, the worker said he told his boss that a two-week notice is a "sign of respect"—something he feels he never received while working for the company. The post has garnered over 23,000 upvotes and hundreds of comments from Redditors who called the story inspirational. You can read the full post here.
Speaking to Newsweek, u/DnkyXPnch said he never imagined he'd quit a job "like this."
"I quit one job before because they wanted me to do things that were illegal. But I always thought I would bite the bullet and stick it out when a job sucked until my notice was up," he said.
No Notice
According to Nolo, an online legal encyclopedia, most U.S. employees are at-will employees, meaning they can be fired at any time for almost any reason. Of course, this also means that at-will employees are entitled to quit their jobs whenever, for any reason, without providing notice.
Although providing a two-week notice has become a common practice among American workers, some experts agree that there are several circumstances in which it's not "realistic" to provide such notice.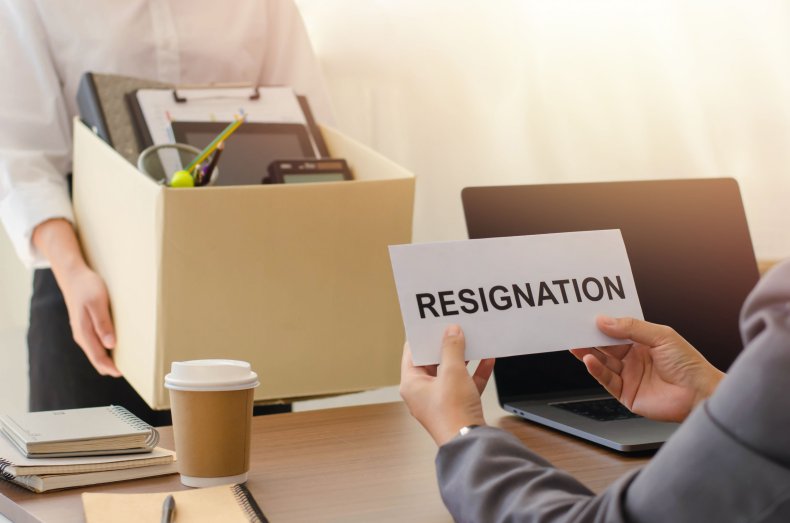 "People talk, people move around within industries, so you never know who you may need to call on in the future for a reference," career strategist Cynthia Pong told HuffPost. "At the same time, there are also occasions in which that's simply not realistic or worth the effort―i.e., the relationships have been toxic or strained beyond the point of salvaging."
Pong added that a person's mental health struggles may render it impossible for them to provide a full two weeks' notice.
"I do think that if someone's mental health is really suffering...two weeks' notice may not be possible and hopefully everyone can accommodate a shorter notice period," Pong said.
Employment website Indeed also said working in an unsafe work environment, fear of retribution and "ethical challenges" are all good reasons to leave a job without providing notice.
'Take Care'
In his post, u/DnkyXPnch said he quit without notice because he was tired of being treated "like a subhuman mule."
"I quit my job yesterday. I had an orientation at my new job in the evening and decided I was done being scheduled seven days a week, working 10-hour days while the manager leaves several hours early, [and being] spoken to and treated like a subhuman mule," he wrote.
So u/DnkyXPnch approached his manager and told him he was resigning, effective immediately. In response, his manager asked: "What, no notice?"
u/DnkyXPnch replied: "A two-weeks' notice is a sign of respect and a courtesy. I have received neither of these things during my time here. Take care."
He then texted his direct supervisor, who was away on vacation, to let him know he'd quit.
"I texted him, 'Heads up, I quit. Take care,' then blocked his number," u/DnkyXPnch concluded.
Redditors React
Redditors applauded the moment and congratulated u/DnkyXPnch on the new job.
"My boy said 'f**k you' in the most professional way possible. I aspire to be this way," u/YourFavDeafGuy said.
"Mic Drop. So happy for you OP [original poster]!!!!" u/peanutbutter_foxtrot exclaimed.
"And this right here is EXACTLY how you quit. Boom goes the dynamite," u/lordoftheeyes2020 wrote.
"You are an inspiration to many. Well played," u/lolbojack commented.
u/TFxYaksha added: "Totally served."
More 'Antiwork' Stories
Last month, online commenters praised another worker who left his "cringy" employer in the lurch.
On Tuesday, Redditors slammed an ice cream shop that immediately fired a teenager after she provided her she put in her two-weeks' notice.
And an employee was applauded last week for his "beautiful" response to his manager's "no overtime" policy.
08/11/2022, 5:23 p.m. EST: This article has been updated to include a comment from u/DnkyXPnch.