The internet rushed to defend a man slammed by his fiancé after telling her he wanted his sister to be his "groomswoman."
In a new viral post published to Reddit's infamous "AmITheA**hole" forum, a man asked the community with over three million followers if he should be considered the a**hole for wanting his sister to be a part of his big day.
The Redditor explained that his sister and fiancé "Sarah" have never gotten along. However, since getting engaged, things have been going smoothly. Recently, they spoke about who they wanted in their wedding parties. Once the Reddit user revealed he added his sister as one of the "groomswoman," Sarah became upset.
According to a 2017 article from Wedding Wire, bridesmaids can spend $1,200 on everything that comes with being in a wedding. The price can event get up to $1,800 which only highlights the importance of asking the right people to take part.
The man then explained that his sister was "aromantic" and didn't plan on on getting married in the future, so he really wanted her to be a part of his.
He wrote: "She said that it wasn't traditional for a woman to be a groomsman, and that it would embarrass her. i explained to her that my sister was one of the most important people in my life, and she was going to be apart of our wedding. this made sarah even more upset, and she accused me of trying to ruin her wedding day, and she locked herself in the bathroom."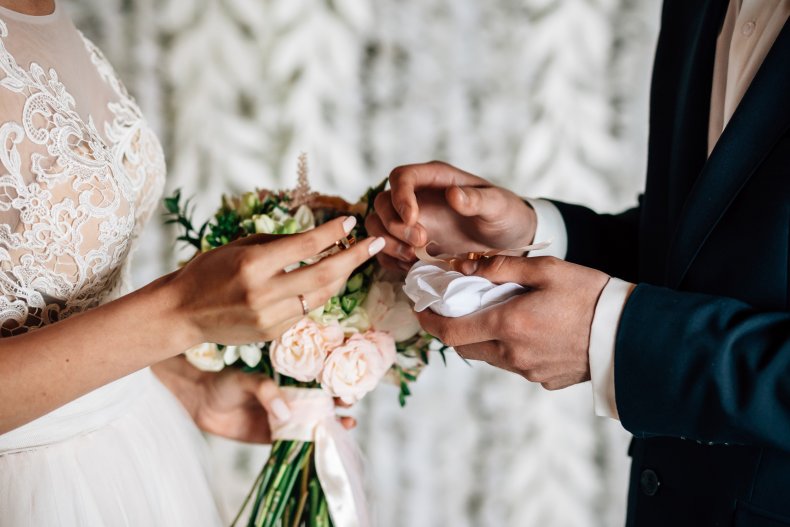 Since their fight, the couple hasn't spoken. His in-laws asked that his sister wasn't apart of the wedding saying Sarah "should be the most important woman in my life," and not his sister. Even though his sister told him it was okay that she wasn't invited, he remained resolute in his choice.
In recent edits to his post, the Redditor detailed the aftermath of the heated discussion which included plans to call off the engagement.
"My sister is more important to me than any miserable marriage," he wrote.
After he returned home, he and Sarah sat down to have a detailed discussion about their future together. She explained she didn't feel the man and his sister didn't have a "normal" relationship. They eventually came to an impasse, even after talks of therapy or going their separate ways.
Commenters shared their opinions on the situation.
"Why would you want to marry someone who is not only jealous of your little sister, but also seemingly implying that your relationship with her is inappropriate?," asked u/YummyBread69 receiving the top comment with 12,000 upvotes, "Absolutely NTA. You sound like a great big brother, I'm sorry you're going through this."
"NTA," u/DinaFelice wrote in part, "If she truly thinks that she should be the most important person in your life to the point that you exclude other people from standing by your side, that is an extraordinarily insecure and controlling person. I would be deeply concerned about spending your life with someone who thinks your sister should not be important to you."
"NTA. Your fiancé is really immature," u/RetiredAerospaceVP commented.
"RUN AWAY RUN AWAY RUN AWAY!!! Cancel the wedding! GTFO of there! Your GF is jealous of your damn sister, and as soon as you didn't give her what she wanted, she sent her flying monkeys after you," u/theresbeans said. "This is just some insight into what the rest of your relationship is going to look like. Get out."