The day after John Puffin attended his good friend's wedding, he received a text message from the bride claiming she saw that he grabbed an extra slice of cake and that he owed her about $5.
The post was published to Reddit's r/weddingshaming forum on September 29 and has already racked up over 8,600 votes and has also been shared to the r/bridezillas subreddit. "I paid for the first slice after it was announced on the day we'd be helping to pay for their cake!! Apparently didn't count for the second," the post read.
In the screenshot of the text messages, the bride sent a video of CCTV footage showing Puffin grabbing an extra slice of cake at the wedding. Confused, he replied "duno what you mean." Quickly the bride replied that she and her husband were looking over the CCTV footage and saw that he had two pieces of the wedding cake.
"We announced that each guest must pay per slice and noticed that you only paid for the one," the text continued. "Can you please send the £3.66 asap."
Puffin told Newsweek on Reddit that his good friend's wedding was last month in a small town in Kent, United Kingdom.
"It was a really nice venue and they had a lovely quiche for the start followed by river caught trout for the mains," he told Newsweek. "The cake was lovely but I never thought something so sweet could leave such a sour taste."
Puffin said he received the text from his friend's wife after they got back from their honeymoon. He said reviewing the CCTV and costs was "apparently on their to-do list."
"I've inboxed the couple as I think it's ridiculous that I pay for a slice for the wedding cake," Puffin told Newsweek. He said that the wife "responded quite abruptly" and told him that they need the money. He also claimed she told him that, "being frugal is an unattractive and ugly, ugly trait in a man."
Over 790 people commented on the bride's behavior in the comments section under the post calling her "tacky" and "rude" for charging guests per slice.
One user wrote that "charging peer slice is tacky as well, but sending actual video feed is a whole other level of crazy!"
"Tell them to take you to small claims court," joked one user.
"Love to spend my first precious days as a newlywed reviewing CCTV to see which of my loved ones I can shake down for £3.66," joked another in the comments.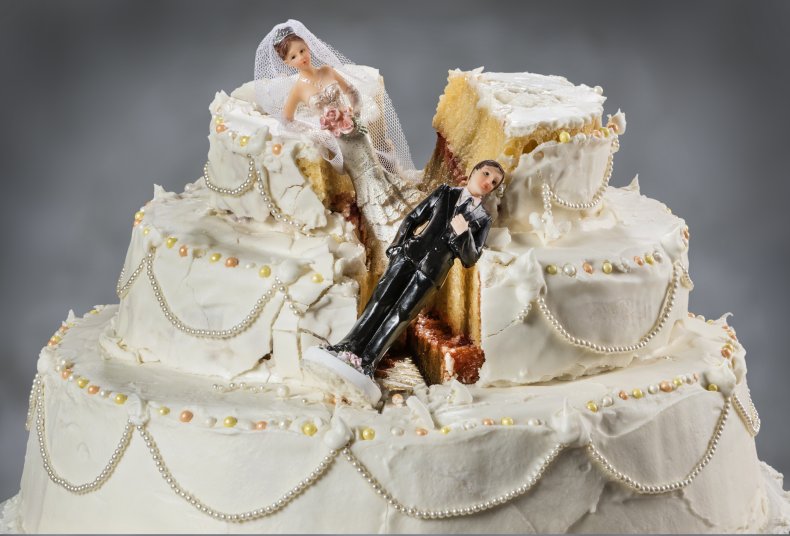 Earlier this month, Newsweek reported about a bride who slammed her wedding guests in a Facebook group for being unable to afford $3,000 flight tickets to her wedding.
"At the risk of sounding entitled... I have to vent today," the woman wrote in the post. "When we invited our friends and family to our destination wedding in Thailand, only 9 people RSVPs. Out of 150!! Ok, I get it, paying $3k to share my special day is too much for some of you, I'd pay for yours, but whatever."
Her original post was screenshotted and posted to Reddit. The post received hundreds of comments from people agreeing the woman lacked self-awareness.
"And she invited 150 people. If she went to each of THEIR weddings, that's a $300k spend at least. But of course, she never would go. She's an entitled egotist," wrote one user.
"My entire wedding cost less than she wanted people to spend to see her," another commented.