Bride Slams Guests Unwilling to Pay $3k for Flights to Thailand for Wedding
A bride-to-be lashed out at guests unable to fork out thousands of dollars on flights to her destination wedding, after sending out 150 invites.
A post shared to Reddit by user Bartarton revealed a screenshot of a Facebook post, supposedly from the bride, in which she publicly criticized guests for not RSVPing.
The post, uploaded to the forum-led site on Tuesday, is captioned: "Do people like this really exist?"
The text says: "At the risk of sounding entitled... I have to vent today. When we invited our friends and family to our destination wedding in Thailand, only 9 people RSVPs. Out of 150!! Ok, I get it, paying $3k to share my special day is too much for some of you, I'd pay for yours, but whatever."
As $3,000 on flights alone, excluding hotel, gifts, or outfits, is pretty steep, it seems the bride acknowledged this and decided to change the location to make it more accessible—to Hawaii.
Sadly this didn't get her the guest list she envisaged, as she continued: "BUT then, when we changed the wedding to be in Hawaii, so it's within everyone's reach, only 7 of you RSVPd?? It costs less but less of you wanna come?! Is that what you think of [name] and me? You can't spare $2k to come share our happiness?
"I'm tempted to just elope and not let any of you be a part of our happiest day. This is it guys you have 3 days to respond to our evites or we're deleting you off FB and good luck keeping up with our lives then."
If the wedding costs weren't enough, it seems she was also displeased with the gifts being bought for the wedding. The post ended with: "And don't get me started on the registry... Only the cheap stuff is gone. I swear I thought I had better friends. [Name] and I are asking you to reconsider."
Since being shared, the post has amassed hundreds of comments and thousands of upvotes, as people agreed with the bride's assertion she sounded entitled. It appears the post first surfaced online in 2018, according to searches made on Google, and it's gone viral again after being shared across social media this week.
GiJake68 commented: "Will she someday become self aware or forever think posting this was a good idea?"
360walkaway reckoned: "Hopefully she'll see a 'eight years ago you posted this' and facepalm through the back of her head."
"I can't imagine her fiancé is pleased about being named twice in this post/rant. I'd be cringing so hard. Hopefully he knows who he's marrying," EarthWyndFyre wrote.
480v_bite simply said: "I'd cancel the wedding."
GWindborn revealed: "My entire wedding cost less than she wanted people to spend to see her."
Kittykittymeowmeow01 reckoned: "I actually hope people "reconsider" their rsvp's and then they don't show up."
Doing the math, TheDevilsAdvokaat pointed out: "And she invited 150 people. If she went to each of THEIR weddings, that's a $300k spend at least. But of course, she never would go. She's an entitled egotist."
While PunkSpaceAutist added: "Lmao Hawaii is closer than Thailand but not necessarily cheaper even if the flights are significantly cheaper."
Wedding website The Knot revealed the average spend on a wedding by a guest in 2019 was $430, which rose to $1,400 when flights were included. This figure—which includes the gift—pales in comparison to the $2,000 starting fee for the Hawaiian bash.
The study of 1,000 guests revealed that location had the biggest impact on an invitee's ability to attend.
"Guests who went to an out-of-town wedding spent up to six times more than those who did not travel. Transportation and lodging were cited as the two most expensive (and important) factors to out-of-town guests," the site said.
The site also revealed the average cost of a destination wedding is $32,000, after surveying couples in 2019. That's compared to $28,000 for an average wedding that year, as they noted COVID heavily skewed results for 2020.
"According to our study in 2019, 21 percent of couples got married under what they consider a destination wedding," they said.
The site also shared etiquette advice over how to approach guests who may not be able to make it for health or even financial reasons.
How to Ask Nicely
The Knot advised: "Tell your bridal party you're planning a destination wedding before you ask them to stand by your side, so they can gracefully decline if finances are tight. Besides those VIPs, it's also a good idea to give the rest of your guest list plenty of notice so they can get the best deals on flights and accommodations before prices skyrocket.
"Send out save-the-dates at least eight months in advance, but don't be upset if some of your closest friends or relatives don't attend. While you are, in a sense, footing some of the food bills, their fees for travel, hotel and car rental can really add up. Although your wedding is a mini-vacation for you, it may not be the one they want to take!"
While it's not clear how far in the future the bride-to-be's wedding was, it would appear the three-day response ultimatum indicated she may have had her own deadlines to respond to, for vendors or bookings.
Newsweek approached Bartarton for comment.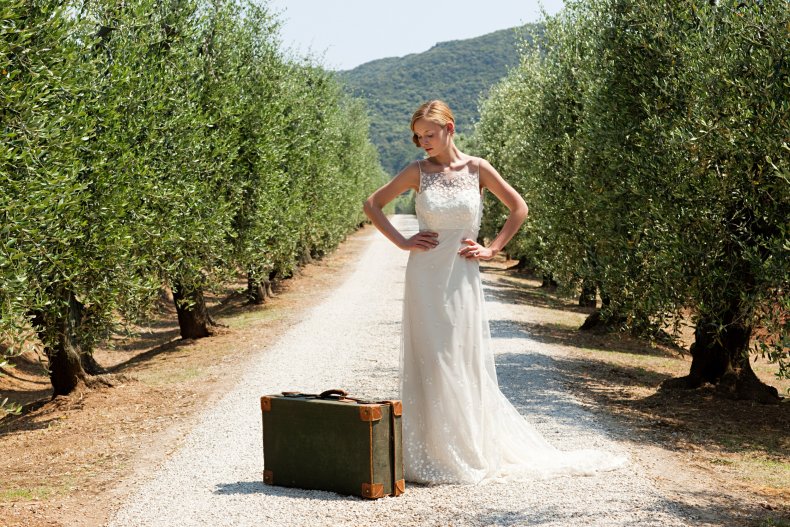 Update 9/16/21, 10.20 a.m. ET: This article was updated to clarify that the post originally appeared online in 2018.