A teenager has delighted the internet by bringing a toaster to school complete with Pop-Tarts, serving them up to his classmates.
The incident recounted in a viral Twitter post, began with user @ElisaStoneLeahy, an author and filmmaker, revealing her son "got in trouble" on April 13 "for packing our toaster in his backpack and pulling it out at lunch to make Pop-Tarts for his class." She added, "I can't stop laughing."
According to Statista, in regard to how many packages of Pop-Tarts people in the United States ate in a span of 30 days in 2020, 47.09 million consumers ate one to three packages a month. In addition, 12.54 million people didn't eat any, while 13.1 million consumed four to seven packages, and 8.68 million people ate eight or more packages.
The initial Twitter post has garnered 33,800 retweets and 546,700 likes. The Twitter user added additional details to the thread about the situation as well, revealing her son took his backpack to the lunchroom. From there, he proceeded to pull out the toaster by an outlet, put it in the seat nearby and toast Pop-Tarts, passing them out.
"We only had enough at home for his table," Elisa continued. "He didn't charge."
Apparently, the teacher told the teen "Not to 'make a habit of it.'" Although he doesn't "encourage the behavior," he was laughing over the incident.
"So I wonder how many times makes a habit?" Elisa wondered.
Elisa revealed the idea was all her son's, and she didn't know anything about it. "Although I did just read him a new scene I wrote for my middle-grade book about a seventh-grader gaming the system at school, so maybe I inspired him a tiny bit," she added.
Their kitchen is being repaired, and that's why Elisa bought the Pop-Tarts. Their meals have been "coming from the microwave and the toaster at the moment." She figured he spotted the number of Pop-Tarts and thought they had enough to share.
There was even a picture of the toaster next to the large backpack it was carried in included in the viral post, which included more detail about the teen.
"He's 13, a man of few words, a bit of a prankster, very sweet," Elisa said. "A few [years] ago someone gave him $100 as a gift when he started cancer treatment. He asked to go buy Lego sets that he could give to other kids in the hospital. Five years later, he's just as sweet and no signs of cancer."
Elisa acknowledged the post was getting "attention," adding if people wanted to donate Pop-Tarts or anything else to a local food pantry, "we would love that."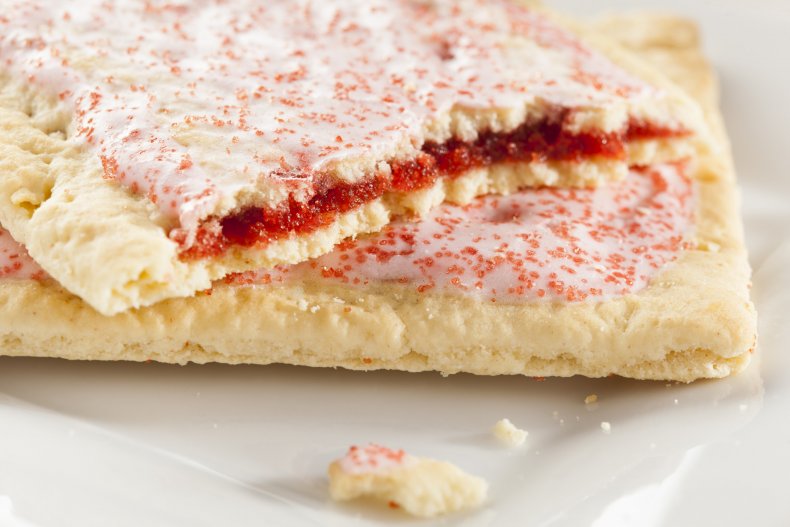 "Food pantries have gotten our family through some rough times," Elisa said, and she added some URLs to local food banks.
Numerous comments came in over the viral story, and they were full of appreciation for the teenager.
"I would say you have a young entrepreneur who could go places!" a Twitter user weighed in. "I am sure your early mentoring, and leading by example, will ensure his path stays pure and true. Well done...to both of you...and surrounding friends and family!"
Others recounted similar stories, and one Twitter user's son's friend brought a whole sandwich press to school three years ago.
"Is this a dare?" the Twitter user asked. "Ham and cheese under his desk in the back corner of sixth grade English. Raised his hand and announced 'Mr. Price, would you like a panini?' Teacher just said, 'Oh no thanks,' and then ignored it!"
While one Twitter user thought the teen "should get a student of the month award. That planning, that preparation, perfect!"
Other comments of approval included things like, "Your kid is epic," and "You must be one boss mom to raise a kid that cool."
Some saw humor in the situation, and they made jokes. "Pop-Tarts are a gateway," one user said. "Next it will be bagels, then English muffins...Next thing you know, your kid's strung out on flatbreads and croissants. Is that what you want?"
Another user didn't see the problem with bringing the toaster and food to school. "When you really think about it, there's nothing really wrong with it," they wrote. "Plug it in and make some Pop-Tarts for lunch."
For some, the content was a bright light. "Thanks [to] everything happening in our world, I just noticed this was my first smile of the day," a user explained. "And it's 11:30, please thank your son."
Twitter user @ElisaStoneLeahy told Newsweek: "I'm glad it's bringing people joy. Pop-Tarts is sending Pop-Tarts to the entire school, they are donating $5,000 to No Kid Hungry in my family's name, there is a news station [that] wants to film a whole segment in a couple of weeks when we are back from spring break, it's all been very unexpected."
Newsweek verified the above comments concerning Pop-Tarts with Kellogg's.
"And the wonderful stories from other people who have done similar things is delightful," she continued. "Also the messages from other cancer survivors and the donations to the food bank. It's all truly beautiful."
This isn't the only viral post involving a child under 18. A 9-year-old's poem for a school assignment turned heads for its content. A 2-year-old went viral for reading in a TikTok video. In addition, a toddler danced along to an Eminem song in a viral clip.
Updated 04/18/2022, 3:42 p.m. ET: This story has been updated with comments from Twitter user @ElisaStoneLeahy.