Internet Dunks on Eric Clapton for Suing Widow Over $11 Bootleg CD
A widow who attempted to sell an Eric Clapton bootleg album must now pay up.
The famed musician and multiple-time Rock & Roll Hall of Fame inductee sued a 55-year-old woman from Ratingen, Germany, because she tried to sell a "Live USA" Clapton CD on eBay for 9.95 euros, or approximately $11 U.S.
Gabriele P., as the woman was referred to in court documents, must reportedly pay about $4,000 U.S. in court fees for both herself and Clapton.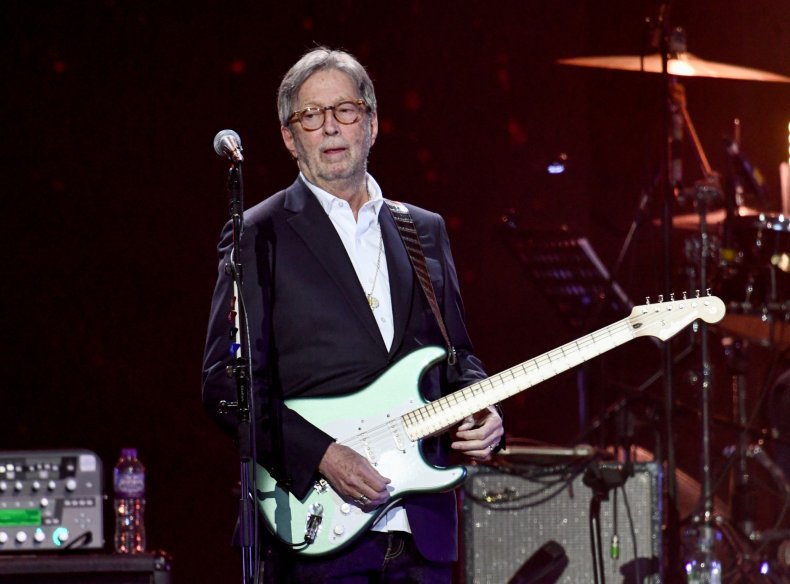 The German publication Bild reported that the lawsuit was filed in Düsseldorf Regional Court. The CD reportedly came from the estate of the widow's former husband, who reportedly bought it in a department store in the 1980s for the equivalent of 9.95 euros.
After the woman, recognized as Gabriele P., listed the item on eBay in July, she was hit with a lawsuit by Clapton. The affidavit stated that the sound recordings were illegal.
The defendant still faces a potential fine of 250,000 euros ($282,618 U.S.) or six months in prison if the album remains on the website and is sold.
On December 15 the court rejected the woman's appeal. According to Bild, the judge in the case said whether or not she purchased the CD herself was not relevant—as is the fact that she didn't know the recording was illegal.
One Twitter user said it is Clapton's right to defend his work and fight back against copyright infringement.
Another user wondered when blues musicians in existence before Clapton would sue the English rocker.
Others chimed in when they heard of the lawsuit.
A Twitter user named @unluckymammals said, "You could have just bought [the CD] from her and saved everyone the trouble."
"The older he gets and more he does, the more I despise Eric Clapton," remarked Twitter user @dammitgregory.
The Twitter account for the band Eve 6 took the opportunity to poke fun at Clapton, joking that the guitarist would sue an orphan humming to his Wonderful Tonight track.
It's not the first time Clapton has made headlines throughout the past year.
In the midst of the COVID-19 pandemic, he openly and routinely made comments about vaccines and lockdowns.
Nearly one year ago, he and musician Van Morrison collaborated on an anti-lockdown single—a song that the artists said wasn't necessarily against all government-enforced lockdown measures but was a way to support music venues.
Comments also resurfaced about racist comments Clapton made decades ago in front of live crowds at his shows, one tirade specifically mentioning "foreigners" and stopping Great Britain from "becoming a Black colony."