Internet Goes Wild for How This Worker Quit Their Job: 'Start the Timer'
A Redditor has gained support online after sharing how they defiantly quit their job.
In the social media post, which can be seen here, the Reddit user revealed that they had walked out of their job after being threatened with replacement by their boss.
The post wrote: "My supervisor told me today that he could have another person ready to take my job an hour after I left if need be, I was only inquiring about a raise I was supposed to get anyway, and this was also during my break surrounded by other coworkers. So I said 'start the timer' And I left."
Since being uploaded under the individual's social media username @LOLU2012 on February 1, the post has received 92,900 upvotes and over 3,000 comments with most commenters expressing their support for the OP's departure from their allegedly toxic workplace.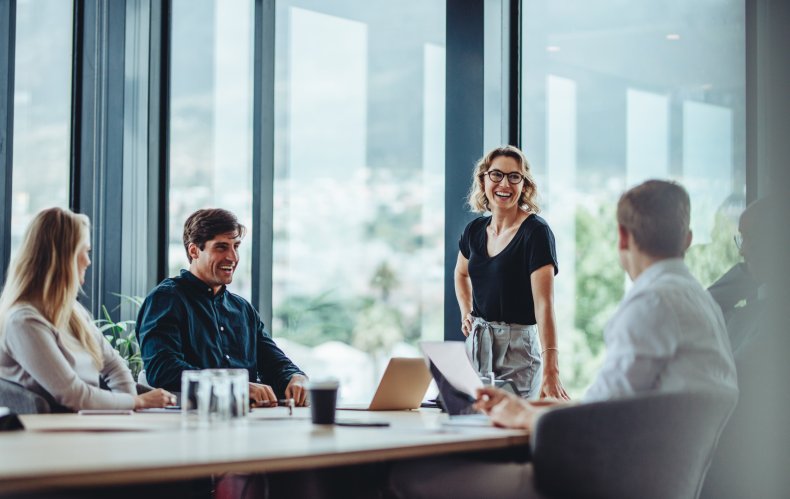 Why Are People Deprioritizing Work?
Although the former employee hadn't 'quiet quit' while still in their position, their nonchalant approach to leaving the role resembles the new phenomenon.
As more people continue to deprioritize work, Newsweek spoke with Dr. Nina Vasan, the chief clinical officer of the mental health app Real, to learn why.
"'Quiet quitting' or deprioritizing work can be beneficial for an individual's mental health but only if it is done in a mindful and reflective way," she told Newsweek.
"This includes taking time to think about where you are mentally and emotionally and how things got to be this way. It is an opportunity to think about what changes you want to make when it comes to your work-life balance and why," Dr. Vasan added.
The chief clinical officer shared that people keen to step away from excessive professional duties and commitments should involve someone in the process, like a trusted manager.
"Without engaging others, you run the risk of employers seeing you as disengaged which is likely not your intention," she explained.
The mental health expert continued that it's crucial for employees hoping to reduce their stack to seek support in finding a sustainable work-life balance to avoid long-term burnout.
Dr. Vasan is a psychiatrist and professor at Stanford University. She previously served as a healthcare advisor to the United Nations.
In an update to the post, the OP said his boss "spammed my phone my 10 min car ride home with texts and calls wanting me to 'come talk about it' and not to 'make rash decisions'...but I thought I was oh so replaceable?"
'May He Continue To Have The Day He Deserves'
Most of the Redditors engaging with the post chose to express their support for the original poster's bold move.
"This might be the best f****** post I've ever read," said PhoenixJen8. "Mans thought he was pulling the ultimate power move, only to end up looking like surprised Pikachu. May he (continue to) have the day he deserves. OP you are my new favorite person and I hope your job search is over quickly and you land somewhere much better for you."
"No joke," another added, "the more people do this the faster these terrible bosses will learn.
Great job! You deserve far better and based on your trade—you'll be able to get better easily!"
To which the OP replied, "This is exactly why I do it. I watched my parents slave away for corporations because they felt like they didn't have a choice, watched them get run over when it came to promotions. I will not be humiliated in front of my co workers, I will not make less than I deem I'm worth, and I will ask for a raise every damn month if I want, I do not work for the company I work for myself and the second you start screwing me I'll drop you faster than they can say 'right to work state'." The reply itself got 8.2 thousand upvotes.
Others commiserated with the poster and offered their similar experiences.
"My boss once told me could fire me and replace me with two people for the same price. "Do it" I said. He didn't do it," one user wrote.
Another Redditor commented: "Years ago, I had a manager who would threaten us when he was displeased with our department by pointing at a stack of applications on his desk and say that people were lining up to take our jobs if we didn't want to do them. When people would leave, and we were shorthanded, he would say they hadn't been replace yet cause he didn't have any applications. Whatever lie that was convenient for him at the time".
Have you had a workplace dilemma? Let us know via life@newsweek.com. We can ask experts for advice, and your story could be featured on Newsweek.