Internet Laughs After Mom Tidies up Family's Home Thinking It's Her Airbnb
A woman who traveled to Italy for a holiday was left disappointed when she saw her "dirty" Airbnb, strewn with empty beer bottles and smoked cigarettes, only to realize she had broken into a family home by mistake.
In a Tweet shared on Friday, Ruth Ibegbuna, explained that she arrived in Italy late at night and in the confusion went to apartment 14 instead of 16, which was supposed to be her Airbnb. Only after putting her toddler to sleep did she realize she was in the wrong place.
In her post, which has so far reached over 88,300 likes, 1536 comments and 7014 retweets, she said: "Put my snoring daughter on their couch. Photographed evidence of their slovenliness (fags & beer). Used their loo. All with none waking OR saying a word. (Probably cowering behind a door & phoning the police).
According to statistics by Legaljobs, there are over 3,370 burglaries in the U.S. every day. About 51% of homes suffer a repeat burglary within one month.
The same data shows that only 23.9% of Americans have a security system in place, and about 34% of burglars make an entrance via the front door.
While some users found the story amusing others were outraged at the fact that Ibegbuna had broken into the family's house and then criticized them. One user, Clare, said: "Hope they don't see this tweet and see not only did they have a break in but were flat shamed in the process. Maybe the previous intruder left it in that state."
Iris Cook said: "It's their business how they live. Pretty much out of order your tweet."
Rachel Donati commented: "Er, that's someone's home you're criticising. Maybe see it differently how they have their doors open even in a city, that they didn't attack you (I can think of other places that likely you could be shot) & yes Italians smoke. So what? Not a note. Knock with cornetti and say sorry."
EmiliaMarc10 responded, saying: "You must be Italian to jump to such a huffy defense before actually processing the post? Chill."
Some users shared similar experiences. TheAnfieldPoet said: "I did something similar when hurriedly finding a place to watch a football game on tv. I found a restaurant with a tv in a quiet back room. I sat on a couch there with my beer, shouting at the tv for 45 mins before realising I was in the family's private living room."
Dansodergren commented: "Good lord. That is a great story. Imagine being them. Woken in the hot night, by an intruder with her toddler…Angry. Taking pictures of their home. As they cower in the darkness hoping she doesn't come in their bedroom."
Michael Hodgson added: "An angry muttering intruder, taking pictures... and then tidying up? I can picture the family behind a bedroom door on the phone to the police whispering... I think she's cleaning."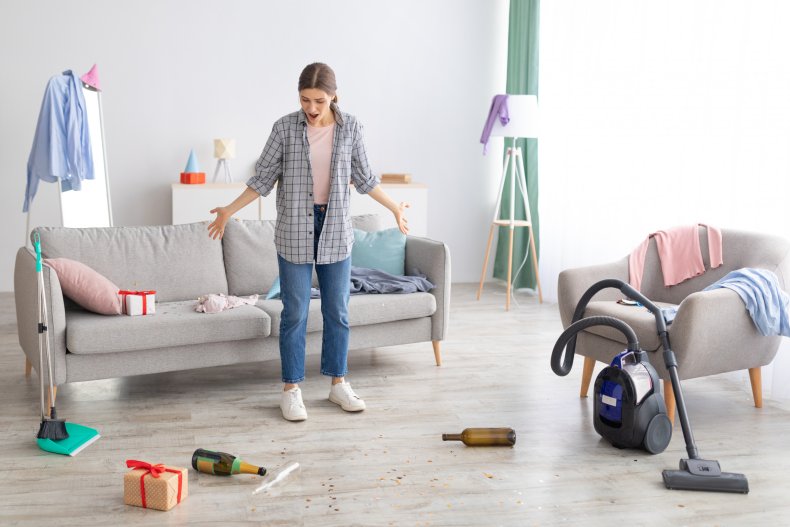 Amandabeeswax also shared her story: "Happened to me the other way round. Left the door on snib, came home after going across to take a neighbor her parcel found 6 young italians in my sitting room, they'd just arrived. Took them to correct address, very disappointed. Preferred my house."
Another user, Charles Ryan Teo pointed out: "I find this a bit more on the ridiculous side. No matter how tired I am , I would always check and make sure the address I am going to is correct. "
Nathan joked: "My wife and I often talk of a shared fantasy where a non-judgemental clean freak has broken into our house, tidied up and left."
Dave Wright added: "I always make sure everything's clean and tidy before I go to bed or go out just in case I get burglars."