Internet Shocked as Puppy Appears to Use Human Toilet: 'When You Gotta Go'
This dog owner has taken toilet training to a whole new level as his dog appears to be using a human toilet.
In a viral clip shared by @kingkairo2023, a TikTok page dedicated to an American Bully called Kairo, the dog can be seen lying over the toilet seat with his head resting on the toilet roll.
So far, the video, with sound effects of urinating, has more than 8 million views and 600,000 likes since it was shared on February 7. Kairo's ability to climb onto the toilet has impressed many people online. But not every dog is likely to take to it so naturally.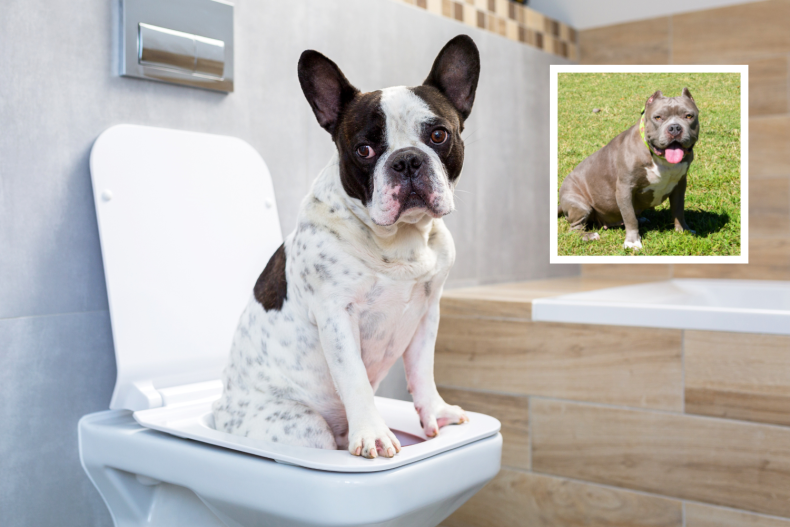 Indoor Potty Training for Puppies
The American Kennel Club says that some dogs haven't got access to a garden and must use an indoor potty. This could be a dog or litter tray lined with puppy pads, artificial grass, or even cat litter.
To train a puppy to use a litter tray, the AKC recommends luring the pup in with treats and rewarding them for interacting with it. The same techniques used for potty training outdoors are also used indoors.
It is important to respect your pup's privacy and place the potty somewhere quiet in the house. The AKC says that, wherever the indoor toilet is placed, it should stay there. Ideally, it should be somewhere with an easy-to-clean floor such as tiles or linoleum, because accidental misses will happen.
Practice certainly makes perfect when it comes to potty training. However, in some instances, dogs may disregard it all and urinate in places they shouldn't.
The TikTok video has been a hit online, with almost 2,000 comments and more than 72,000 shares.
One user joked: "He's better trained than my husband lol," while another wrote, "Well give him some privacy."
"Omg.. what did I just watch. That's awesome and scary at the same time lol what if I gotta go and the dog is on the toilet," commented a TikTok user.
Another user posted: "now that's some good PARENTING," while Monique wrote: "But howww??? Teach me."
In March 2021, Newsweek shared 17 dog breeds that are easiest to potty train. Top of the list was the Afghan hound, followed by the Bernese mountain dog and collies. All of the dogs in the article have two things in common. They are all eager to learn and have a strong desire to impress their owners.
Do you have funny and adorable videos or pictures of your pet you want to share? Send them to life@newsweek.com with some details about your best friend, and they could appear in our Pet of the Week lineup.