Thousands of internet commenters were infuriated after one man explained how his fiancée and her 10-year-old son "ruined" the couple's planned beach vacation.
In a viral Reddit post published on r/AmITheA**hole, Redditor u/Applet757767 (otherwise referred to as the original poster, or OP) said the vacation was supposed to be a couple's getaway but was abruptly canceled when his fiancée revealed she had to bring her son along for the weekend.
Titled, "[Am I the a**hole] for cancelling the trip after my fiancée decided to bring her 10 [year-old] son with us?" the post has received nearly 6,000 votes and 4,000 comments in five hours.
Writing that they're getting married "soon," the original poster admitted the couple has been having issues recently, due in large part to his fiancée's child.
"[My fiancée] has to bring my stepson with us whenever we go [out]. We started going out less and less," OP wrote. "Since it's been a month since we've gone out...I've arranged a trip to the beach for the weekend."
"The night before the trip, she comes up to me and says 'hey, [my ex] is sick again and he asked if I could take [my son] to spend the weekend with us,'" OP continued. "I was gobsmacked...I got upset and told her not to bother because the trip [was] officially cancelled.
"I told her she shouldn't act shocked and surprised after she successfully ruined yet another opportunity for us to have quality, alone time together," OP added. "I went with the guys instead and she has been upset with me about it saying I could've just agreed to let my stepson...come with us."
In 2019, data collected by Pew Research Center revealed that there are more single-parent households in the United States than in any other country.
Pew Research Center also revealed that, of those single-parent households, the majority are run by single moms.
Because of the all-encompassing parental role many single moms play, mental health website Very Well Mind reports that dating comes with an entirely different rule book, especially for men interested in women whose children come before anything and everything else.
Where many relationships are gauged based on time spent together and energy dedicated to each other, relationships with single parents often take a backseat to raising children and require honest and transparent dialogue between partners.
"Most single parents want to know what type of commitment you're looking for from them, and how much you're willing to commit in return," Very Well Mind asserts. "Whatever the case, it's best to be honest and communicative as you start dating."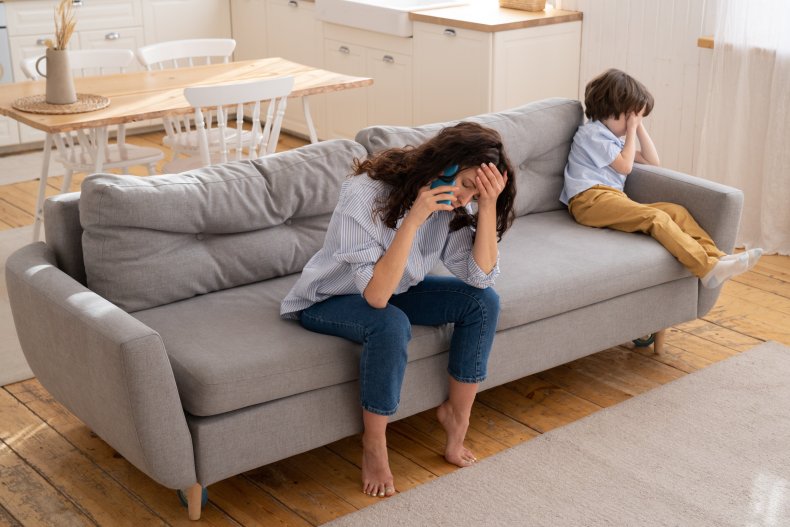 Throughout the comment section of the viral Reddit thread, Redditors speculated that, although the couple will soon be married, the original poster is misunderstanding his fiancée's commitment to being a parent.
Along with speculation about misunderstanding, however, many Redditors called out the original poster for his aggressive reaction to his fiancée's need to care for her son and ripped the man for going on vacation with his friends instead of his soon-to-be family.
"That's her f**king kid!" Redditor u/TheGeekQueen exclaimed in the post's top comment, which has received nearly 8,000 votes. "She can't just tell him 'nope sorry fiancé said no I can't be a mom, I have to be his fiancé first this weekend.'"
"Get the f**k out of here with that. S**t happens and you clearly are not prepared for it," they added. "[You're the a**hole]. Not because you were annoyed at the change of plans but because she's a g**damn MOTHER! You knew this when you chose to be in a relationship with her."
Redditor u/mm172, whose comment has received nearly 7,000 votes, echoed that sentiment.
"[Your fiancée] is a mother, whether you like it or not, and her co-parent either isn't in good health or just isn't reliable," they wrote. "The two of you do need to sit down and have a conversation about what that means for her custody arrangement."
"But given how thoroughly you seem to resent having to put up with the kid, I can't really see any viable ending to that conversation but you going your separate ways," they added.
In a separate comment, which has received nearly 6,000 votes, Redditor u/XStonedCatX took a more blunt approach in addressing the original poster.
"For f**k's sake, she didn't change the plan because she wanted to, her ex got sick," they wrote. "Just what exactly did you expect her to do in this situation? Drop the kid off at the orphanage? Leave him home by himself?
"[You're the a**hole]," they concluded.