The internet has dragged a man who spends his days drinking and smoking with his friend after his 40-year-old girlfriend confessed these aspects of his life were "putting [her] off him."
In a Mumsnet post on Sunday, under the username Lifebeginsat45, the poster wrote that, when she and her boyfriend first met 16 months ago, he had been single for only three months after ending a 10-year relationship with the mom of his two children.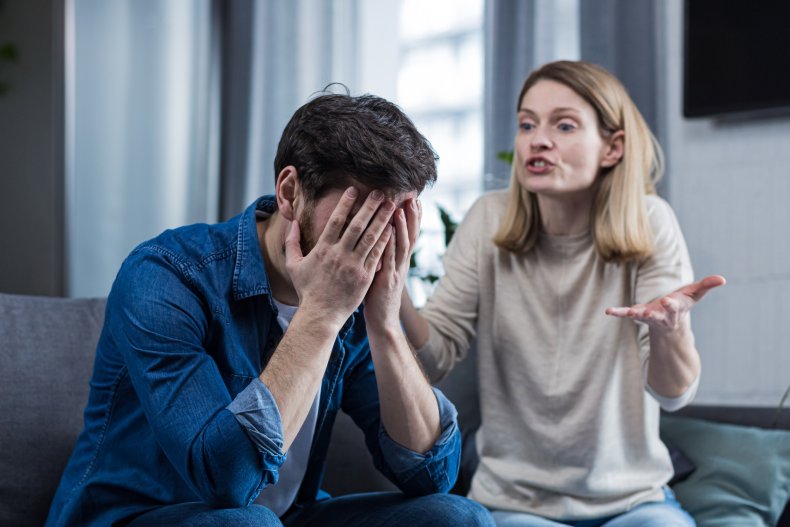 The couple meets only once or twice a week because the poster has a full-time job and her own children to look after. Her boyfriend lives with his mom as he can't afford a place of his own because of the child maintenance he must pay.
Data published by Memphis, Tennessee, firm Miles Mason Family Law Group shows that, in 2022, the divorce rate is expected to be at least 44.2 percent.
This is based on a marriage rate of 6.1 people per 1,000 total population and a divorce rate of 2.7 people per 1,000 total population. It means that, for every 6.1 people who get married, 2.7 will be divorced.
While the poster thinks the man is "good to [her]" and "would do anything for [her]," recently he got in touch with one of his old pals, who has dragged him back into "re living his youth," drinking at the pub four times a week and smoking more than 20 cigarettes a day.
According to the National Center for Drug Abuse Statistics, 10.2 percent of Americans over the age of 12 have alcohol-use disorders. Every day, 385 Americans die from excessive alcohol use, with 83.9 percent of these deaths involving adults aged 35 or older.
Among the 111 users who left comments on the Mumsnet thread, most urged her to end the relationship with the man and "raise [her] bar."
Mumsnet user iklboo wrote: "It's probably the sudden conversion to 'man child copying his mates to stay in the gang' that's putting you off. It would me, too," while Creepymanonagoatfarm commented: "He is a druggie. Raise your bar op."
AttilaTheMeerkat wrote: "Why is your relationship bar so low here? Is he all you think you deserve? A man who uses your home to eat in twice a week?"
ZekeZeke added: "You have heard of the phrase birds of a feather flock together. This man-child is bad news and brings nothing positive to your life. Raise your standards and throw this one back in."
Newsweek was not able to verify the details of the case.
Have you noticed any red flags that made you end a relationship? Let us know via life@newsweek.com. We can ask experts for advice, and your story could be featured on Newsweek.