Invasive Fish May Swarm Colorado River as Water Levels Decline
An invasive fish species could begin swarming more areas of the Colorado River, officials have warned.
In a report released in February by the Bureau of Reclamation, concerns are raised that smallmouth bass—an invasive species established in Colorado River reservoir Lake Powell—could escape into other reaches of the river, below the dam.
Lake Powell, formed by the Glen Canyon Dam, is seeing some of its lowest water levels ever. Officials are concerned that the low water levels will cause the smallmouth bass to escape past the dam, which has so far served as a barrier for the fish. When water levels are high, the report said it prevents the fish passing through.
Smallmouth bass are a warm-water predatory fish, native to eastern North America.
The invasive species has been affecting the Colorado River ecosystem for the last 20 years, the National Park Service reports. They feast on other native fish species, drastically impacting the ecosystem.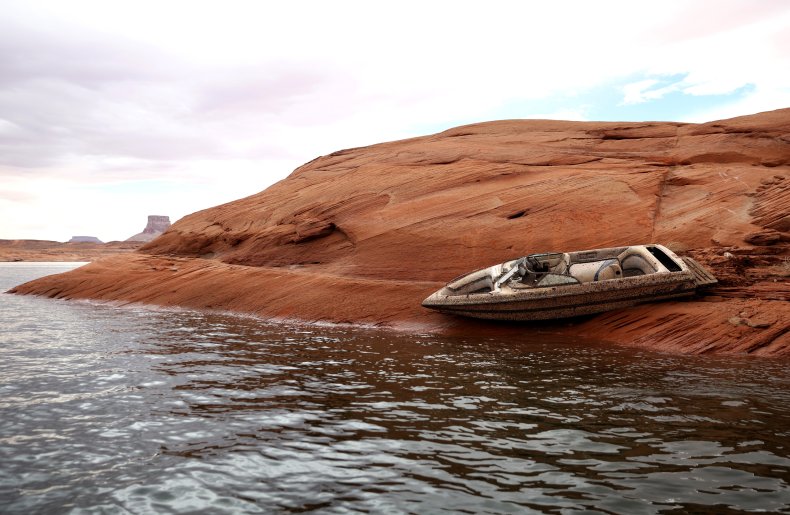 In July 2022, National Park Service officials found juveniles in the water below the Glen Canyon Dam.
July last year was a particularly dry time for the Colorado River reservoirs, and this year could bring more of the same. As the weather warms up and dry conditions take hold once again, Lake Powell's water levels could continue declining.
Of particular concern is the humpback chub—a threatened fish native to the Colorado River that is federally protected. Smallmouth bass have been feasting on them, while biologists attempt to recover the species.
The southwestern U.S. is in the grip of a severe drought which is leading to rapidly declining water levels at Colorado River reservoirs. The warm, dry conditions are making the environment ideal for the invasive species.
In February this year, Lake Powell's water levels reached a historic low.
On February 14, the Colorado River reservoir, which lies in Utah and Arizona, dropped to a historic low of 3,522.16 feet above sea level. It then continued to decline to 3,521.77 feet as of February 18.
This is the lowest Lake Powell's water levels have been since the man-made lake was first filled in the 1960s, not long after its construction.
The recent report from the Bureau of Reclamation sets out several plans to try to stop the invasive species from spawning out of control.
One of the options is to release cold water in the area, to try and deter the fish from reproducing.
If the smallmouth bass were to start spawning rapidly, efforts to remove the species would become even more difficult, the report says.
Do you have a tip on a science story that Newsweek should be covering? Do you have a question about Lake Powell? Let us know via science@newsweek.com.