'Inventing Anna' Release Date, Cast, Plot—All We Know About Julia Garner's New Drama
In 2019, the story of Anna Delvey rocked the world of New York's elite and made its mark in popular culture. Bridgerton producer Shonda Rhimes is bringing the incredible true story to the small screen, with Julia Garner playing the Instagram influencer who defrauded New York's elite, banks, airlines, hotels by pretending to be a German heiress. Newsweek has everything you need to know about the series including release date, cast, trailer, plot, and more.
When Is 'Inventing Anna' Out?
Finally, Inventing Anna has a release date and it is coming to screens a lot sooner than you think.
Inventing Anna is set to debut on Friday, February 11, with all nine episodes dropping at once on the streaming platform.
To watch Inventing Anna when it premieres, you must be a Netflix customer. You can sign up to Netflix for $8.99 today.
In the meantime, you can read Jessica Pressler's article "How Anna Delvey Tricked New York's Party People" via the New York Magazine website now.
Sorokin's former friend Rachel Williams' book "My Friend Anna" is also available to purchase now. The book details her friendship with Sorokin, their trip to Marrakesh, and how her friendship with Sorokin affected her. Williams' story was acquired by HBO in late 2019 and as of February 2021 is still in development.
What Is 'Inventing Anna' About?
Inventing Anna on Netflix is based on the shocking true story of Anna Sorokin, a New York City high society grifter and fraudster. Please note the following lines of this section could include spoilers.
Sorokin, 30, is a Russian-born German convicted fraudster who between 2013 and 2017 pretended to be a wealthy German heiress with a $60 million trust fund under the name Anna Delvey.
For almost five years, she defrauded banks, hotels, airlines, and members of New York City's elite.
The series is based on the New York Magazine article "How Anna Delvey Tricked New York's Party People" by journalist Jessica Pressler.
The series tracks Delvey/Sorokin's schemes and rise in New York society and her fall from grace when her lies and deceit were uncovered.
In 2019, Sorokin faced multiple charges of attempted grand larceny, larceny in the second degree, and theft of services.
On May 9, 2019, Sorokin received a sentence of four to 12 years in state prison. She was fined $24,000, and ordered to pay restitution of $199,000, according to The New York Times.
She served almost two years of her sentence and was released on February 11, 2021.
Who Stars in 'Inventing Anna'?
Ozark's Julia Garner takes on the lead role of Anna Delvey/Anna Sorokin in Inventing Anna.
Speaking to The Wall Street Journal, the Emmy award winner revealed she met with Anna Delvey as she awaited trial at the notorious Rikers Island prison in New York City.
She explained: "You can't dislike the person you're playing for eight, nine months. That's going to come across on the screen, and the performance isn't going to be as good. She had her reasons why she did all the things she did."
Veep's Anna Chlumsky plays the role of Vivian, a journalist loosely based on Jessica Pressler, who wrote the scathing New York Magazine article about Delvey.
Scandal's Katie Lowes takes on the role of Rachel, one of Anna's friends who fell victim to her con artistry while on holiday in Marrakesh, Morocco.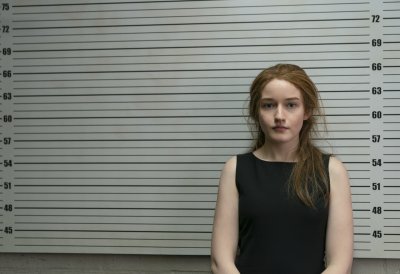 Orange Is the New Black's Laverne Cox stars as Kacy Duke and The Bold Type's Alexis Floyd takes on the role of Neff, a former friend, and hotel receptionist who helped expose Anna's crimes.
Succession's Arian Moayed plays the role of Tom, alongside Law & Order's Jennifer Esposito as Talia Mallay.
Also starring in the series are Anders Holm as Jack, Anna Deavere Smith as Maud, Jeff Perry as Lou, and Terry Kinney as Barry.
Is There a Trailer for 'Inventing Anna'?
After months of waiting, audiences finally get to see and hear Julia Garner become Anna Delvey.
The trailer begins with Vivian (played by Anna Chlumsky) pitching her story to New York Magazine. She states: "Her name is Anna Delvey or Anna Sorokin. No one is sure. She's either a rich German heiress or she's flat broke. The charges are insane," as images of Anna hanging out with New York's elite flash across the screen.
Next, Anna can be seen in court at her trial and later in prison giving an interview to Vivian where she states: "I hear I'm famous. People are painting a public picture of me as a criminal. That's not my story."
The trailer then flashes through Anna living her lavish life in New York City as Anna Delvey, including a luxury trip to Morocco and accusations she stole a private jet.
The trailer concludes with a tearful Anna shouting "Anna Delvey is a masterpiece, b*****s."
Inventing Anna is coming to Netflix on Friday, February 11.
Update 01/21/22, 8:17 a.m. ET: This article was updated with information on Inventing Anna's release date and trailer.