Everything 'Ozark's' Julia Garner Has Said So Far About Playing Anna Delvey
Fans of Ozark's Julia Garner... be prepared to see the Emmy-winning actress in a whole new light. Garner will portray real-life convicted fraudster Anna Delvey in Netflix's Inventing Anna, set to premiere on Friday, February 11. The series comes from Shonda Rhimes and follows the mind-blowing true story of Anna Delvey, tracking her schemes, meteoric rise, and fall from grace across four years.
Anna Sorokin, under the name Anna Delvey, arrived in New York City in 2013 and successfully managed to scam her way through and to the top of New York City's elite by posing as a German heiress. Her cover was blown in May 2018 when Jessica Pressler published a New York Magazine article "How Anna Delvey Tricked New York's Party People—And It's Banks," which is the foundation of the nine-part Netflix series.
Ahead of the show's premiere, Garner has been sharing her thoughts on playing Delvey. Newsweek has everything you need to know.
Everything Ozark's Julia Garner Has Said So Far About Playing Anna Delvey
On Meeting Anna Delvey
To prepare for the role of Delvey, Garner made numerous visits to Albion Correctional Facility in New York, where Delvey was incarcerated until February 2021.
Over the course of four years, Delvey posed as a German heiress with a $67 million trust fund, successfully scamming close friends and New York businesses out of $275,000 under the guise of setting up an exclusive art club.
She was convicted by a Manhattan jury of four counts of theft services, three counts of grand larceny, and one count of attempted grand larceny and sentenced to a minimum of four years in prison. She was released in February 2021 but was later held in ICE custody. As of September 2021, she was still in ICE custody.
Speaking to Town and Country Magazine, Garner described Delvey as "really sweet."
She said: "She was extremely charming. She's very gentle."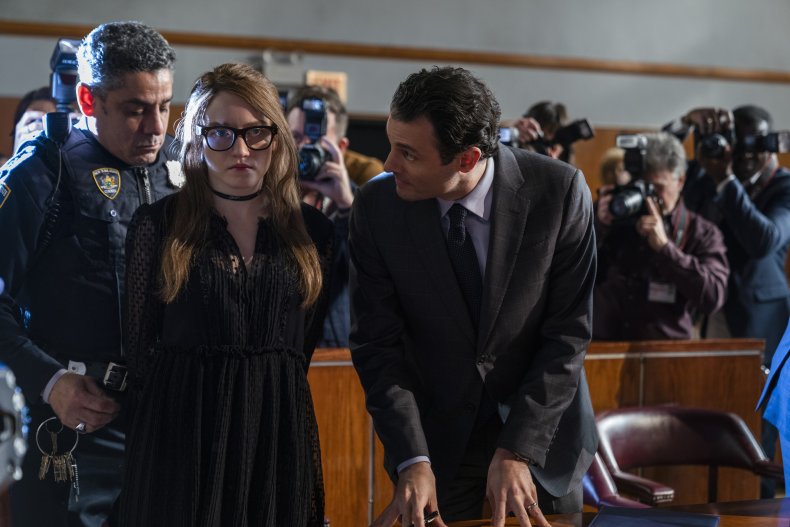 On Becoming Anna
To nail Delvey's unique accent of Russian, German, British English, and American English, Garner worked closely with a dialect coach. She also studied interviews to get her mannerisms down to a T.
Delvey was born in Russia but grew up in Germany. She learned British English and began to learn American English by watching American shows such as Gossip Girl.
Garner also shared she listened to a ton of rap music to prepare for the role, including Delvey's favorite song "Lose Yourself" by Eminem.
On her visit to Albion Correctional Facility, Delvey pressed Garner to hear her accent, describing it as a "very meta" experience.
Garner also said she began to understand Delvey a little bit better after meeting her, calling her a "big dreamer," something Garner said they share in common.
She said: "When I really know the character, I start feeling all their feelings. My anxiety was through the roof, and I realized it was because Anna had really bad anxiety. People don't necessarily have to agree with what she did, but I want to help people try to understand why she did it."
Speaking separately to The Wall Street Journal, Garner said: "You can't dislike the person you're playing for eight, nine months. That's going to come across on the screen, and the performance isn't going to be as good. She had her reasons why she did all the things she did."
On Anna Delvey's Guilt
It wasn't just New York businesses Anna targeted, she also tricked her closest friends into lending her money, with no intentions of repaying them.
In 2017, she visited Marrakesh, Morocco, with her former friend Rachel DeLoache Williams, who worked as Vanity Fair's photo editor at the time. During their trip, Delvey racked up a bill of $62,000 and ultimately convinced Williams to put it on her credit card, under the false promise of paying her back.
Williams went on to publish My Friend Anna: The True Story of a Fake Heiress in July 2019, recounting her friendship with Anna.
Unrelated to the Marrakesh trip, Delvey was arrested in July 2017 for theft of services when she could not pay her hotel bills, but she fled to California and did not show up for an appointed court date.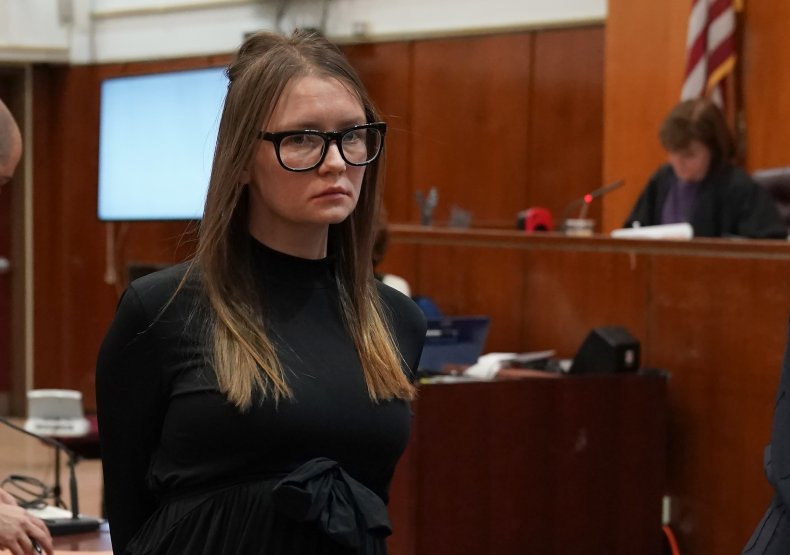 Soon afterwards, Williams realized she had been scammed by Delvey and reported the incident to police. Williams soon found herself at the center of a sting operation which resulted in Delvey's arrest in October 2017 in Malibu, California.
Delvey rejected a plea deal and went on trial. After two days of deliberation, she was found guilty of eight charges including grand larceny in the second degree, attempted grand larceny, and theft of services.
Garner told Town and Country Magazine she wanted to find out if Delvey had any remorse about what happened. She revealed Delvey simply replied: "I don't really have that much time to think."
Instead, Delvey keeps busy in prison with tailoring classes and lessons in "stupid culinary arts."
Garner reflected: "'I kind of love that about her, in a sick way. She's in a full jumpsuit saying, 'I'm obviously not going to make myself food when I get out of jail.'"
Inventing Anna premieres Friday, February 11 on Netflix.