'Inventing Anna' Sorokin Sues ICE Over Alleged COVID Booster Refusal
Anna Sorokin, who was convicted in 2019 of scamming multiple businesses while posing as a German heiress, sued U.S. Immigration and Customs Enforcement (ICE) on Tuesday for allegedly refusing to give her a COVID-19 booster shot.
After her requests for a booster were ignored, the lawsuit claimed, Sorokin tested positive for coronavirus.
Sorokin, 31, is the subject of a recent Netflix limited series entitled Inventing Anna, which details how the Russian-born Sorokin—who began using the name "Anna Delvey"—pretended to be a wealthy heiress while defrauding or deceiving major financial institutions, banks, hotels and individuals.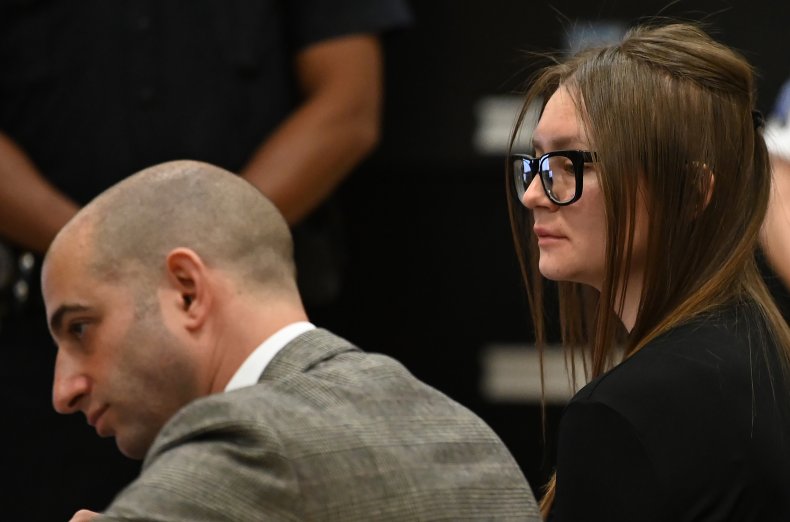 Sorokin and three other detainees are being represented by the American Civil Liberties Union (ACLU) in the complaint filed in Washington, D.C. federal court against the U.S. Department of Homeland Security and ICE.
"I joined this lawsuit because everyone who wants a booster shot to protect themselves should be able to get one," Sorokin said in a statement provided to Newsweek by the ACLU.
An ICE spokesperson told Newsweek in a statement: "As a matter of policy, U.S. Immigration and Customs Enforcement (ICE) does not comment on ongoing or pending litigation. However, lack of comment should not be construed as agreement with, or stipulation to, any allegations."
A New York State court convicted Sorokin of attempted grand larceny, larceny in the second degree, and theft of services in April 2019. She was sentenced to four to 12 years in prison but was released on parole early for good behavior in February 2021.
Sorokin was taken back into custody by ICE agents six weeks after her release in March 2021 for overstaying her visa, and she has remained in detention since that time. Currently, Sorokin is being held in an Orange County, New York, jail while she contests deportation to Germany.
According to the legal complaint, Sorokin has "several medical conditions that make her vulnerable to serious illness or death from COVID-19, including a chronic kidney infection as well as depression, anxiety and post-traumatic stress disorder."
The suit added Sorokin is "an otherwise qualified person with a disability under the Rehabilitation Act" and that "ICE is aware of her medical conditions."
"Staff at Orange County are not taking the proper measures to protect people in this facility. I've already had COVID-19 once—after being denied a booster shot—and I fear getting it again," Sorokin said in her statement. "I've been diagnosed with a chronic kidney infection, which heightens my risk of serious illness."
Sorokin made multiple requests for a booster shot after first being vaccinated for COVID-19 around April 2021, per the complaint. She tested positive for the virus in January, and, according to the complaint, she had "a fever, persistent cough, nausea, migraines, and body aches."
Following the end of a quarantine period, Sorokin "continued to experience lingering effects including fatigue, coughing, brain fog and shortness of breath," the complaint read. It added that she requested a booster again soon after her bout with COVID but allegedly did not receive one.
The ACLU told Newsweek that Sorokin received a booster shot on Thursday.
"It shouldn't have taken a federal lawsuit, but we're relieved for Anna that she has finally been given a booster shot and is better protected from the virus," Eunice Cho, senior staff attorney at the ACLU National Prison Project, said in a statement. "Now our other plaintiffs and everyone else in ICE detention who is at high risk for illness and death must also be promptly given a booster shot."
Inventing Anna, the Netflix drama chronicling Sorokin's time as "Anna Delvey," has proven to be a success for the streaming channel. It has reportedly generated the most hours viewed on Netflix for an English-language series since the channel updated its ratings reporting data last year. Actress Julia Garner (Ozark) stars as Sorokin, while Anna Chlumsky (Veep) plays a journalist who helped give the case widespread attention.
Update 03/03/22, 6:10 p.m. ET: This story has been updated to include a statement from the ACLU about Sorokin receiving a booster shot on Thursday.
Update 03/03/22, 1:40 p.m. ET: This story has been updated to include comment from an ICE spokesperson.