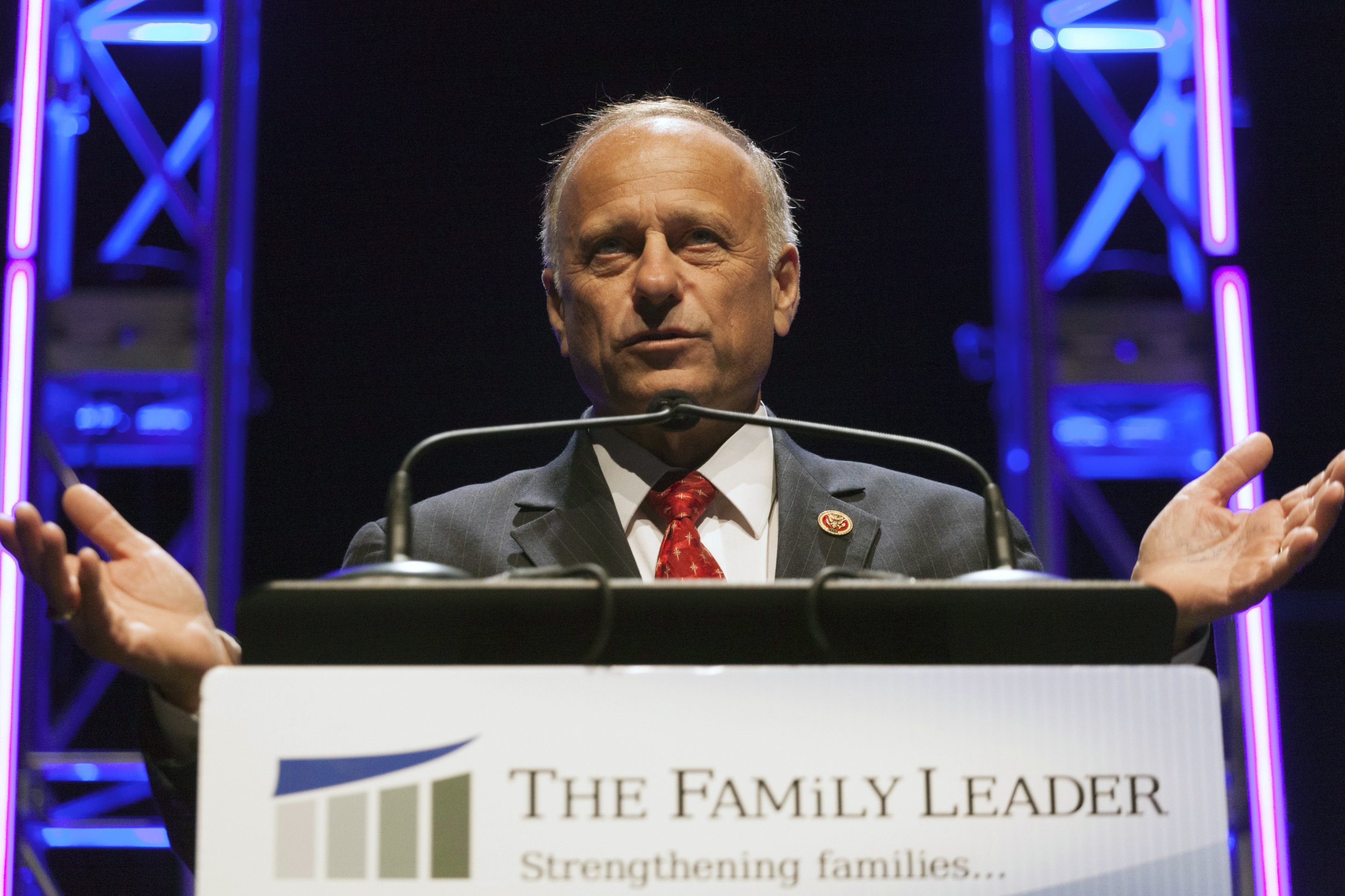 Iowa Republican Steve King has faced a backlash after sharing an anti-immigration tweet Tuesday from a self-proclaimed Nazi-sympathizer.
"Europe is waking up … Will America … in time?" King tweeted when he shared Mark Collett's post, which was an article from Breitbart on a poll about Italians' sentiments toward immigration together with the words "Europe is waking up." As of Wednesday, King had not deleted the tweet.
"No mainstream politician in their right mind should be retweeting Mark Collett," Nick Ryan, director of communications at the British-based anti-racism advocacy group Hope Not Hate, told Newsweek in an email. "If he has any sense, Steve King should rapidly hit the undo button."
Related: Fox News host Laura Ingraham shares anti-immigrant tweet by neo-Nazi David Duke ally
Ryan described Collett as a "neo-Nazi who used to be the youth leader of the thuggish far-right British National Party in the U.K., which has had ties to Holocaust denial, rampant anti-Semitism [and] helped spawn one of Europe's most infamous neo-Nazi gangs, Combat 18 …"
Collett was once a young and prominent future leader within the far-right British National Party until the young 21-year-old was featured in a 2002 documentary by British TV station Channel 4 called Young, Nazi and Proud.
In the film, he made "a series of astonishing pronouncements about the benefits of National Socialism, Jewish persecution and his affection for Hitler," wrote David Modell, the documentary's filmmaker. "Collett finally confessed, on camera, to being a 'Nazi sympathizer.'"
Modell told Newsweek that "[Steve King] is either incompetent for failing to make the most basic checks on who he's retweeting or is deliberately trying to promote the messages of a neo-nazi."
Modell went on to add that, following his documentary, Collett was unable to continue a political career because of what it unearthed about his views.
"Any U.S. politician retweeting his comments is aligning themselves with somebody who has compared themselves to Adolf Hitler, believes that Germany in the 1930s was a better place than modern day U.K. and that Jews were in part responsible for the Holocaust," Modell said.
Collett also said in the film that he considered Aids a "friendly disease because blacks, drug users and gays have it," according to The Independent.
In February, May and June, Collett also appeared on internet talk shows with former Ku Klux Klan leader David Duke.
King, along with his communications director John Kennedy, could not be reached for comment Wednesday about King's tweet and why it had not been deleted. But this isn't the first time King has shared content on Twitter from people or organizations with white nationalist ties.
In December, he shared an anti-immigration article from the far-right European website Voice of Europe. King wrote: "Diversity is not our strength. Hungarian Prime Minister Victor Orban, 'Mixing cultures will not lead to a higher quality of life but a lower one.'"
King's words echoed that of Duke in previous tweets against immigration and diversity.
"There seems to be form here with U.S. politicians," Ryan told Newsweek. "Last year, Donald Trump retweeted three tweets from the deputy leader of the far-right movement Britain First, which likes to proclaim it 'invades' mosques."