Iowa Man's Zebras Assassinated One by One: Owner Received Thousands of Threats Before Being Sniped in Leg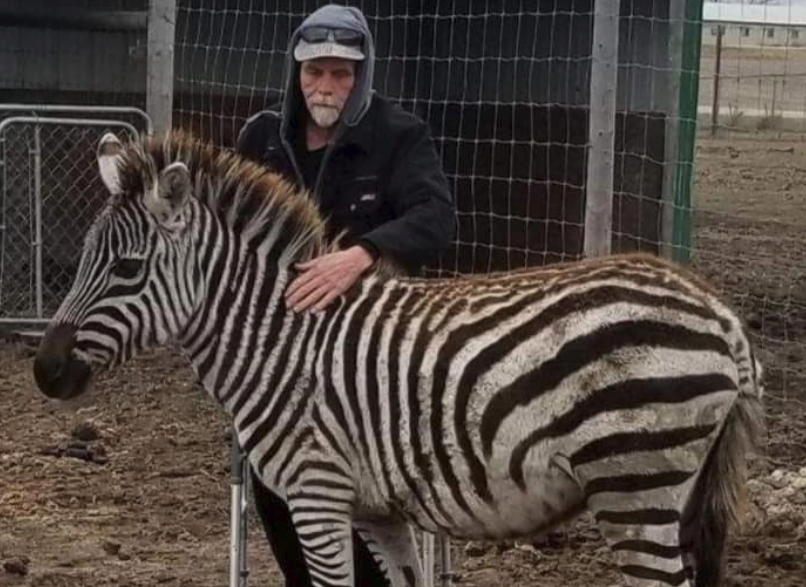 On October 31 last year, on the day of Iowa man Mike Henninger's birthday, his two-year-old zebra named Tazz was found deceased with a gunshot wound.
In the months prior to the slaying, the 55-year-old Oelwein resident says he was terrorized with thousands of threats via text messages. Two months ago, nearly a year to the day since Tazz was found dead, Henninger himself was shot at his Fayette County home, KWWL reported.
Read more: Surfer who called himself "shark bait" gets bitten by shark
On Sunday, deputies from the local sheriff's department were called to Henninger's farmland property—known as Hevans Safari—after yet another Zebra shooting incident was reported. Henninger believes the animal's death was intentional.
"RIP Zena, yet another one with a bullet in her 4th zebra 1 horse and me. This hurts more than me being shot," Henninger wrote on his Facebook page, posting an image of the animal. The body of the deceased 8-year-old female zebra was taken for full examination, police said.
As the man lamented, it was the fifth animal slain on his property since October 2017.
In August this year, a pregnant 5-year-old thoroughbred mare was shot in the head and was declared dead four days later. In September, a zebra called Zoey died of a gunshot wound. On October 13, another zebra called Razzle met the same fate.
On October 28, Henninger was shot at approximately 3:30 p.m. while working in his backyard. He told The Waterloo-Cedar Falls Courier, a daily Iowa newspaper, he was flown to hospital. After a lengthy surgery he received nearly 30 stitches, according to a GoFundMe page.
Henninger told KCRG this week that he believes the individual responsible will not stop until all of his pet animals have been killed. Earlier this month, he acquired a camel and two alpacas.
The Waterloo-Cedar Falls Courier reported Monday no arrests have been made in relation to the past shootings. Citing court records, The Courier revealed a similar case in 2017 resulted in harassment charges against a Dysart man linked to the alleged sending of text threats. The culprit—identity never reported—was handed 10 days in jail with credit for time served.
When asked what message he would give the culrpit, Henniger told Newsweek: "For him to get a life and stop it." According to Henninger, threats that were sent by the man responsible included a video of a stuffed toy zebra being shot and meat being grilled.
In October this year, Henninger posted what he said were excerpts of texts he received at times over the past year. On his phone, the number was saved as "Dickhead."
Some messages referenced a still-living zebra called Fonzie. One read: "Fuck that gay zebra." Another appeared to threaten the man's family.
"I have over 3,000 messages from this guy," Henninger wrote. Responding to one Facebook commenter, he stated: "I guess I'm not important enough to get justice."
The GoFundMe for Henninger, launched by partner Sue Harris-Rutledge, remains active. The last update, published 19 days ago, read: "We are a little frustrated that we haven't received any updates from the sheriff but are hopeful they will call soon with some answers."
Two days ago, Henninger said on Facebook that police currently have one suspect. The Buchanan County sheriff's office has so far declined to comment, citing the ongoing investigation.
Last month, KWWL reported that authorities in the region had not yet confirmed if the shootings had been accidental or intentional.
KWWL reported on Monday that the man Henninger believes to be responsible contacted their newsroom and denied to reporters that he had shot any of the animals.
It remained unclear exactly how long the Buchanan County police probe would continue—and what the outcome would be. "Next in my opinion is an arrest," Henninger told Newsweek today.
Iowa Man's Zebras Assassinated One by One: Owner Received Thousands of Threats Before Being Sniped in Leg | U.S.