Iowa Using $10M of COVID Aid to Pay State Police, Despite Budget Surplus of $700M
The Iowa state government, led by Republican Gov. Kim Reynolds, is using $10 million in federal coronavirus relief funds to pay police officers whose duties may not have been affected much by the pandemic, despite the state having a budget surplus of $700 million.
According to a state report, the money is being allocated to the Iowa Department of Public Safety to support employees "whose services were diverted to a substantially different use as a result of COVID-19."
But the spending has raised eyebrows amid reports that officers' duties have remained largely unchanged during the pandemic.
Department spokeswoman Debra McClung told the Associated Press (AP) that the funds will be used to pay salaries for roughly 550 state officers, which includes road troopers and criminal investigators.
McClung did not provide any information on how officer duties had been "diverted" due to the pandemic, and the AP noted that officers were still able to carry out routine services, such as enforcing traffic laws and investigating crimes.
In an email given to Newsweek, McClung cited a guidance by the U.S. Treasury Department which says that a "State, territorial, local, or Tribal government may presume that payroll costs for public health and public safety employees are payments for services substantially dedicated to mitigating or responding to the COVID-19 public health emergency."
McClung, however, did not provide Newsweek with specific examples of how the pandemic shifted officer duties to meet those qualifications.
Newsweek reached out to Reynolds' office for additional comment but did not hear back in time for publication.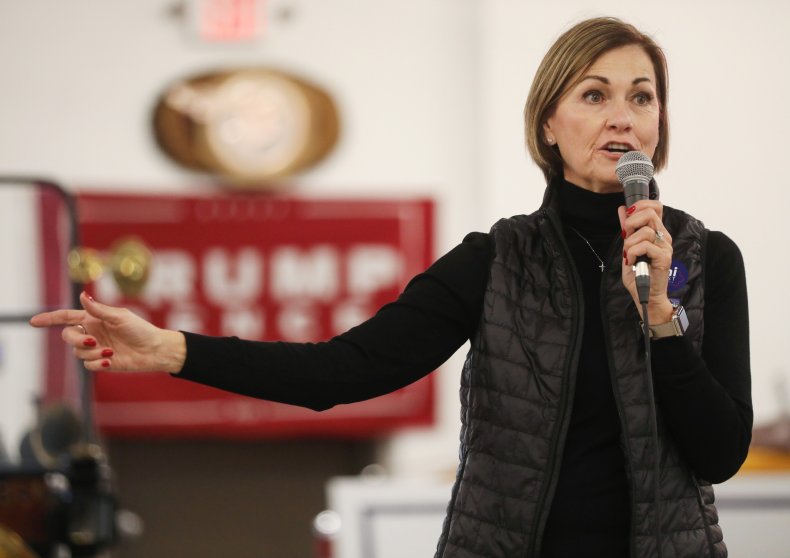 This is not the first time Reynolds' administration has come under scrutiny for its use of coronavirus relief funds.
Reynolds had previously been criticized for using $21 million from the state's $1.25 billion relief fund to pay for an executive branch human resources and accounting software system, which had been planned before the pandemic began.
On Monday, Reynolds said she would return that money to be used for expenses that do qualify for relief, following a review by State Auditor Rob Sand which found the project did not qualify for the funds.
Despite this, the governor has made plans to use $16.9 million for a different software management system that also does not have direct ties to the coronavirus. The project aims to improve data management across state agencies, which a state report says will help "during another pandemic," the AP reported.
"At the end of the day, this is supposed to be about alleviating a crisis for Iowans and a lot of these uses aren't the best way to do that even if they might technically qualify," Sand told the AP on Tuesday.
Reynolds' office has defended its use of coronavirus relief, noting that hundreds of millions of dollars have been used to support businesses, farmers, communities and health-care providers that have been affected by the pandemic.
The office also reported that $490 million, or half of the state's funds, has gone to the Iowa's unemployment fund.
Reynolds has also been criticized for ignoring COVID warnings and recommendations made by health experts, including from the White House COVID-19 Task Force. On November 17, Reynolds issued a statewide mask mandate as cases continued to rise in Iowa.
According to a New York Times database, as of Tuesday afternoon, there have been at least 256,902 cases and 3,269 deaths in Iowa since the beginning of the pandemic.