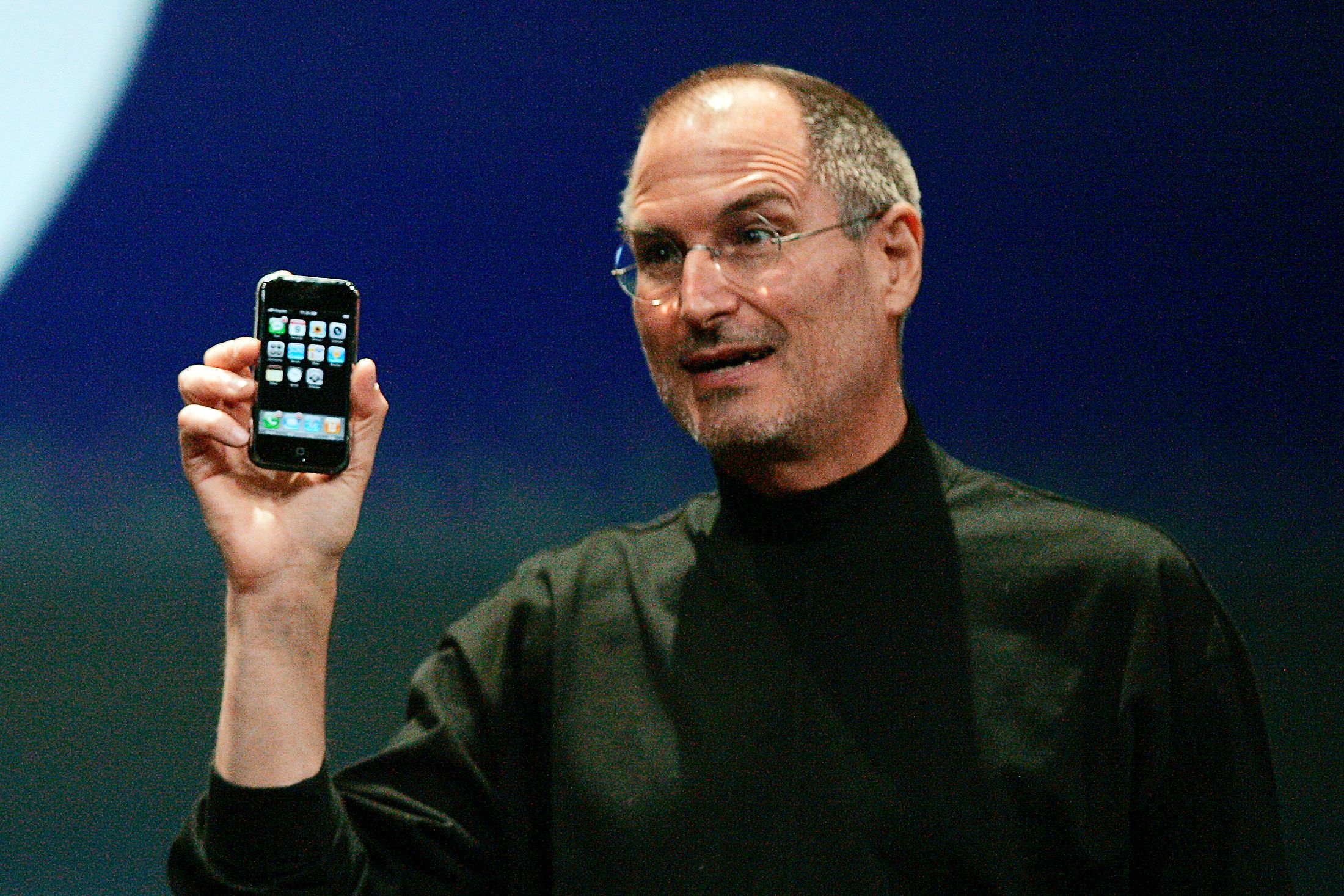 The iPhone is 10 years old. It's been a whole decade since Steve Jobs revolutionized technology with the wave of a small black rectangle, which had been in top-secret development since 2004.
Here, we count down 10 huge cultural moments in the life of the iPhone, from the arrival of Siri to that U2 album owned (and deleted) by millions.
January 2007: Steve Jobs unveils the iPhone
In his signature black turtleneck, Steve Jobs took the stage at the Macworld conference on January 9, 2007, and revealed the world-altering gadget: "An iPod, a phone and an Internet communicator," the founder said. "Are you getting it? These are not three separate devices. This is one device." He apparently forgot to say that one day it would also be a tool for a president to blast out unhinged thoughts to the world at 6 a.m.
June 2007: The first-generation iPhone goes on sale in the United States
Customers line up outside Apple stores to be among the first to try it. To give you a sense of what else was going on in June 2007: The Spice Girls announced their reunion, four people were charged with trying to blow up JFK International Airport, Bob Barker aired his last ever episode of The Price Is Right, and presidential candidate Barack Obama was debating primary rivals Hillary Clinton and John Edwards in New Hampshire.
July 2008: The arrival of the App Store
Your grandfather trudged miles through snow to get to the general store to buy firewood. You logged in to the iOS App Store to download Flappy Bird. The store launched during the summer of 2008, and by the following year it had sold more than a billion apps.
October 2011: The birth of Siri
The movies always told us the future would involve robots, but they didn't realize the robot would live inside a phone smaller than a brick. Siri, Apple's smooth-voiced virtual assistant, was introduced with the arrival of the iPhone 4 in 2011. The early reviews were positive. David Pogue of The New York Times described Siri as a "crisply accurate, astonishingly understanding, uncomplaining, voice-commanded minion."
March 2014: Ellen DeGeneres uses an iPhone at an Oscars ceremony sponsored by Samsung
DeGeneres took a famous selfie at the 2014 Academy Awards. She used a Samsung phone, appropriately, since the Green Room was sponsored by Samsung. But backstage, in an amusing blunder, the comedian revealed her actual preference by tweeting from her own iPhone. Classic.
September 2014: U2 arrives on your iPhone without an invitation
It was a historically disastrous album launch: U2 performed at the 2014 reveal of the new iPhone and Apple Watch, then released a new album, available free of charge, on the spot. The weird thing was that the album was force-fed into iPhone users' music libraries without permission. Worse still, the album wasn't very good. It was a bizarre mashup of tech idealism and rock 'n' roll. U2 eventually apologized for the stunt.
Related: U2's bland Songs of Innocence is so much less provocative than its release stunt
July 2015: The first great movie shot entirely on an iPhone
Tangerine, a 2015 Sundance hit that depicts a surreal night in the life of an L.A. sex worker, drew raves for its wickedly funny and offbeat script. But the film's most unorthodox accomplishment is the cinematography: It was shot entirely on three iPhone 5s. Regardless of whether you think it worked, it's a reminder that the iPhone has revolutionized how people create art.
July 2016: Taylor Swift's iPhone note heard around the world
In 2016, Kim Kardashian sparked a feud with Taylor Swift by releasing a stealth video in which Swift appeared to approve an unflattering Kanye West lyric she had criticized. Swift retaliated with a statement that's honestly more quotable than the Declaration of Independence. What was curious was Swift's choice of format: a screenshot of an iPhone note. More curious, the screenshot revealed that the note was the result of a search, implying Swift may have had it prewritten and ready to go.
September 2016: The death of the headphone jack
When Apple unveiled the iPhone 7, one particular detail—the loss of the headphone jack—was met with intense fascination and ridicule. Senior Vice President of Worldwide Marketing Phil Schiller said the company had been motivated by "courage," whatever that means. The device did sell in huge numbers, and Apple wound up shipping a free Lightning to 3.5 mm Headphone Jack Adapter with every phone to satisfy those customers uninterested in using the Apple-branded "AirPods."
April 2017: Kendrick Lamar's producer creates a song entirely on an iPhone
The iPhone changed how we listen to music, and it changed how we make music. The beat for "Pride," from Kendrick Lamar's new album, DAMN, was apparently crafted entirely on an iPhone, according to producer Steve Lacy, who instead of utilizing expensive audio equipment prefers using his iPhone to record.