Iran Accuses U.S. of 'Terrorist Act' in Syria Strike as Nuclear Deal Looms
Amid a critical moment for the effort to restore a nuclear deal, Iran has accused the United States of a terrorist act in Syria after President Joe Biden ordered an airstrike on positions said to be linked to Tehran's elite Islamic Revolutionary Guard Corps.
U.S. Central Command Communications Director Army Colonel Joe Buccino issued a statement late Tuesday announcing that Biden had directed the U.S. military to conduct "precision airstrikes" in Syria's eastern Deir Ezzor province.
"These precision strikes are intended to defend and protect U.S. forces from attacks like the ones on August 15 against U.S. personnel by Iran-backed groups," Buccino said. "The U.S. strikes targeted infrastructure facilities used by groups affiliated with Iran's Islamic Revolutionary Guard Corps."
The strikes were described as "necessary to protect and defend U.S. personnel," who have come under attack by rockets and armed drones in recent weeks. Buccino said that the U.S. "took proportionate, deliberate action intended to limit the risk of escalation and minimize the risk of casualties."
"The President gave the direction for these strikes pursuant to his Article II authority to protect and defend U.S. personnel by disrupting or deterring attacks by Iran-backed groups," Buccino added. "The United States does not seek conflict, but will continue to take necessary measures to protect and defend our people."
And he said that "U.S. forces remain in Syria to ensure the enduring defeat of ISIS," officially known as the Islamic State militant group.
The act was "strongly condemned" by Iranian Foreign Ministry spokesperson Nasser Kanaani. In a statement shared with Newsweek by the Iranian Foreign Ministry, Kanaani was said to have "described this new aggression of the American army against the Syrian people as a terrorist act against the popular groups and fighters against the occupation and denied any affiliation of them to the Islamic Republic of Iran."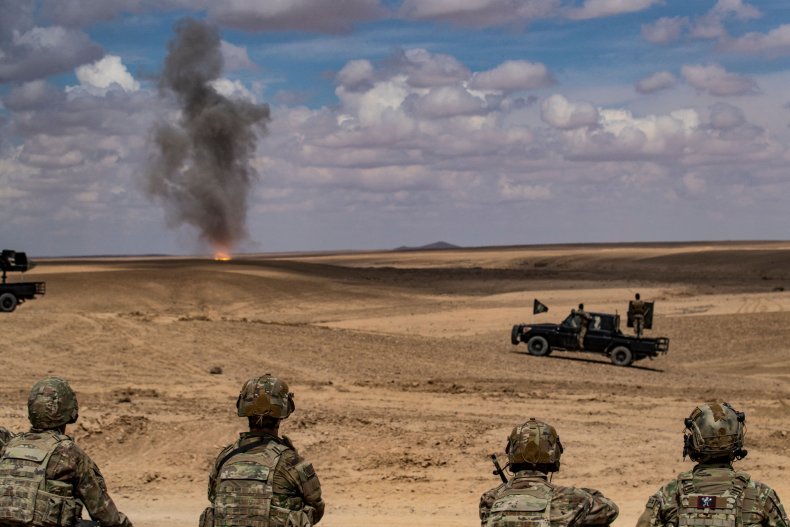 "The continued presence of American troops in parts of Syria is against international laws and violates the national sovereignty of this country and is considered an occupation," the statement added, "and on this basis, they should leave Syria immediately and stop plundering the country's oil resources and grains."
The U.S. military is believed to deploy roughly 900 troops in two areas of the country: across the northeast alongside the Kurdish-led Syrian Democratic Forces, and near a southeastern desert garrison alongside rebels of the Maghawir al-Thawra group.
Kanaani rejected the explanation that the U.S. military role was "fighting terrorism in Syria," and warned that "the admission of the American authorities that ISIS was created by the United States has not yet been erased from the public opinion of the people of the region."
Similar claims were made by former President Donald Trump, who blamed his predecessor, former President Barack Obama, for helping to create ISIS through military intervention in the region. Obama's former Defense Intelligence Agency chief Michael Flynn, who would go on to briefly serve as Trump's national security adviser, previously cast the blame on former President George W. Bush for setting the conditions for the rise of ISIS through the invasion of Iraq.
ISIS took advantage of regional instability brought on by conflicts in Iraq and Syria to spread across both countries. Beginning in 2014, the U.S. and Iran led separate efforts to beat back the group, which remains active in isolated cells, and Washington and Tehran retain a presence in the neighboring Arab nations to this day.
A year after their parallel wars on ISIS began, the U.S. and Iran came together with China, France, Germany, Russia and the United Kingdom to establish a landmark nuclear deal that would see international sanctions lifted on Tehran in exchange for the Islamic Republic severely curbing its nuclear activities. Trump would abandon the deal in 2018, ramping up economic restrictions against Iran and raising tensions between the two.
Biden has vowed to reenter the deal and, after nine rounds of negotiations in the Austrian capital of Vienna, a final text was circulated by the European Union earlier this month. Iran provided recommendations to the draft last week and Kanaani confirmed later Wednesday that Tehran had received the U.S. reply, though no further details have been offered.
Reports also emerged later that same day of renewed rocket fire against U.S. positions in eastern Syria as well as a potential U.S. military response.
Newsweek has reached out to Syria's mission to the United Nations and U.S. Central Command for comment.
This is a developing news story. More information will be added as it becomes available.