Iran Says All 'Enemies Must Leave Region' As U.K. Releases Oil Tanker
The head of Iran's navy warned all foes they should withdraw from the region just hours before the United Kingdom announced the release of a seized Iranian oil tanker.
A judge in the U.K.-ruled territory of Gibraltar ruled that Iranian supertanker Grace 1 may be released last month on suspicion of attempting to transport oil to Syria, an apparent violation of European Union sanctions. The incident set off already-mounting tensions in another strategic waterway, the Strait of Hormuz, the world's top oil chokepoint where Iran's elite Revolutionary Guards would go on to seize U.K.-flagged oil tanker Stena Impero weeks later, accusing it of endangering maritime traffic.
As the international feud played out over the past month, the U.K. became the sole country to definitively answer the United States' call to join a so-called maritime security initiative meant to guard commercial vessels through the Persian Gulf region. Iran has rejected foreign intervention, which it blames for the recent unrest, and Iranian navy commander Rear Admiral Hossein Khanzadi issued a warning to adversarial forces in the region.
"The Islamic maritime resistance is being formed and developed. The era of plundering the region's assets is over and enemies must leave the region as soon as possible, otherwise, they will experience a humiliating exit," Khanzadi said.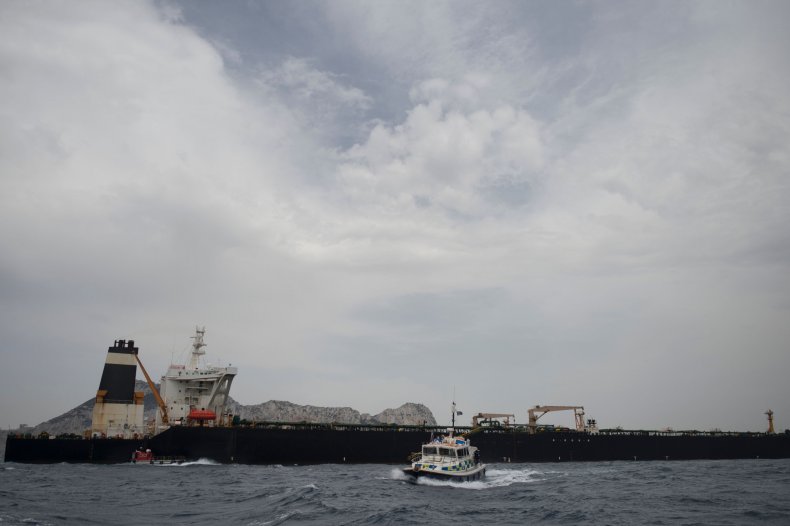 That same day, the Iranian and Russian navies held a joint maritime rescue exercise, their latest since signing a memorandum of understanding late last month regarding closer military ties. Russia has also opposed a U.S.-led coalition in the Persian Gulf, calling on Arab countries to heed Iran's call for a regional dialogue instead.
China has also backed this initiative and Germany rejected an invite to the U.S. mission, while France expressed initial support for a European-led project to safeguard shipping in the region. The three European countries, the EU, China, Russia, the U.S. and Iran were signatories to a 2015 nuclear deal that was abandoned last year by President Donald Trump, who went on to repeal sanctions relief and impose new restrictions on the Islamic Republic in spite of it curbing its nuclear activities as agreed.
The U.S. has accused Iran of funding militant groups abroad and threatening the region and beyond through ballistic missile development, while Tehran has accused Washington of destabilizing the region through its military interventions in countries like Iraq and Syria and its arms sales to allies such as Saudi Arabia and the United Arab Emirates. Another U.S. ally in the Middle East, Israel, has also offered to joint the U.S.-led operation in the Persian Gulf, stoking regional discontent.
In response, revolutionary Shiite Muslim Iran has set out to rebuild damages ties with the Sunni Muslim monarchies of the Arabian Peninsula. The head of the Iranian armed forces held talks last week with his counterparts from Kuwait, Oman and Qatar, asserting that "that security should be provided by regional countries" and that "America is the principal cause of insecurity in the region."
The talks followed a rare meeting between UAE and Iranian security officials, who signed a memorandum of understanding regarding joint maritime cooperation. Emirati officials have since downplayed any speculation of a rift with their Saudi allies, even as their respective allies engaged in deadly clashes in Yemen, where the UAE earlier announced it was scaling back its presence in a Saudi-led coalition against a Zaidi Shiite Muslim rebel group known as Ansar Allah or the Houthis and suspected of receiving Iranian assistance.
As for the U.K, the U.S. had made a last-ditch effort to appeal to Gibraltar's government in order to keep the Iranian vessel detained, but Gibraltar Chief Minister Fabian Picardo said in a statement Thursday that this was "a matter for our independent Mutual Legal Assistance authorities who will make an objective, legal determination of that request for separate proceedings."
He called a meeting last month with Iranian officials on the matter "both positive and constructive" and revealed that he received an official request from Tehran last week to release its ship, for which he has received "assurances" that meant "there are no longer any reasonable grounds for the continued legal detention of the Grace 1."
Following news of the release, Iranian Foreign Minister Mohammad Javad Zarif tweeted: "Having failed to accomplish its objectives through its #EconomicTerrorism—including depriving cancer patients of medicine— the US attempted to abuse the legal system to steal our property on the high seas." He added: "This piracy attempt is indicative of Trump admin's contempt for the law."