Russia and Iran to Train Together 'This Year' As They Fight Back Against U.S. Policies
The head of Iran's navy has said his forces planned to train alongside their Russian counterparts by the end of the year as both nations stepped up their rhetoric against U.S. policies targeting them.
Iranian naval commander Rear Admiral Hossein Khanzadi confirmed Sunday that Iran and Russia had signed their first-ever memorandum of understanding regarding inter-military affairs last week during his visit to Moscow. He also briefly discussed joint military exercises he previously said at the time would be held in the northern Indian Ocean and Gulf of Oman.
"Soon the preparations and maneuvers' planning will start and they will be conducted this year," Khanzadi said, according to the semi-official Fars News Agency, which reported in English that the training could be carried by March 2020.
Iran and Russia's decision to shore up defense ties came amid heightened tensions in the Middle East, where the U.S. and the U.K. have accused the Islamic Republic of disrupting commercial traffic within and near the world's most important oil chokepoint, the Strait of Hormuz. Khanzadi dismissed London's decision to join Washington's maritime coalition in the Persian Gulf as "a big bluff and a deceitful act that tries to make this region look unsafe, even though it is secure."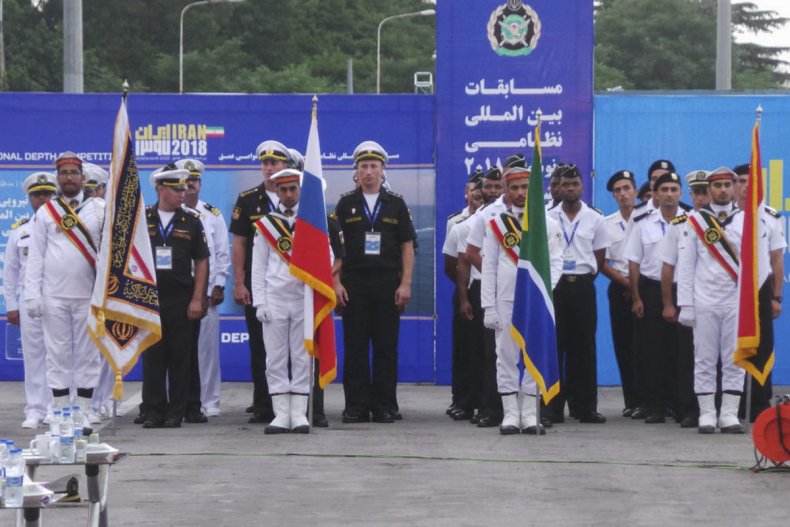 On Monday, Iranian Foreign Ministry Mohammad Javad Zarif further criticized President Donald Trump's administration over its decision to sanction him, reportedly over his refusal to meet Trump face-to-face at the White House. He accused the U.S. of waging "economic terrorism" against Iran through its unilateral sanctions and blamed the U.K. for being complicit in it despite still supporting the 2015 nuclear deal abandoned last year by Trump.
Though the U.K. also signed the U.S.-Iran deal alongside China, the European Union, France, Germany and Russia, London and Tehran'ss ties have grown strained since the former's Royal Marines captured an Iranian supertanker accused last month of trying to transport oil via Gibraltar to Syria in an apparent violation of EU sanctions. Weeks later, Iran's Revolutionary Guards seized a U.K. vessel that allegedly collided with a local fishing boat in the Strait of Hormuz.
Zarif has called for regional dialogue and non-aggression pacts, moves backed by Moscow, which has supported Tehran's narrative against accusations from both Washington and London. China too has called for solutions on a regional basis, rather than a foreign one, France has indicated potential support for a European-led initiative and Germany has rejected the U.S. call altogether.
In a bid to foster ties with Arab states, Iran's top diplomat has met with his Omani counterpart and attended a high-level meeting between Iranian President Hassan Rouhani and Iraqi Prime Minister Adel Abdul-Mahdi. As the head of Iran's border guard met with the coast guard chief of the United Arab Emirates — one of several Sunni Muslim monarchies of the Arabian Peninsula opposed to Iran — for talks last week that led to a memorandum of understanding regarding joint maritime cooperation, Zarif said his country was open to dialogue with archfoe Saudi Arabia, a close UAE and U.S. ally that recently received U.S. troops for the first time in 16 years as part of the Trump administration's efforts to pressure Iran.
The rare Iran-UAE meeting, though largely dealing with promoting cross-strait business interactions and fighting criminal activities, raised some speculation as to whether Abu Dhabi was softening its stance toward Tehran. Some linked it to the UAE's recent drawdown of forces fighting alongside a Saudi-led coalition against a Yemeni Zaidi Shiite Muslim rebel group, known as the Houthis or Ansar Allah, which they suspected of receiving Iranian backing.
Emirati State Minister for Foreign Affairs Anwar Gargash dispelled this account Friday, tweeting that the UAE would redeploy forces in the contested Yemeni port city of Al-Hodeidah after "an expanded dialogue within the coalition" headed by Saudi Arabia. He said that, "as for the Iranian issue, our common position is to avoid confrontation and give priority to political action."
Russian Deputy Foreign Minister Sergei Ryabkov called Monday on the U.S. to clarify its stance when it came to the Middle East, saying his government would "support any U.S. moves that are aimed not at rising tensions, particularly in the Persian Gulf, but at finding ways to build dialogue and resolve issues," the state-run Tass Russian News Agency reported. Elsewhere, Washington was also split with Moscow and Tehran over their support for the Syrian government against a rebel and jihadi uprising once backed by the U.S. and several regional allies including Israel, Qatar and Saudi Arabia, but now primarily sponsored by Turkey, which works with Iran and Russia as part of a peace process.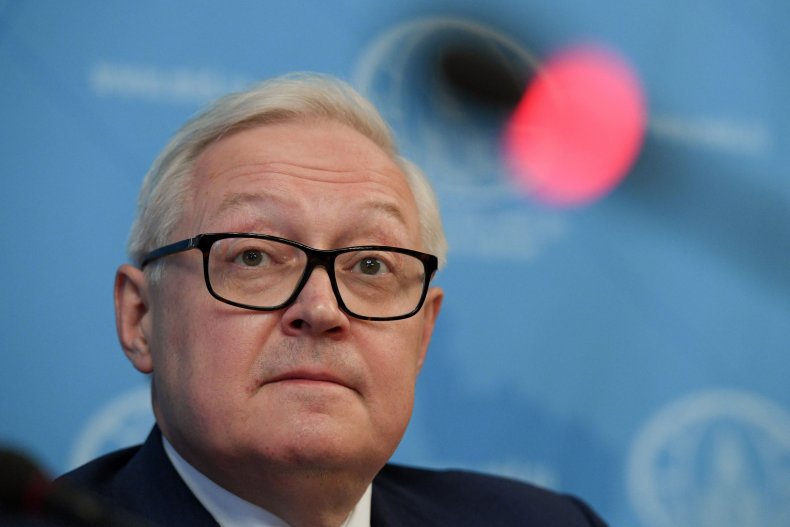 While Trump has signaled much greater willingness to work with Russia than with Iran, ties between Washington and Moscow have still continued to deteriorate since the Republican leader took office in 2017. Secretary of State Mike Pompeo announced sanctions against Russia over its alleged role in the poisoning of ex-double agent Sergei Skripal in the U.K. last year.
The same day Pompeo announced these measures, which Zarif also described as "economic terrorism" on Twitter, the top U.S. diplomat also announced the country's withdrawal from the 1987 Intermediate-range Nuclear Forces (INF) Treaty banning land-based missiles ranging to 310 to 3,420 miles. Washington and Moscow have both accused one another of violating the pact though Pompeo said that "Russia bears sole responsibility for the demise of the treaty."
"The haste, with which these actions are apparently leading to the flight tests of new intermediate-range missile systems, the work on which has proceeded in the United States in recent years and the surprising speed, at which the issue of deploying the corresponding systems somewhere in Asia is being translated into the practical plane — all these factors are extra arguments in our favor, in favor of Russia, which said from the very outset that the problem is not related to this or that move on our part but that the problem is related to the situation in other regions and the circumstances which are internally analyzed in Washington from the viewpoint of what could be done to build up the American potential precisely in those regions," Ryabkov said, according to Tass.
Ryabkov indicated last month that Russia was "starting to gear up for a potential deployment of U.S. intermediate-range ground missiles" and that "decisions on response measures are being implemented."