Iran Says U.S. Is Only 'Isolating Itself' As China, Russia and Even Its Allies Go Their Own Way
Iran has warned that the United States risked further alienating itself from other global powers and regional players in the Middle East if it kept trying to impose its views on others via sanctions.
Iranian Foreign Minister Mohammad Javad Zarif, who was recently blacklisted by the U.S. for speaking on behalf of his government, highlighted Tehran's ongoing outreach to neighbors at a time when President Donald Trump sought to sever the Islamic Republic's external ties through economic and diplomatic restrictions. As tensions rose in the Persian Gulf region, most countries have called for de-escalation rather than U.S.-style "maximum pressure" against Iran.
Zarif also referenced China and Russia's going opposition to how the U.S. was treating them, with Trump waging a trade war against Beijing and accusing Moscow of violating the 1987 Intermediate-range Nuclear Forces (INF) Treaty.
"As Iran's regional dialog & non-aggression pact advance, #B_Team shrinks," Zarif tweeted, using a phrase he coined to describe White House national security adviser John Bolton along with the heads of Israel, Saudi Arabia and the United Arab Emirates. "US should stop isolating itself & adapt to new global realities. Int'l commerce & power are shifting: neither #EconomicTerrorism against China & Iran nor exiting #INFTreaty with Russia will reverse that."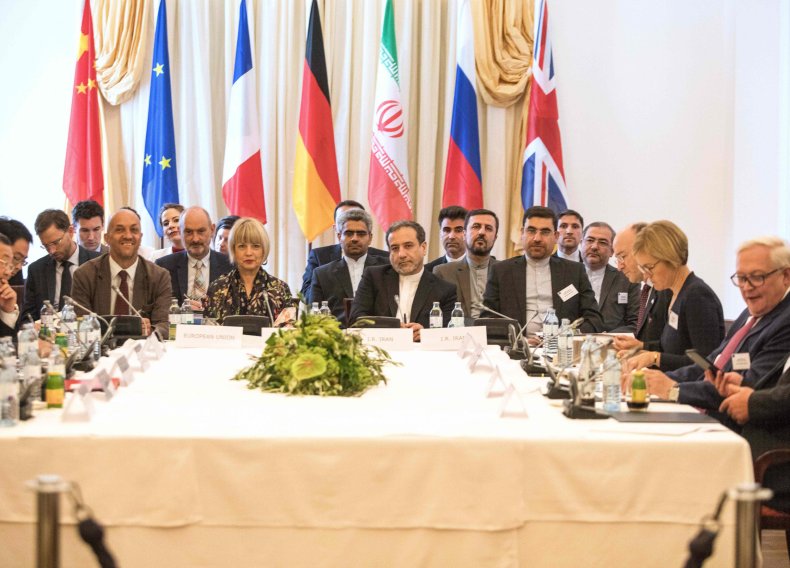 Influential world actors China, the European Union, France, Germany, Russia and the United Kingdom all endorsed the 2015 nuclear deal between the U.S. and Iran, which was granted sanctions relief in exchange for agreeing to curb nuclear activities. Trump, however, accused Iran of funding militant groups and conducting destabilizing missile development, and he left the landmark deal last year, imposing unilateral measures to prevent other countries from doing business with Tehran.
European parties to the accord have attempted to establish channels to bypass these U.S. sanctions, with only very limited success, something Iran used to justify enriching uranium beyond restricted levels in recent months. Washington has also deployed additional military assets to the Middle East as it claimed Tehran was preparing to target its interests was behind recent attacks on foreign oil tankers in the Strait of Hormuz.
With serious friction in the Persian Gulf as Iran and the U.S. claimed to have shot down one another's drones and Iran and the U.K. seized one another's tankers over alleged legal issues, the Trump administration has attempted to rally international support against Iran, but has struggled to do so. The U.S. announced last month the development of a "maritime security initiative" that has so far been rejected by Germany and was received coolly by France, which preferred a European initiative proposed by the U.K.
Meanwhile, Russia and China have called for a regional approach to ensuring stability in the Persian Gulf, an idea backed by Iran. Iran's top navy commander recently signed on to closer military ties with Russia and shored up relations with the fleets of both India and Pakistan. Iranian President Hassan Rouhani met with Iraqi Prime Minister Adel Abdul-Mahdi and Zarif met his Omani counterpart Yusuf bin Alawi bin Abdullah, all of whom stressed the importance of dialogue among neighbors.
The head of Iran's border police even held rare talks with his counterpart in the United Arab Emirates, a vocal critic of Iran and close partner of Saudi Arabia and its U.S. ally, regarding maritime cooperation that culminated Thursday with a memorandum of understanding. Now Zarif has once again opened the door for elusive talks between Tehran and Riyadh.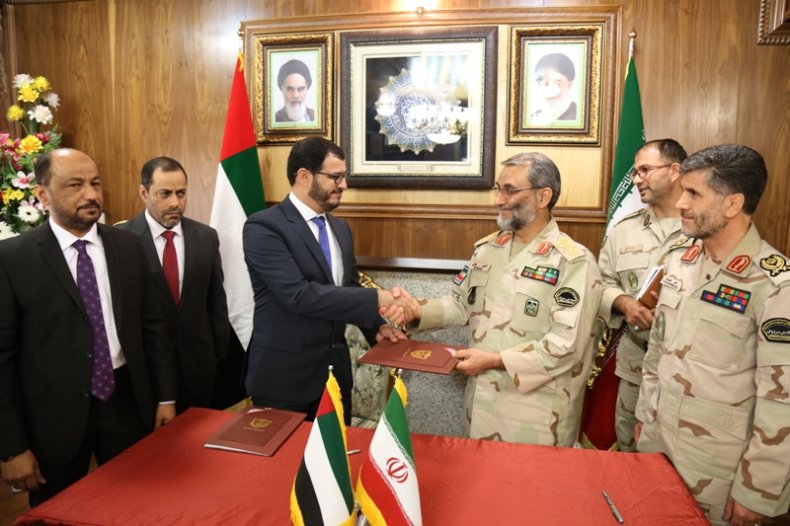 Zarif's designation Wednesday by the Treasury Department's Office of Foreign Assets Control represented a new blow to the prospect of longtime rivals the U.S. and Iran reigniting diplomatic efforts. Iran's elite Revolutionary Guards—also blacklisted by the U.S.—called it an act of "desperation, exhaustion and weakness" that "marked the end of the era of the American superpower and its adventurism in the region," while an array of Iranian officials and politicians voiced their support for Zarid.
The EU expressed "regret" over the decision and vowed to continue working with Zarif. China and Russia were also critical of the move, but with Trump announcing new tariffs against Beijing on Thursday and withdrawing from the INF with Moscow the following day, rapprochement with Washington appeared distant on this front as well.
After accusing Russia of developing a weapon that breached the INF's 310 to 3,420-mile limit for land-based missiles, the State Department's Bureau of Arms Control, Verification and Compliance announced Friday the U.S. has "officially withdrawn" from the INF. The Trump administration first announced in February it would do so, giving Moscow six months to comply with Washington's demands.
The Russian Foreign Ministry called the exit "a serious mistake" and accused Washington of ignoring Moscow's own counterclaims of alleged U.S. violations in order to pursue a new deal involving Beijing. Chinese Foreign Ministry spokesperson Hua Chunying said her country "deeply regrets and resolutely opposes the U.S. side's disregard of the opposition of the international community" in leaving the pact.