Germany Says It Will Not Support U.S. Military in Gulf, Where Iran Is Ready for Talks with Saudi Arabia
Germany has officially declined to join a proposed U.S.-led mission in the Persian Gulf region, where Iran has said it was ready for talks with Saudi Arabia in order to calm mounting tensions in the Middle East.
German Foreign Minister Heiko Mass said Wednesday that Germany "will not take part in the sea mission presented and planned by the United States," which has sought to develop a "maritime security initiative" to counter Iran in the world's top oil chokepoint, the Strait of Hormuz. The top diplomat affirmed that "there is no military solution" to the ongoing crisis that has seen unrest involving competing commercial and military interests in the strategic region.
Earlier Wednesday, government spokesperson Ulrike Demmer confirmed Germany had received a U.S. proposal, but major differences remained in their approaches, so "the government has not offered any contribution," according to Turkey's Anadolu Agency. She added: "For us it is important to continue along the path of diplomacy, and seek talks with Iran to achieve de-escalation."
Washington's embassy in Berlin revealed Tuesday that the U.S. had "formally asked Germany to join France and the U.K. to help secure the Straits of Hormuz and combat Iranian aggression." The embassy also criticized a German Social Democrat lawmaker who opposed the German navy's involvement on the grounds that it would come "at the expense of other Alliance commitments."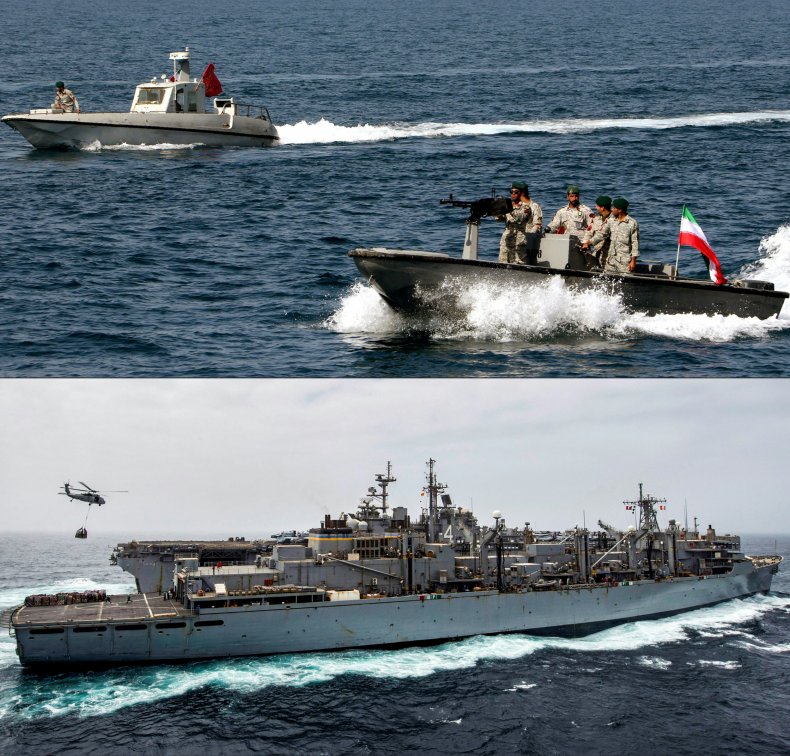 Germany joined the European Union, fellow members France and the United Kingdom, as well as China and Russia in signing a nuclear deal forged between the U.S. and Iran in 2015. Last year, however, President Donald Trump abandoned the landmark agreement and imposed sanctions on Iran, frustrating the remaining parties as they struggled to normalize trade ties in exchange for Tehran curbing nuclear production.
Iran remained in compliance for a year until announcing in May it would begin enriching uranium beyond restricted levels as the U.S. began expanding its regional military presence. In the following weeks, two unclaimed series of attacks hit foreign oil tankers in the Gulf of Oman and the U.S. and Iran claimed attacks on one another's drones in the Strait of Hormuz.
In the latest move, Iran's Revolutionary Guards detained a U.K.-flagged oil tanker accused of recklessly endangering vessels in the tight passageway. This came just weeks after the U.K.'s Royal Marines seized an Iranian supertanker charged with attempting to transport oil to Syria via the Strait of Gibraltar in what was said to be a violation of EU sanctions.
The U.S. and the U.K. have made separate calls for multinational coalitions to step up patrols in the region, but countries like France and Germany have expressed wariness at the Trump administration's involvement. China and Russia, which have mostly blamed recent frictions on the U.S., have called for a regional security framework involving Iran and some of its rivals cross-strait rivals on the Arabian Peninsula.
As Iran's naval commander announced "a turning point in relations of Tehran in Moscow" with the signing of new document expanding military ties and the planning of new joint exercises with Russia in the Indian Ocean and Gulf of Oman, Iranian military figures have held talks with counterparts in India and Pakistan, also calling for a forces in the region to cooperate more closely. Top Iranian officials also met with Arab counterparts in Iraq, Oman and even the United Arab Emirates in a bid to foster closer regional ties and de-escalation.
Iranian Foreign Minister Mohammad Javad Zarif, who recently shored up ties with a representative of the Chinese Communist Party, said Wednesday he was willing to commence talks with top Arab foe Saudi Arabia, if the Sunni Muslim kingdom was also willing to engage.
"If Saudi Arabia is ready for dialogue, we are always ready for dialogue with our neighbors," Zarif said Wednesday, according to the semi-official Islamic Republic of Iran Broadcasting news outlet. "We have never closed the door to dialogue with our neighbors and we will never close the door to dialogue with our neighbors."
Despite the offer to the close U.S. ally, the Treasury Department's Office of Foreign Assets Control announced that Iran's top diplomat would be blacklisted as the Iranian "regime's primary spokesperson around the world." Zarif responded, tweeting: "Is the truth really that painful? It has no effect on me or my family, as I have no property or interests outside of Iran. Thank you for considering me such a huge threat to your agenda."