U.S. Struggles to Get Help from Europe As Iran Plans Military Moves with Russia, Seeks Support from China
The United States has officially asked Germany to join the United Kingdom and France in a naval coalition designed to secure the strategic waters near the Persian Gulf amid tensions with Iran, which recently signed onto closer military cooperation with Russia.
A spokesperson for the U.S. embassy in Berlin said that President Donald Trump's administration has "formally asked Germany to join France and the U.K. to help secure the Straits of Hormuz and combat Iranian aggression" in remarks first carried Tuesday by Germany's Deutsche Presse-Agentur and confirmed by Reuters. They continued: "Members of the German government have been clear that freedom of navigation should be protected... Our question is, protected by whom?"
The remarks came after Washington and London made separate calls for a heightened international presence to patrol the world's most important oil chokepoint and the site of recent unrest involving international tankers and drones. Neither Paris nor Berlin have publicly committed to either initiative, however, and German Social Democrat Hans-Peter Bartels, the parliamentary commissioner to the armed forces, told newspaper Süddeutsche Zeitung Monday that "the Navy is operating at its limits" and such a commitment would be "at the expense of other Alliance commitments."
In response to these remarks, the U.S. embassy in Berlin on Tuesday tweeted: "Suggestion: the largest economy in #Europe could buy more ships? #Allies #NATO"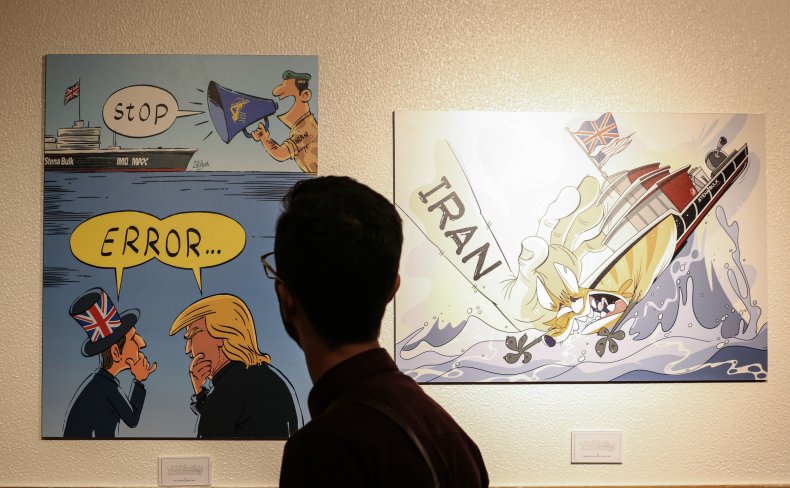 The three European powers, alongside the European Union, joined China and Russia in signing a 2015 nuclear deal forged by the U.S. and Iran and have continued to back the agreement, even after Trump pulled out last year, imposing sanctions and setting off newfound frictions between the Islamic Republic and the West. In the face of Washington's unilateral restrictions, Europe has struggled to normalize trade ties with Tehran, compelling it to restart uranium enrichment above restricted levels.
While Iran has always denied seeking nuclear weapons and the International Atomic Energy Agency had repeatedly verified its compliance with the deal, the Trump administration has remained skeptical, taking signals from close Middle East allies such as Israel and Saudi Arabia. On the other hand, China and Russia have mostly blamed the U.S. for bringing the region toward crisis as it expanded its military presence in the region and blamed Iran for explosions targeting oil tankers in the Gulf of Oman since mid-May.
Tehran has denied involvement in the incidents, but it would be in this same body of water—also called the Sea of Oman—as well as the nearby Indian Ocean that Iranian naval chief Read Admiral Hossein Khanzadi revealed Monday that his forces join their Russian counterparts for drills "expected to take place soon" in "the northern Indian Ocean, which flows into the Sea of Oman, the Strait of Hormuz and also the Persian Gulf."
The commander made the remarks after signing a memorandum of understanding largely concerning defense ties that he said "may be considered as a turning point in relations of Tehran in Moscow." The drills were confirmed the following day by the Iranian navy's public relations department, which noted that "some domestic media outlets have misunderstood and misconstrued" Khanzadi's comments to suggest that the drills would take place in the Persian Gulf, instead of the Indian Ocean and Sea of Oman.
Iranian navy Admiral Parviz Salimi Panah told the local Radio Goftegoo outlet Tuesday that "maritime security is very important in economic and strategic matters, and countries that are genuinely interested in maritime security will have a major impact on world peace," adding that "Russia's presence will certainly be very effective."
Moscow and Tehran have coordinated in joint efforts that helped Syrian President Bashar al-Assad turn the tide against a rebel and jihadi uprising once widely supported by the U.S. and Arab allies of the Arabian Peninsula, but now mostly sponsored by Turkey, with whom Iran and Russia work as part of a trilateral dialogue to end the war. Though both the U.S. and Iran worked to defeat the Islamic State militant group (ISIS) in Syria and neighboring Iraq, they have accused one another of supporting terrorism and attempting to destabilize the region.
Also backing Assad politically was China, where Iranian Foreign Minister Mohammad Javad Zarif traveled Tuesday following more Iranian talks of a regional security approach with his Iraq and Oman. In a meeting between Zarif and Chinese Communist Party International Liason Sung Tao, the two discussed "the friendly relations between Iran and China in all fields" as well as "the U.S. unilateral policy of violating the international law and regulations and Washington's attempts to impose its hegemony on the world."
That same day, Iranian and UAE officials held a rare meeting on joint maritime cooperation, the first of its kind since 2013. Abu Dhabi, a close ally of both Washington and Riyadh, has recently distanced itself from their claims that Tehran was behind attacks on commercial vessels in the Gulf of Oman and has begun pulling some personnel from the Saudi-led war in Yemen against a Zaidi Shiite Muslim rebels that were suspected of receiving Iranian assistance.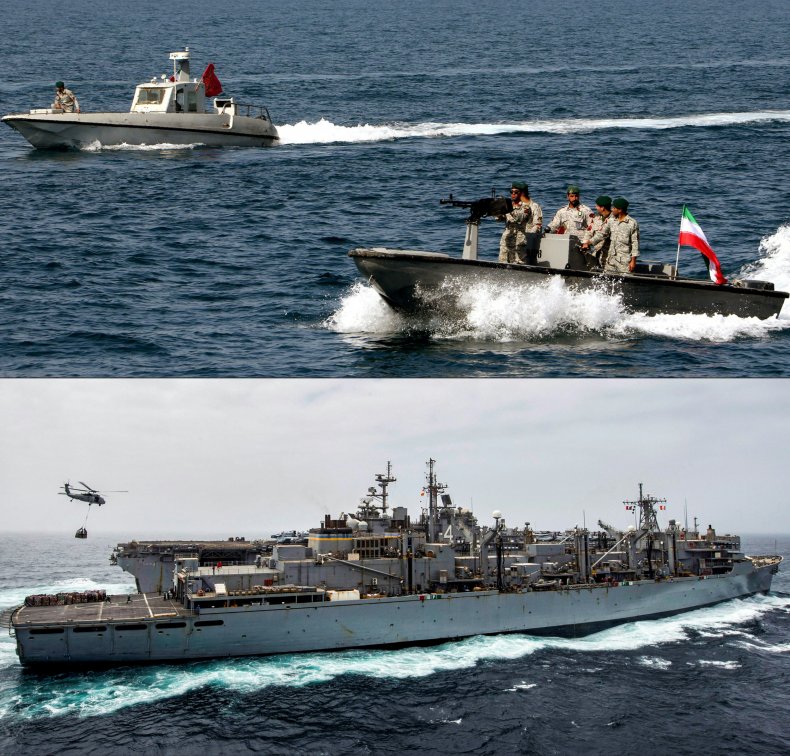 The EU, France, Germany and the U.K. have attempted a more diplomatic approach than the U.S. toward Iran in establishing a special trade vehicle meant to bypass U.S. sanctions, but this channel remained largely limited to humanitarian transactions that did little to support the increasing isolated Iranian economy. London has also stepped up in confronting Iran, with the Royal Marines seizing an Iranian supertanker accused of transporting oil to the EU-sanctioned government in Syria via the Strait of Gibraltar.
Earlier this month—one day after Trump claimed the U.S. Navy took out an Iranian drone about a month after Iran's Revolutionary Guards shot down a U.S. Navy drone in the Persian Gulf region—Iranian naval forces stopped a U.K.-flagged ship, accusing it of endangering maritime traffic and breaking rules. Both ships remain in the custody of the other power London's top diplomat and Iran's ambassador to the U.K. dismissed the idea of a swap.
Secretary of State Mike Pompeo told Fox News Channel last week that "the responsibility ... falls to the United Kingdom to take care of their ships." In recent days, he has also appealed for nations to join a "maritime security initiative" including the U.S., though only South Korea appears to have openly expressed interest and French Foreign Minister Jean-Yves Le Drian said last week his country sought "the opposite of the American initiative" to impose Trump's maximum pressure against Iran.
Asked Monday at the Economic Club of Washington, D.C. about what the U.S. planned to do next about the detained U.K. ship, Pompeo said he was "working with the British to find the solution to both ... right that injustice, and second, prevent it from happening again, so to establish deterrence, that's the mission set."
Update (2:44 p.m. 7/30/2019) This article has been updated to include reports of a recent meeting between Iranian and UAE coast guard officials.