A senior Russian military official has accused the United States of stealing oil from parts of Syria held by allied insurgents and of using the revenue to sabotage the war-torn country's government.
Colonel-General Sergei Rudskoi, chief of the Main Operations Directorate of the Russian military's general staff, told reporters Monday that the U.S. has mobilized about 2,700 "militants" in a 34-mile, self-styled deconfliction zone near the southeastern border crossing of Al-Tanf. He said these insurgents, including those from Maghawir al-Thawra and the Army of Free Tribes, were being transferred from Al-Tanf via U.S. Air Force helicopters in order to conduct "sabotage, the destruction of oil and gas infrastructure and commit terrorist attacks against government forces" in areas such as Al-Sweida, Palmyra and Al-Bukamal.
"Aside from training militants, the U.S. structures in Syria are involved in plundering oil facilities and deposits in the area across the Euphrates that belongs to the legitimate Syrian government. Lately, U.S. private military companies have been observed to actively beef up their personnel. Today, the mercenaries of the private military companies in Syria exceed 3,500 people," Rudskoi claimed.
He argued that these companies had "organized the production and sale of Syrian oil from the Conaco, Al-Omar and Tanak oilfields located east of the Euphrates River" as part of "a criminal scheme" to "loot the national wealth of Syria." Much of these proceeds were said to be "spent on maintaining illegal armed groups, bribing the sheiks of Arab tribal unions and fomenting anti-government sentiments."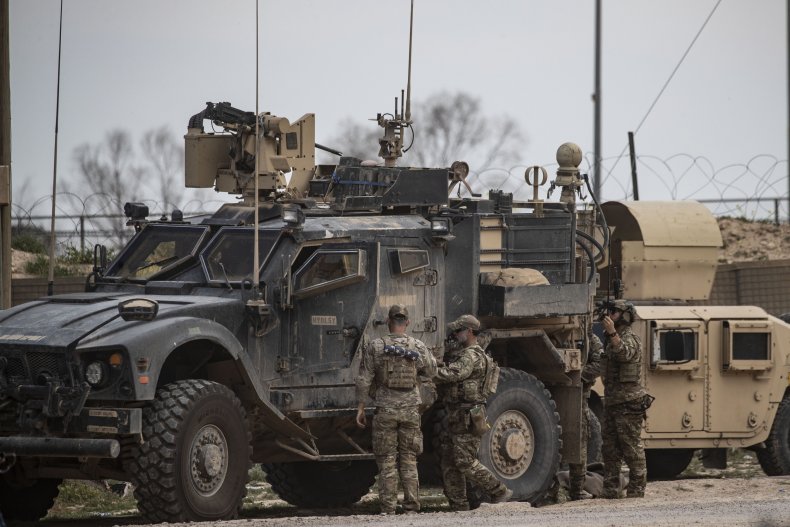 The U.S. has long been accused of intervening abroad in support of oil interests, especially since the 2003 invasion of Iraq that toppled President Saddam Hussein on charges that later proved to be false. Despite the U.S.' increasingly energy independence, such accusations have also surrounded the country's role in the NATO intervention that ousted longtime Libyan leader Muammar el-Qaddafi in 2011 as well as President Donald Trump's ongoing efforts to depose Venezuelan President Nicolás Maduro and isolate Iran through sanctions.
Amid Syria's civil war, the U.S. and Russia both staged interventions and, though they both targeted the Islamist State militant group (ISIS), they did so as part of rival coalitions support conflicting goals. Washington, which was a major sponsor of opposition groups seeking to overthrow Syrian President Bashar al-Assad since 2011, officially aligned itself with a mostly Kurdish group known as the Syrian Democratic Forces in 2015, around the same time that Moscow joined the fight to support Assad against the various rebels and jihadis looking to oust him.
In the years since, both sides have managed to largely defeat ISIS, but have accused one another of making the situation in Syria worse by perpetrating human rights abuses. Russia has also charged the U.S. with actively supporting some militant groups in order to prevent the Syrian government restoring stability to parts of the country and to maintain control of natural resources once held by ISIS.
Rudskoi claimed Monday that the alleged U.S. private military company operations in Syria were being "carried out under the guise of aviation of the international antiterrorist coalition" and "represents a smuggling business taken by the Americans from ISIS." He said "the continued supply of arms and military equipment by the United States to the eastern bank of the Euphrates also causes considerable concern" as, "in exchange for assistance in oil smuggling, the United States is 'beefing' up both Kurdish and Arab formations with arms, and they subsequently use them against each other."
Rudskoi warned that this was "only exacerbating the situation in the war-torn region" where some tensions have built up between the U.S.-backed, predominantly Kurdish administration and majority-Arab population. Washington officials have repeatedly stated that they wished to respect Syria's territorial integrity, but Assad — whose own oil industry was sanctioned by the U.S. and its allies over alleged war crimes — has warned that he would retake Syrian Democratic Forces-held areas by force if they were not handed over through dialogue.
Though the Syrian Democratic Forces declared victory against ISIS in March, Secretary of State Mike Pompeo told Fox News Channel last week that there was still "a handful" of the jihadis left in Syria, and some "moving around in Iraq" as well. The Syrian government declared victory against ISIS in November and its Iraqi counterpart did so the following month, though sporadic attacks have continued in both countries.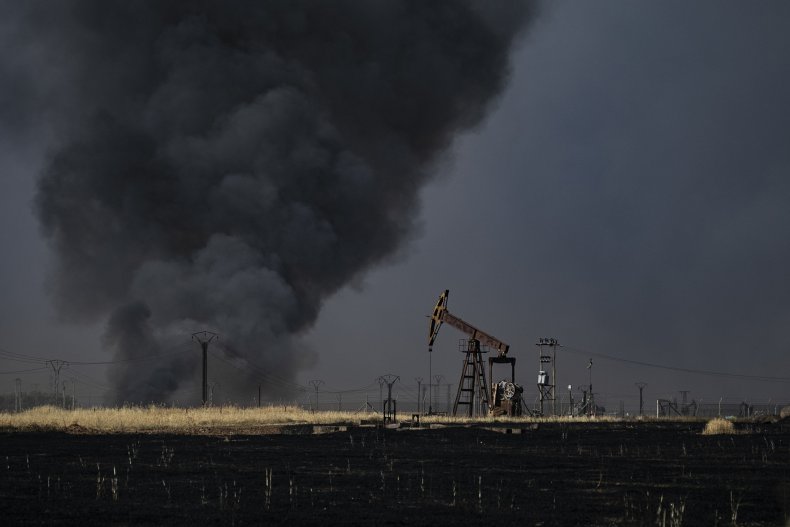 The Pentagon also continued to conduct airstrikes in Syria and Iraq, though the U.S. has grown increasingly concerned about the influence of Iran, which supported both countries' governments in their fight against ISIS. Tehran backed both Damascus and Baghdad largely through regional Shiite Muslim militias that Washington looked to as proxies of the Islamic Republic.
As a fellow supporter of Assad, Russia has backed Iran's presence in Syria, though it has said all foreign forces should eventually leave the country. Some clashes have occurred between the U.S.-led coalition and pro-Syrian government groups associated with Iran and Russia including a battle last February near oil and gas fields by the Euphrates river that saw up to what Pompeo later claimed was up to "a couple hundred" casualties among Russians believed to be working for the Wagner private military company.
The U.S. and Kurdish allies also faced difficulties in dealing with Turkey, a fellow member of the NATO Western military alliance. Ankara considered some Kurdish separatist fighters within the Syrian Democratic Forces to be terrorist organizations and has sought to establish "safe zones" with Washington allowing Syrian rebel groups aligned with Turkey to replace the Kurdish administration, but no agreement has been reached and Turkish Foreign Minister Mevlut Cavusoglu warned Wednesday of a potential new cross-border operation east of the Euphrates.
International tensions in Syria were also present in the northwest where a separate Turkish deal with Russia has so far failed to curb the presence of militant groups in jihadi-dominated Idlib province, the scene of recent violence between pro-government and anti-government forces. In response to the redeployment of what he estimated to be "at least 500 terrorists from Hayat Tahrir al-Sham," a coalition affiliated with Al-Qaeda," Rudskoi informed Monday that "preparations are being made for offensive operations" in Idlib and surrounding territories.