Iran Defends Venezuela as U.S. Warns of 'All Options' Against Two More Oil-Rich Nations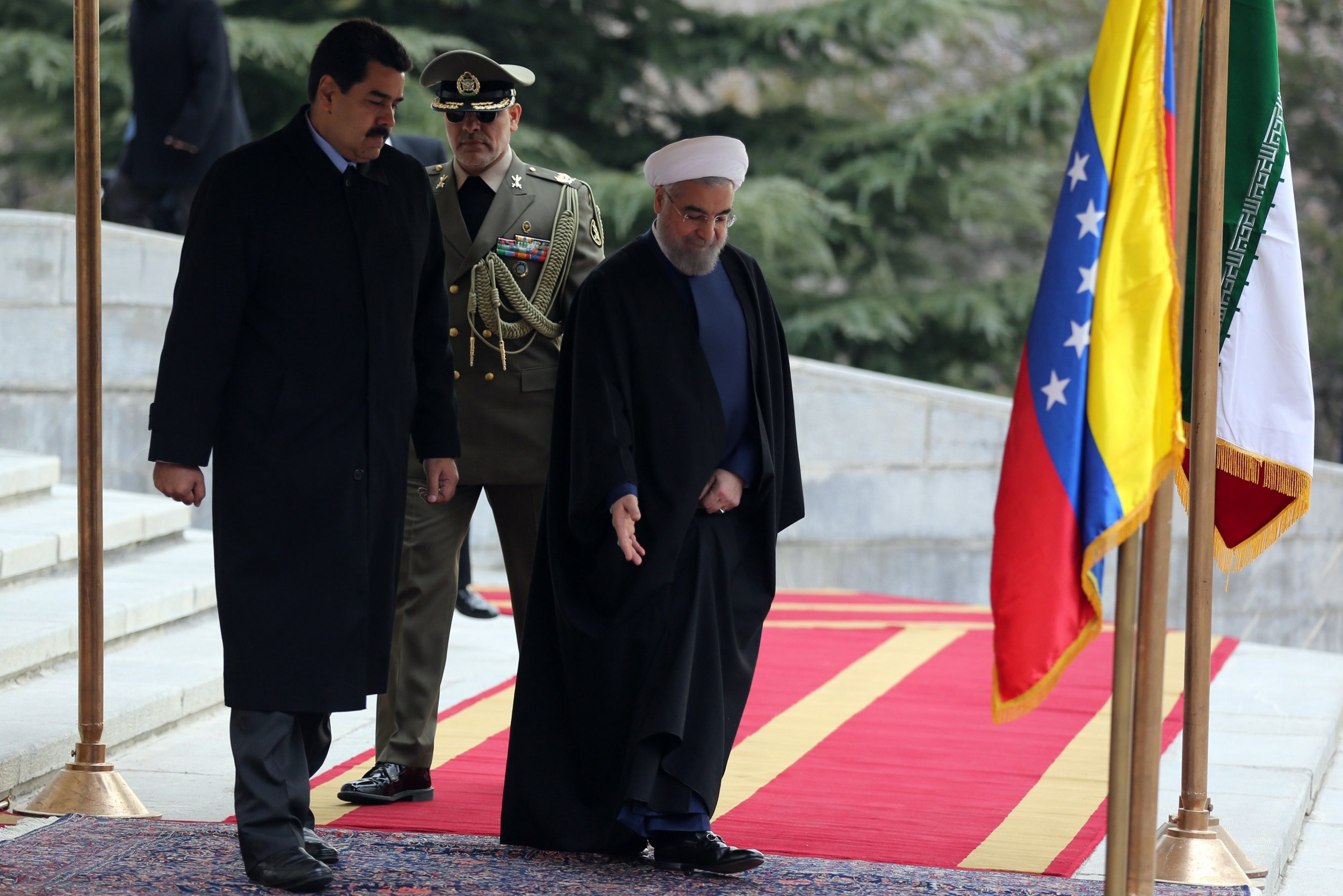 Iran has condemned U.S. threats against Venezuela as Washington attempted to cut off both countries' oil exports completely in a bid to destabilize their governments.
As Venezuela coped with U.S.-endorsed opposition leader Juan Guaidó's call for a military uprising that was quashed by security forces loyal to President Nicolás Maduro, Secretary of State Mike Pompeo and White House National Security Adviser John Bolton reiterated President Donald Trump's warning that "all options" were on the table when it came to advancing Washington's interests in Caracas. The administration has used identical language regarding Iran—something not lost on the Islamic Republic.
"The Islamic Republic strongly condemns the U.S. attempt to stage a coup or take any military action in Venezuela and the remarks made by American officials with the aim of provoking riots and violence in the country," Iranian foreign ministry spokesperson Abbas Mousavi said Friday, calling it "a flagrant violation of the United Nations Charter."
Mousavi called on the international community to "respond appropriately," since "international order and stability is being endangered by some militant, anarchic and lawless elements within the U.S. government."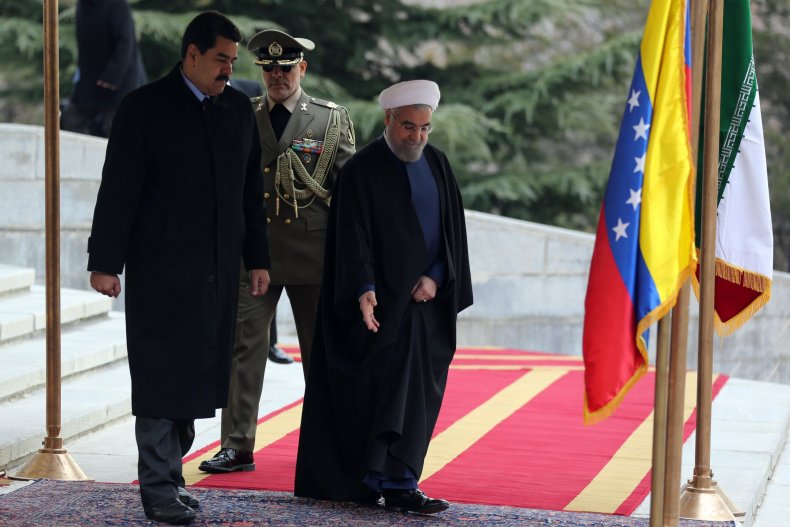 Iran and Venezuela, two troublednations that have strengthened ties in recent years despite the distance between them, have a shared hostility toward the U.S. that's rooted in previous pushes for regime change at home and across their respective regions. Despite being rich in oil, the two countries are now undergoing economic crises they have blamed on new attempts to interfere in their internal affairs.
The 1979 Islamic Revolution ousted a West-backed monarchy that was emboldened by a 1953 CIA-orchestrated coup against a prime minister seeking to nationalize the Middle Eastern nation's oil assets. In Venezuela, Maduro's predecessor, socialist leader Hugo Chávez, was briefly deposed in 2002 before ultimately overcoming a coup reportedly linked to U.S. officials.
Since Trump came to office in early 2017, the U.S. has ramped up tensions with both countries, accusing their governments of human rights abuses and presenting a threat to its security and that of its allies. Trump has vowed to cut off both countries' oil exports entirely, and both he and his officials have repeatedly warned that "all options," including military action, were available in forcing Tehran and Caracas to comply with his interests.
Direct conflict has so far been avoided in both cases, but there have been rumblings within the Trump administration—especially concerning war hawk Bolton—of the U.S. exploring military options against Venezuela, where critics have accused the government of profiting off a historic economic crisis. Asked by reporters if the U.S. planned on deploying the Navy to the coast of the leftist-led Latin American state, acting Defense Secretary Patrick Shanahan said Friday that "all options are comprehensive, but there is a lot of water nearby," according to ABC News.
The remarks came as Venezuela's crisis continues to divide the international community. The U.S. has managed to secure the support of much of Latin America and Europe, but others—including China, Russia and Iran—continue to support Maduro, who is still recognized by the United Nations. Moreover, Russia has deployed personnel to Venezuela, reportedly to fulfill "military-technical cooperation," and has been accused of convincing Maduro to stay. Iran, too,has sent officials as it considered the possibility of a similar situation happening at home.
"The Iranians have sent people to Venezuela to study the situation," Ali Vaez, director of the International Crisis Group's Iran Project, told Newsweek. "The Iranians are definitely learning their lesson of what's happening in Venezuela so they can be better prepared to fight it off."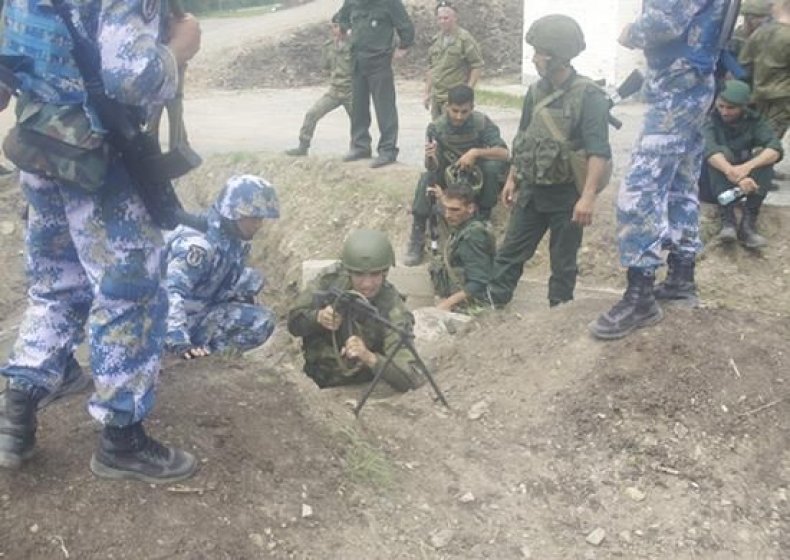 Also on Friday, as waivers allowing eight nations to buy oil from Tehran expired, Iranian Foreign Minister Mohammad Javad Zarif warned of naval activity near his own country. In an interview with Al Jazeera, the top diplomat referred to the Persian Gulf and the Strait of Hormuz—through which about a third of international seaborne-oil traffic passes—as a "lifeline" for Iran's economy, which has continued to struggle under U.S. sanctions.
"We depend on them for our livelihood, and we want them safe, secure and free for navigation of all countries, including Iran," Zarif said, warning that the country would continue selling oil and that "Iran won't permit the U.S. to threaten the Persian Gulf."
The centrality that lucrative energy resources have played in disputes has been noted by both Iran and Venezuela, with the two countries pointing to the Iraq War as a precedent. In 2003, a year after the attempted coup on Chávez, the U.S. invaded oil-rich Iraq on the pretext that it possessed weapons of mass destruction and harbored ties to Al-Qaeda, two charges that later proved false and raised global suspicions about Washington's true motives.
Maduro compared the threats of intervention against his own country, saying in a direct appeal to U.S. citizens in February that Venezuela has "the largest certified oil reserve in the world, and the eyes of those who lead the empire in the United States want to put their hands on it, as they did in Libya and Iraq.
"They cannot invent that Venezuela and Maduro have weapons of mass destruction in order to intervene against us."
Iran has also warned of history repeating itself against its own nation, and believes it is watching it play out against an ally.
"This confirms in the eyes of Iran's leadership that the U.S. is still in the regime-change business, and that the same kind of threat could come back and haunt Iran," Vaez told Newsweek. "This is bound to deepen the sense of paranoia within the regime."