U.S. and Saudi Ally U.A.E. Says It Can't Blame Iran for Attacking Tankers: 'We Don't Have Evidence'
The United Arab Emirates has broken with its U.S. and Saudi allies in declining to blame Iran for an apparent attack on four tankers last month, citing a lack of proof.
Speaking at a press conference alongside his Russian counterpart in Moscow, U.A.E. Foreign Minister Sheikh Abdullah bin Zayed Al Nahyan said Wednesday that "we cannot point the finger in blaming any country for the attacks that recently hit four tankers in our territorial waters because we do not have evidence." He added: "If there are any countries with clearer evidence, then the international community will certainly listen to them."
Sheikh Abdullah emphasized, however, that such information would need to be "clear, accurate, scientific and convincing to the international community" as cited by his ministry.
The U.S. quickly blamed Iran for the attack, which hit four vessels—one Emirati, one Norwegian and two Saudi—in the Gulf of Oman, which connects the Persian Gulf to the world's most important oil chokepoint, the Strait of Hormuz. Tehran has denied any involvement in the incident, which came at a time of heightened tensions in the region that have only further mounted since a second unclaimed attack hit two ships this month and Iran downed a U.S. Navy drone last week.
In response to Sheikh Abdullah's remarks, Iranian ambassador to the United Nations Majid Takht Ravanchi said that the U.S.' "baseless claim" was "not even supported by some of their closest allies," noting that "today, one of the regional countries distanced itself from U.S. claims." He added: "Neither fabrications nor blaming others can change the realities. The U.S. must stop military adventurism and false flag operations in the broader Persian Gulf region."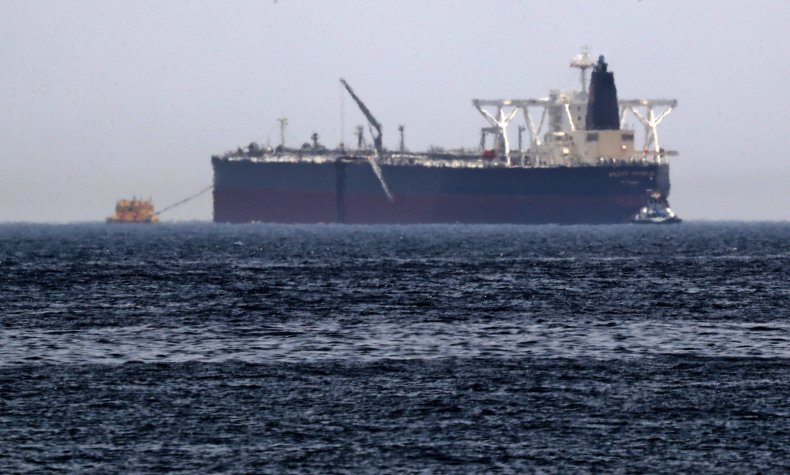 A U.A.E. investigation into the attacks, which occurred off the Emirati port of Fujairah, did not assign any specific blame, but a joint press statement released earlier this month by the monarchy, alongside Norway and Saudi Arabia concluded that the damage appeared to be the result of mines "placed on the vessels by divers deployed from fast boats." Pending further results, the three countries said they found "strong indications that the four attacks were part of a sophisticated and coordinated operation carried out by an actor with significant operational capacity, most likely a state actor."
Just under two weeks after the May 12 attacks, however, Joint Staff Director U.S. Navy Admiral Michael M. Gilday told reporters that the Pentagon believed "with a high degree of confidence that this stems back to the leadership of Iran at the highest levels and that all of the attacks that I mentioned have been attributed to Iran through their proxies or their forces."
When the second set of attacks occurred on June 13, targeting a Norwegian and Japanese vessel, Secretary of State Mike Pompeo released a statement that very same day claiming "Iran is responsible," basing this assessment "on intelligence, the weapons used, the level of expertise needed to execute the operation, recent similar Iranian attacks on shipping, and the fact that no proxy group operating in the area has the resources and proficiency to act with such a high degree of sophistication."
In a statement released that same day, the United Kingdom backed the U.S. on both cases, claiming it was "almost certain that a branch of the Iranian military—the Islamic Revolutionary Guard Corps—attacked the two tankers on 13 June" and, noting the U.A.E.-led investigation into the May 12 incident, "We are confident that Iran bears responsibility for that attack."
The U.S. later released footage purporting to show the Revolutionary Guards removing an unexploded limpet mine from the side of the Japanese vessel damaged in the second attack. Iran has continued to deny its involvement, claiming potential false flag operations, especially as the second series of incidents coincided with a historic visit of Japanese Prime Minister Abe Shinzo to Tehran. Other international powers, along with experts, have expressed skepticism as well, while the owner of the Japanese ship told media that his crew reported two "flying objects" hitting the vessel, not mines.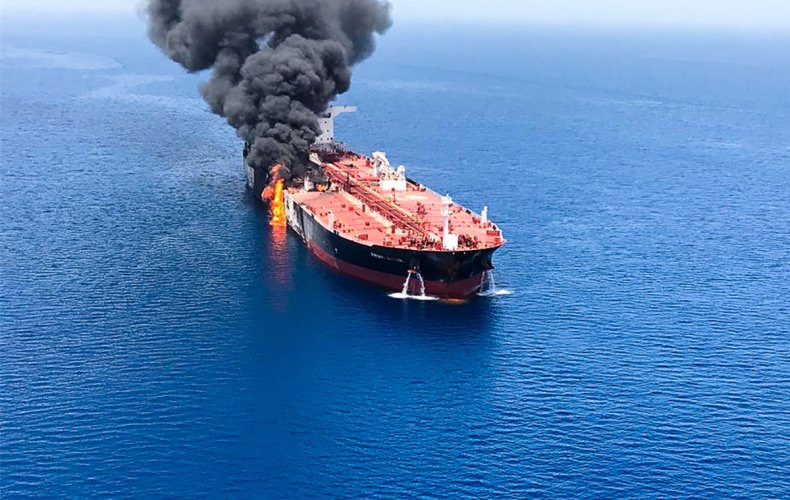 In an interview Wednesday with Saudi Arabia's Al-Sharq Al-Awsat newspaper, Abe called the attacks a "serious threat" to peace and prosperity, but declined to assign blame as Tokyo too investigated. Saudi Crown Prince Mohammed bin Salman told the same outlet earlier this month that Iran "disrespected" Abe with the most recent attacks and alleged that the Islamic Republic "and its proxies" were behind the events in May.
The Revolutionary Guards' shoot down of a U.S. Navy RQ-4A Global Hawk surveillance drone nearly brought regional frictions to a crisis point as President Donald Trump approved strikes against sites in Iran, but later suspended the command. The near-military action would have been the most serious confrontation yet between two longtime rivals who have further fallen out since the U.S. pulled out of a 2015 nuclear deal last year and imposed strict sanctions on Iran.
The U.A.E. and Saudi Arabia were among the few international voices to support Trump's exit and have joined forces against a Zaidi Shiite Muslim rebel group known as Ansar Allah or the Houthis, accused of receiving Tehran's backing in Yemen. Russia, however, has sought to rein in hostilities toward Iran from the Arabian Peninsula.
Speaking alongside Sheikh Abdullah, Russian Foreign Minister Sergey Lavrov argued that "Arab states of the Persian Gulf could support dialogue in one way or another, instead of pushing the region towards the point when the use of force is possible."
Update (4:20 p.m. 6/26/2019) This article has been updated to include comments by Iranian ambassador to the U.N. Majid Takht Ravanchi in light of U.A.E. Foreign Minister Sheikh Abdullah bin Zayed Al Nahyan's remarks.