Russia Says U.S.-Iran 'War' Possible, But 'We Will Convince' Them to Talk
A number of senior Russian officials have warned of the consequences of escalations between the United States and Iran in the Persian Gulf, where Moscow has sought to ease growing tensions it mostly blamed on Washington.
While military action was narrowly avoided Thursday when President Donald Trump suspended an order to strike Iran in response to the downing of a U.S. Navy Global Hawk RQ-4A spy drone, the feud between the two rivals grew increasingly heated as they exchanged harsh words and the White House announced further sanctions against the Islamic Republic's leadership. The situation has compelled international powers to call for self-control and Russian President Vladimir Putin's Afghanistan envoy Zamir Kabulov expressed his concerns Wednesday.
"I really want to believe that there will be no war. When we say 'war,' we sometimes mean short-term conflicts, unfortunately, and this cannot be ruled out, because tensions are running high," Kabulov told reporters, according to the state-run Tass Russian News Agency. "But this does not mean that it is inevitable, it is still possible to return to a conventional political process, and Russia is doing its best to make this happen."
Russian Deputy Foreign Minister Sergei Ryabkov also weighed in Wednesday, arguing "that all countries must exercise restraint" and "in any case, military action must be excluded," as Tass reported.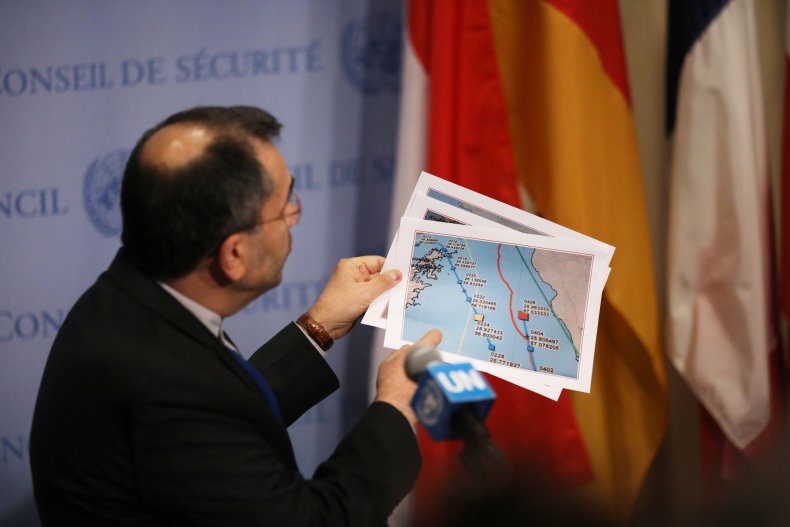 Moscow's top diplomat also shared his views during a press conference that same day, calling on Arab Sunni Muslim states of the region to also participate in a dialogue rather than incite further frictions with the revolutionary Shiite Muslim Iran.
"The Arab states of the Persian Gulf could support dialogue in one way or another, instead of pushing the region towards the point when the use of force is possible," Russian Foreign Minister Sergey Lavrov said. "This will be detrimental both to the Middle East and Africa. An international crisis will take place."
"We will convince our American and Iranian colleagues that they should move away from this dangerous line and start solving their differences through a civilized dialogue. Certainly, this implies ending the policy of ultimatums, sanctions and blackmail," he added.
The U.S. and Iran have been at odds for much of the four decades since the 1979 Islamic Revolution that ended Iran's 2,500-year-old, West-sponsored monarchy and brought to power the clerical leadership that exists today. The two rivals briefly came together—alongside China, the EU, France, Germany, Russia and the United Kingdom—to forge a 2015 nuclear deal that lifted international sanctions against Iran in exchange for curbing nuclear activities, but Trump abandoned the deal last year.
While Iran has always denied seeking nuclear weapons, the U.S. and regional allies such as Israel and Saudi Arabia have disputed this, and Trump argued the nuclear agreement did not do enough to prevent its alleged pursuit of such weapons, support for militant groups or its ballistic missile development. In leaving the deal, the U.S. has also laid out intense sanctions designed to sabotage Iran's trade ties.
The situation grew especially desire as the U.S. blamed Iran for explosions this month and last targeting foreign oil tankers in the Gulf of Oman, not far from the Strait of Hormuz, world's most important oil chokepoint and the subject of previous Iranian threats. Trump is now threatening the use of "great and overwhelming force" following the shootdown of the U.S. drone, which it contends was in international airspace despite Iran—and Russia—claiming otherwise.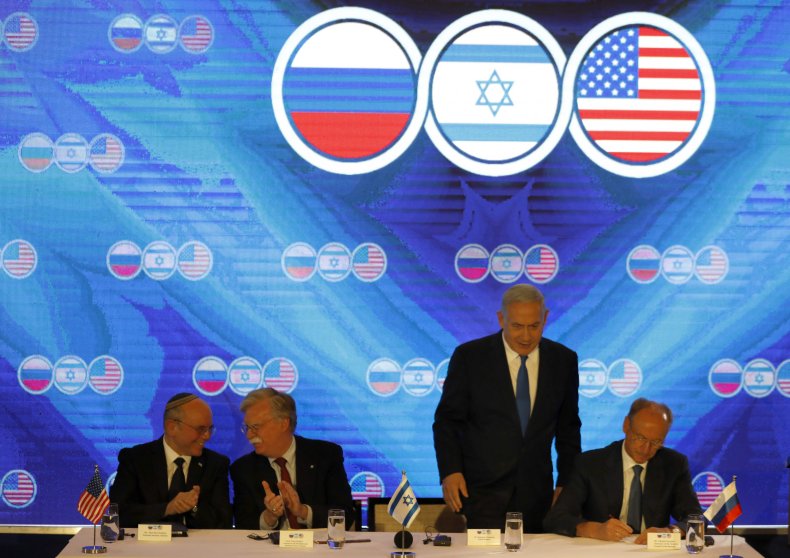 Asked by reporters Tuesday about his exit strategy for such a conflict, Trump said, "I don't need exit strategies." The following day, he explained to CNN that a war with Iran "would not last very long" nor would it involve "boots on the ground" or "a million soldiers."
Most experts disagree, warning that such a conflict could drag out significantly as Iran not only possessed the largest standing army and ballistic missile arsenal in the region, but enjoyed the support of various regional militias capable of harassing U.S. forces across the Middle East. The U.S. may also lack international support for such an endeavor as China, Russia and European nations called on the Trump administration to return to the nuclear agreement they still support.
Russian National Security Council Secretary Nikolai Patrushev also warned his U.S. and Israeli counterparts that Iran "has always been and remains our ally and partner" during a trilateral conference in Jerusalem. Moscow and Tehran teamed up to defend Syrian President Bashar al-Assad against a rebel and jihadi uprising backed for years by the U.S. and regional allies, including Israel, Qatar, Saudi Arabia and Turkey, which remains the only major opposition sponsor and works with pro-government Russia and Iran as part of a peace process.