Russia Warns U.S. and Israel That Iran Is Its 'Ally' and Was Right About Drone Shoot Down
A senior Russian official warned his U.S. and lsraeli counterparts that his country would continue to support Iran, which he backed in its recent claims regarding the shooting down of a U.S. spy drone.
Russian National Security Council Secretary Nikolai Patrushev was the sole voice defending Iran in historic trilateral talks Tuesday alongside White House national security adviser John Bolton and Israeli National Security Council Adviser Meir Ben-Shabbat in Jerusalem. As the U.S. and Israel hardened their stances against their mutual adversary amid heightened tensions in the Middle East, Russia has sought de-escalation and dismissed attempts to liken Iran to jihadis such as the Islamic State militant group (ISIS).
"In the context of the statements made by our partners with regard to a major regional power, namely Iran, I would like to say the following: Iran has always been and remains our ally and partner, with which we are consistently developing relations both on bilateral basis and within multilateral formats," Patrushev said following the meeting that lasted more than two and a half hours, according to the state-run Tass Russian News Agency.
"This is why we believe that it is inadmissible to describe Iran as the major threat to the regional security and, moreover, to put it on par with the Islamic State or any other terrorist organization," he added.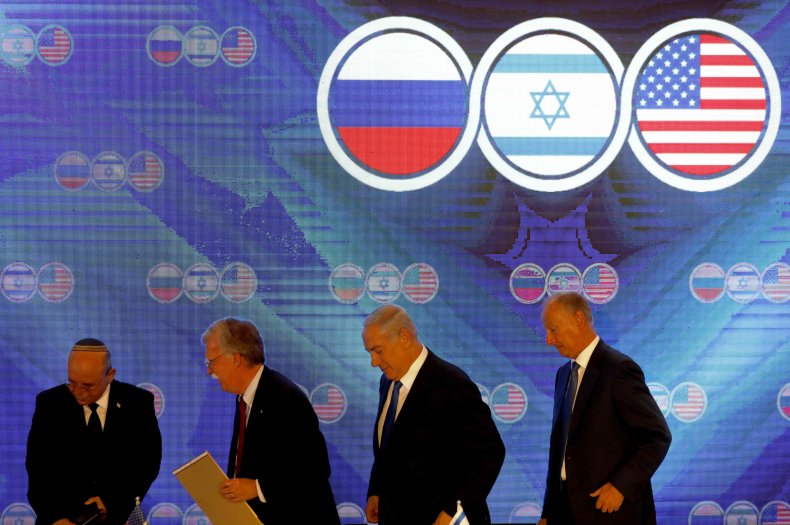 President Donald Trump's administration took an unprecedented step in April by labeling Iran's elite Revolutionary Guards—an official branch of the Iranian armed forces—a terrorist organization, pinning it to various attacks across the region and beyond. Iran's own Supreme National Security Council quickly branded the U.S. military's Middle East-tasked Central Command with the same label and Iranian lawmakers later voted in support of the measure.
The decision came one month ahead of the anniversary of Trump's exit from a 2015 nuclear deal with Iran, also endorsed by China, the EU, France, Germany, Russia and the United Kingdom—all of whom still back the agreement. The accord saw Iran suspend much of its nuclear activity in exchange for international sanctions relief, but Trump felt it did not go far enough, especially to curb Tehran's alleged support for militant groups and its ballistic missile development.
Iran has consistently denied seeking nuclear weapons, but has also resisted U.S. attempts to alter its foreign and domestic policies. As Bolton—a longtime proponent of military action against Iran—warned last month of an alleged heightened threat posed by Iran to U.S. interests in the Middle East, Iranian officials announced they would begin reconsidering their commitments to the deal and have since declared their intention to enrich uranium beyond what was outlined in the 2015 agreement.
Meanwhile, the U.S. has blamed Iran for repeated rocket attacks on Iraqi bases associated with the Pentagon's military presence there and explosions targeting foreign oil tankers in the Gulf of Oman, not far from the world's most important oil chokepoint, the Strait of Hormuz. Iran has denied these charges, but the U.S. has boosted its regional military presence with at least 2,500 additional troops, a carrier strike group and a bomber task force.
The situation grew especially grave late Wednesday when the Revolutionary Guards downed a U.S. Navy RQ-4A Global Hawk spy drone that they claimed had breached Iran's territory, even as U.S. Central Command contended that the unmanned device remained in international airspace. Both sides produced conflicting maps purporting to prove their narrative and Patrushev weighed in Tuesday on Moscow's behalf for the first time, saying he had "information from the Russian Defense Ministry that this drone was in Iranian airspace" as reported by Tass.
In response to the drone downing, Trump ordered strikes against several sites in Iran, but suspended the command at the last minute, as Newsweek and several other outlets reported, later saying he felt an estimated 150 casualties was "not proportionate" to the destruction of an unmanned device.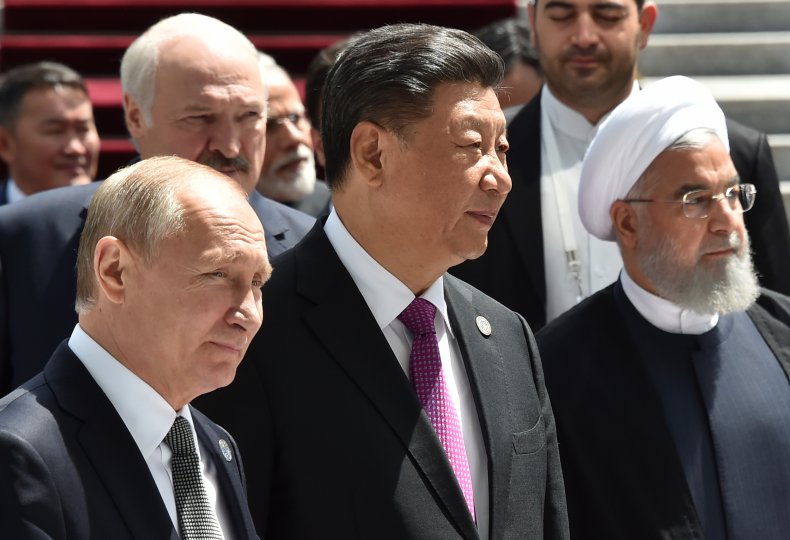 Patrushev also cast doubt on U.S. evidence linking Iran to the Gulf of Oman attacks, which occurred both this month and last. The Pentagon released footage purported to show the Revolutionary Guards removing an exploded limpet mine from one of the damaged ships, but Iran has suggested that it was being framed as the blasts occurred just as Japanese Prime Minister Abe Shinzo made a historic visit to Tehran.
Russian Foreign Minister Sergey Lavrov initially stated that his country had "no such intelligence data" to support either side, but even then only commented on "vague alleged evidence provided by the United States, some video footage, some pictures, which raise serious questions even among its closest allies." China and European powers also joined Russia in calling for restraint.
Moscow and Tehran have bolstered ties in recent years, especially since coming together to defend Syrian President Bashar al-Assad against a rebel and jihadi uprising backed for years by the U.S. and its regional allies, including Israel, Qatar, Saudi Arabia and Turkey. The U.S. ultimately shifted its support away from an increasingly Islamist, yet fractured opposition to back largely Kurdish alliance against ISIS, which the Syrian government and its various paramilitary allies also fought with backing from Russia and Iran.
With ISIS largely defeated, the U.S. again shifted its attention in Syria toward expelling forces said to be under Iranian command. Israel has launched hundreds of airstrikes over the years targeting positions said to be linked to Tehran in the neighboring war-torn country. Russia has condemned Israeli strikes in Syria and deployed updated S-300 surface-to-air missile there in response to a friendly fire incident last year in which Syria air defenses accidentally downed a Russian surveillance plane. However, Moscow has yet to intercept any Israeli raids.