Russia Says It Doesn't Know What Happened in Gulf, But U.S. Photos Do Not Prove Iran's Role
Russia's top diplomat has denied having any intelligence on who was behind recent attacks against oil tankers in the Gulf of Oman, but warned that the United States has yet to prove its claims that Iran was the culprit.
Asked by the state-run Tass Russian News Agency if Moscow had any insight into what caused the explosions that damaged two commercial vessels Thursday less than 100 miles away from the world's top oil chokepoint, the Strait of Hormuz, Russian Foreign Minister Sergey Lavrov said Tuesday that officials "do not have such intelligence data." He did, however, comment on footage produced by the Pentagon purported to link Iran to the acts.
"We see the very vague alleged evidence provided by the United States, some video footage, some pictures, which raise serious questions even among its closest allies," Lavrov said.
"We stand for conducting a thorough investigation of all these incidents. By the way, the Islamic Republic of Iran has been in favor of this from the very beginning," he added. "As for how the situation may develop, then, yes, the situation is alarming. I would not immediately make negative and disastrous predictions."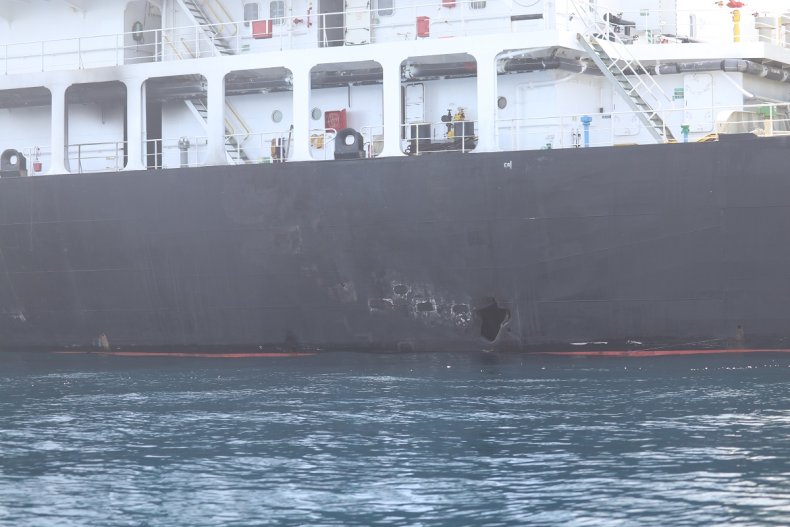 U.S. Central Command—named a terrorist organization by Iran after President Donald Trump's administration branded the Revolutionary Guards with a similar title—first released grainy footage Friday it claimed showed the elite Iranian force removing an unexploded limpet mine from one of the attacked ships. Amid Iranian denials and international skepticism, the Pentagon released a second batch of clearer footage again purporting to show the Revolutionary Guards involved in the incident.
"We must demand that all parties show restraint and not allow any harsh actions, especially on the basis of the same logic that the West used in many other cases under the name 'highly likely,'" Lavrov told Tass. "These 'very likely' and 'most likely' names involve problems too serious to be handled so easily. Therefore, only the investigation and only an agreement to normalize the situation"
Lavrov further called on "fostering a dialogue between all the countries of the Persian Gulf," including the Sunni Muslim monarchies such as Saudi Arabia that have supported the Trump administration's "maximum pressure" campaign against Iran. He also cautioned that "those who rely on inciting passions between Arabs and Persians, Arabs and Kurds, inside the Arab world - between Sunnis and Shiites, are not guided by the interests of the peoples of the region, but by their geopolitical narrow interests."
Lavrov, in many ways, echoed his Chinese counterpart Wang Yi, who also on Tuesday, called "on all sides to remain rational and exercise restraint, and not take any escalatory actions that irritate regional tensions, and not open a Pandora's box." He warned that, "in particular, the U.S. side should alter its extreme pressure methods" and argued that "any unilateral behavior has no basis in international law."
Russian Deputy Foreign Minister Sergey Ryabov went even further, accusing the U.S. that same day of following "a deliberate policy to instigate a war" with Iran.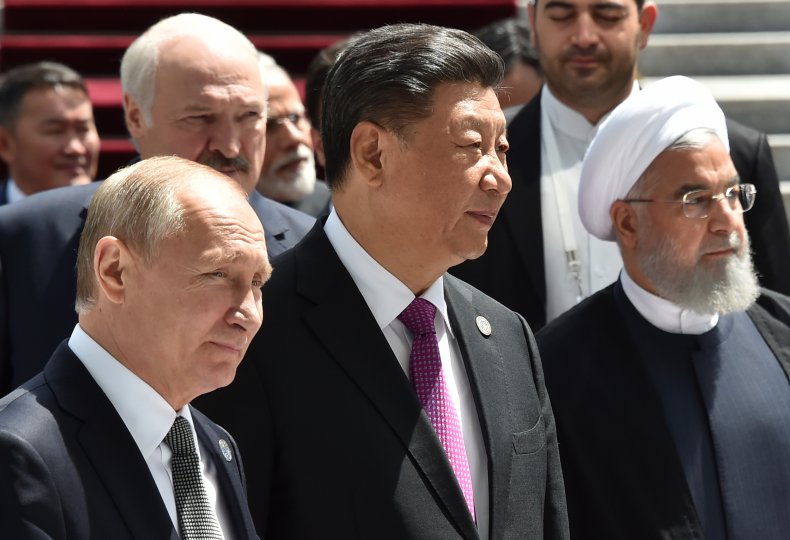 Both Russia and China were continued backers of the 2015 nuclear deal that the Trump administration abandoned last year. The agreement's other signatories—the European Union, France, Germany and the United Kingdom—also remained in support of it, but have so far failed to normalize trade ties with Iran as the U.S. threatened economic punishment. A number of officials from Europe and other governments traditionally allied to Washington have also cast doubt on the Pentagon's narrative of events in the Gulf of Oman.
Iranian President Hassan Rouhani secured further international support Friday at meetings with Russian President Vladimir Putin and Chinese President Xi Jinping on the sidelines of the Shanghai Cooperation Organization in the Kyrgyz capital of Bishkek. Still, world powers still backing the nuclear deal have raised concerns as Iran announced Monday it would soon enrich uranium past the levels outlined in the agreement, though Tehran has always maintained it did not seek nuclear weapons.
The U.S., however, has maintained its account of alleged Iranian involvement in the region. Acting Defense Secretary Patrick Shanahan announced Tuesday the military would send an additional 1,000 troops to the Middle East to assume defensive positions against what he and other administration officials such as Secretary of State Mike Pompeo and White House national security adviser John Bolton have identified to be a heightened Iranian threat.
Hours after this announcement, Trump tweeted that Shanahan had "decided not to go forward with his confirmation process" for his position, to which the administration has yet to formally nominate a successor since James Mattis' resignation in January. In a statement of his own, Shanahan said his decision was due to "a painful and deeply personal family situation from long ago"—an apparent reference to recent interviews with The Washington Post regarding his 2011 divorce and alleged incidents of domestic violence within his family.