U.S. Releases Cartoon Condemning Russia's New Missile, But Shows Wrong Weapon
The United States' mission to the NATO Western military alliance released a cartoon Friday blaming Russia and its new cruise missile for the collapse of a Cold War-era arms treaty — but appeared to depict an entirely different weapon.
The nearly three-minute animated video was published on Twitter by the U.S. Mission to NATO, which stated that Russia "still has a chance to save" the 1987 Intermediate-range Nuclear Forces (INF) Treaty banning land-launched missiles ranging between 310 and 3,420 miles "by coming back into full & verifiable compliance" by an August deadline previously announced by President Donald Trump. The video makes the argument that, since 2014, "it was clear that Russia had been violating the treaty for several years by creating a missile system called SSC-8."
SSC-8 is NATO's name for the Novator 9M729 cruise missile, which the U.S.-led coalition claims goes beyond 310 miles, thus breaching the terms of the INF. Describing the weapon as "a mobile system that can be hidden and is massively destructive," the video showed an armed Russian transporter erector launcher labeled SSC-8 among trees.
The weapon it was carrying, however, did not match up to the 9M729, which Russia first showcased in January in a bid to disprove U.S. claims. Instead, it appeared to show the Iskander short-range ballistic missile, known to NATO as SS-26—a weapon the U.S. has not claimed was in violation of the INF.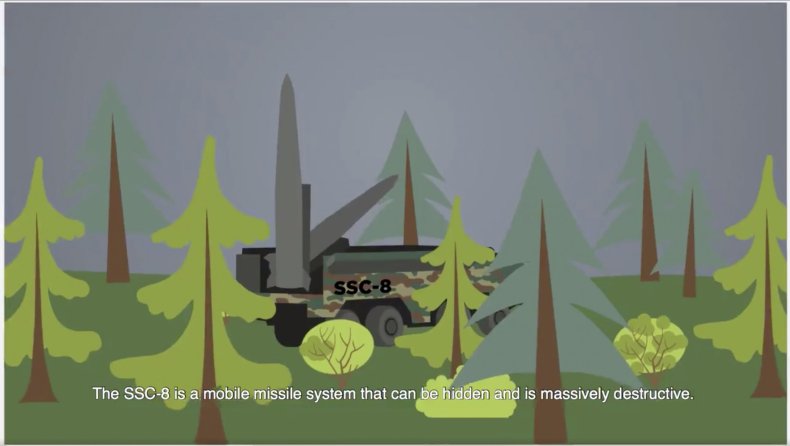 The administration of former President Barack Obama was the first to challenge Russia's claims on the 9M729, which the video says Moscow denied even existed until 2017, the year Trump took office. The video claims that "over the past 5 years, U.S. officials have met and discussed the SSC-8 missile system with senior Russian officials more than 30 times trying to to get them to return to treaty compliance, but Russian has squandered these opportunities."
Trump first announced he may withdraw from the INF last October and, following the U.S. and Russia's failed attempts to come to a mutual understanding, Secretary of State Mike Pompeo announced on February 1 that the U.S. was formally suspending its INF commitments. Washington gave Moscow six months — until August 2 — to change course before the U.S. would give formal notice of its withdrawal from the treaty.
In addition to defending the 9M729's capabilities as compliant with the INF, Moscow has counterclaimed that the U.S.' Aegis Ashore defense system based in Romania and soon to be operational in Poland could be used offensively as well, thus violating the treaty. Russian officials have argued as well that the Pentagon's fleet of drones could be restricted by the agreement, which Moscow officially withdrew from earlier this month after Russian President Vladimir Putin signed a bill voted on by lawmakers.
Putin had for months since Trump's exit committed to a self-imposed moratorium on developing once-banned medium and intermediate-range missiles, but his officials have since signaled that this was likely to change in response to indications that the Pentagon was already working on such weapons.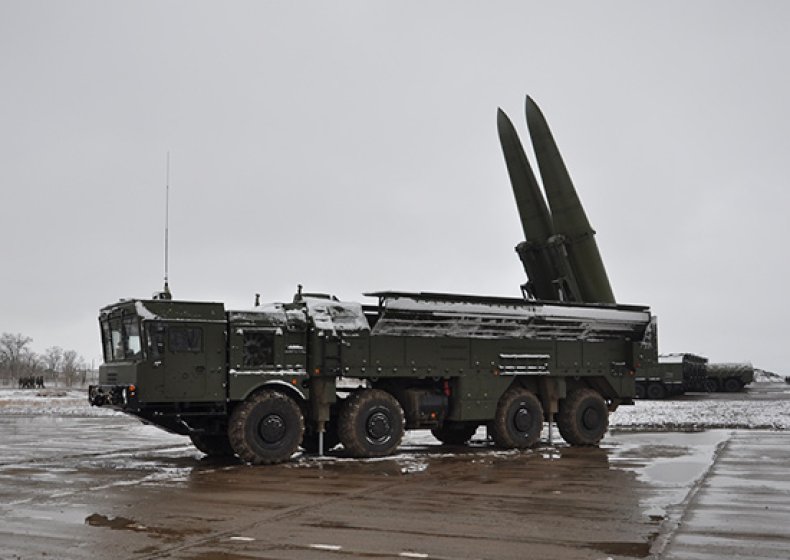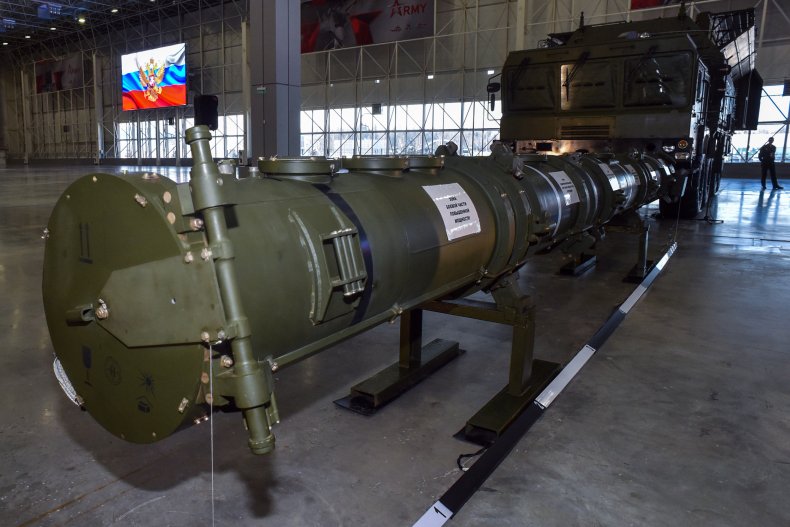 Major General Andrei Sterlin, head of the Main Operational Directorate of the Russian military's general staff, said last Thursday that "it is possible that the Pentagon has decided to step up facilities preparations without waiting for legal procedures concerning the INF Treaty to complete."
That same day, Russian Deputy Foreign Minister Sergei Ryabkov made a similar observation, further warning that "we are starting to gear up for a potential deployment of U.S. intermediate-range ground missiles" and that "the decisions on response measures are being implemented."
In an interview with BBC News, NATO chief Jens Stoltenberg warned Thursday that the coalition would take "measured, defensive" steps in response to the INF's collapse, which he blamed on Moscow. He added: "We have to be prepared for a world without the INF treaty and with more Russian missiles."
The U.S. and Russia have so far managed to maintain other arms control pacts such as the New Strategic Arms Reduction Treaty (START), but this too appeared to be in danger as Trump strove for new non-proliferation measures that included China as well as the U.S. and Russia. Beijing, which has significantly less nuclear weapons than Washington and Moscow, has repeatedly said it was not interested in such an arrangement.