Russia Gives First Look at Weapon That Is Causing U.S. to Leave Nuclear Missile Treaty
The Russian military has for the first time showcased a new, nuclear-capable cruise missile system that the United States claimed was in violation of a Cold War–era missile treaty the White House has since announced its intention to leave.
The Russian Ministry of Defense held an exhibition Wednesday at the military-themed Patriot Park in the city of Kubinka, where the Novator 9M729 cruise missile system was shown off publicly for the first time. Washington claims the weapon breached the 1987 Intermediate-range Nuclear Forces (INF) treaty that restricts the deployment of land-based launchers with ranges from 500 to 5,000 kilometers (around 310 miles to 3,420 miles), but officials in Moscow defended the weapon Wednesday in front of foreign military attaches and press.
No Pentagon officials reportedly showed up, however, and, amid breakdowns in attempts to resolve the dispute diplomatically, Russian Deputy Foreign Minister Sergei Ryabkov told the crowd that "recent events clearly indicate that certain forces in the United States were not interested in giving us the opportunity to disprove their erroneous or fabricated information, because it would allow us to close this question once and for all."
"It is clear that this problem was created and expanded by no means in order to get it off the agenda so easily," he added.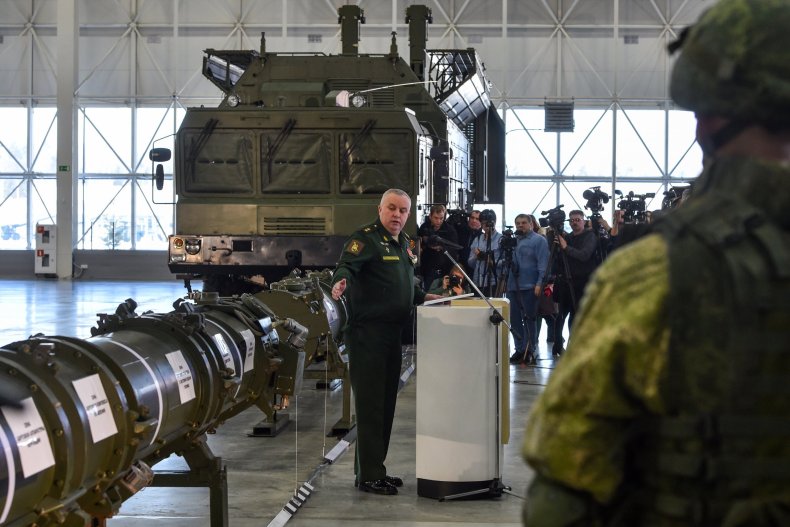 The State Department first accused Moscow of violating the INF in 2014 and revealed in late 2017 that the 9M729, known as the SSC-8 to the U.S.-led NATO Western military alliance, was the weapon it was concerned about. Russia has claimed it was the U.S. that was breaking its treaty commitments by deploying defensive missile systems across Eastern Europe that the Kremlin contends could be used offensively as well.
Speculation mounted in October that President Donald Trump would formally leave the INF, and, later that month, he announced his intention to. An attempt to negotiate earlier this month broke down and the U.S. was reportedly set to begin the process of leaving the INF as early as next week. Both countries have vowed to respond to the deployment of missile systems disallowed by the treaty, through reciprocal measures and, potentially, military action.
During Thursday's briefing, Russian Army Lieutenant General Mikhail Matveyevsky, the head of the country's missile troops and artillery, described the 9M729 as an updated version of the 9M728, which utilizes the existing Iskander-M short-range ballistic missile system. He claimed that the 9M729 actually had a range of 480 kilometers (just under 300 miles), which would actually make it 10 kilometers shorter than its predecessor and fully compliant with the INF.
Matveyevsky said this range was confirmed during the Zapad or "West" exercises alongside Belarus in 2017, one of Russia's largest post-Cold War war games to date, yet dwarfed by last year's Vostok or "East" drills alongside China and Mongolia. Rising tensions between Russia and NATO since at least 2014 have helped fuel dueling military maneuvers across the region.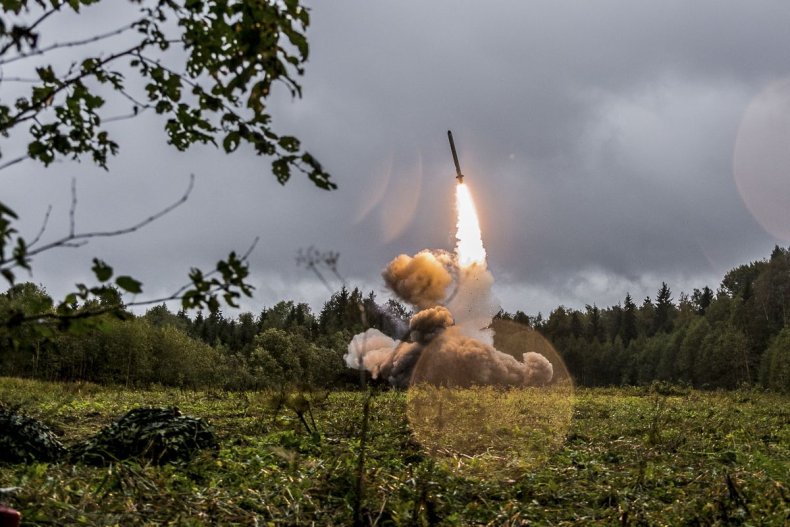 This tense political atmosphere has stymied attempts to solve the INF issue, and it has also blocked initial discussions on renewing the Strategic Arms Reduction Treaty that limits the number of nuclear warheads and delivery systems the U.S. and Russia may possess. Russian Foreign Minister Sergey Lavrov argued last week that his side brought "constructive proposals" to talks regarding the INF to a meeting with U.S. officials, but U.S. Under Secretary of State for Arms Control and International Security Affairs Andrea Thompson claimed Moscow officials "did not come prepared to explain how it plans to return to full and verifiable compliance."
U.S. permanent representative Robert Wood called the 9M729 an "illegal missile" at the United Nations–sponsored Conference on Disarmament on Monday. He warned: "Russia must verifiably destroy all SSC-8 missiles, launchers and associated equipment in order to come back into compliance with the INF Treaty."
Trump's recent unveiling of the 2019 Missile Defense Review, which included proposals for a global missile defense system and space-based interceptors, has also stoked warnings of an "arms race" by Russia and China, which have begun to develop new cruise missiles and hypersonic weapons.