Video of Iran Destroying U.S. Navy Ships Set to Rock Music Airs on State TV
The Islamic Republic of Iran News Network has aired an animated video showing one of the country's small submarines taking out a fleet of U.S. warships in the Persian Gulf amid real-life tensions between the two longtime foes.
The roughly minute and a half clip that aired Monday on the semiofficial news outlet began with an aerial view of a U.S. Navy aircraft carrier in the Strait of Hormuz surrounded by Arleigh Burke–class guided-missile destroyers—the USS The Sullivans, John Paul Jones and Decatur—and a fourth vessel.
The scene is set to the guitar solo from rock band Queen's 1977 arena anthem "We Will Rock You." The music then cuts to a more ominous soundtrack as the sail of one of Iran's Ghadir-class midget submarines surfaces in the foreground.
One by one, the U.S. ships sink into the sea after they are hit by Iranian torpedoes. Two fighter jets manage to take off before the aircraft carrier descends, and all five sunken vessels are shown.
"Forty years," an on-screen caption reads, referring to the Islamic Revolution that ousted Tehran's West-backed monarchy and brought Shiite Muslim clerics to power. "Our Iran has the technology to manufacture very advanced Ghadir-class submarines."
The clip was originally aired last February, around the time Iran was celebrating four decades of the Islamic Republic. It was later shared again by the Middle East Media Research Institute, a press monitor, as well as journalist Kian Sharifi.
In the past year, the U.S. and Iran have locked themselves in a cycle of tensions in the Persian Gulf region, especially in Iraq, where they have engaged in direct attacks on each other. After a series of escalations between the U.S. and Iraqi militias aligned with Iran, Quds Force leader Qassem Soleimani and his entourage were killed by a U.S. drone last month in Baghdad, leading to a retaliatory Iranian missile strike on Iraqi bases housing Americans.
While the White House initially announced zero casualties from the Iranian assault, the Pentagon has since revealed that up to 50 soldiers have been treated for traumatic brain injuries.
U.S.-Iran frictions have steadily worsened since President Donald Trump's 2018 decision to walk away from the multilateral nuclear deal with Iran and impose heavy sanctions on the Islamic Republic. Iran has sought to work with France, Germany and the United Kingdom to resolve outstanding disputes over the agreement, which is also supported by China and Russia.
Beijing and Moscow recently teamed up with Tehran to hold their first-ever joint naval drills in the Indian Ocean and the Gulf of Oman. While Iran has sought to involve regional powers in a Coalition for Hope, or Hormuz Peace Endeavor, to ease cross-strait tensions, the U.S. has established a rival coalition, known as the International Maritime Security Construct, involving Albania, Australia, Bahrain, Saudi Arabia, the United Arab Emirates and the U.K.
Saudi Arabia, Iran's top regional rival, won its own hypothetical war in December 2017 when an animated clip produced by a pro-government account imagined Saudi armed forces destroying the Iranian navy, capturing Soleimani and invading Tehran.
While the U.S. and Iran have largely avoided direct confrontations such as those recently seen in Iraq, the two nations have a bloody history in the Persian Gulf and have trained for potential all-out conflict.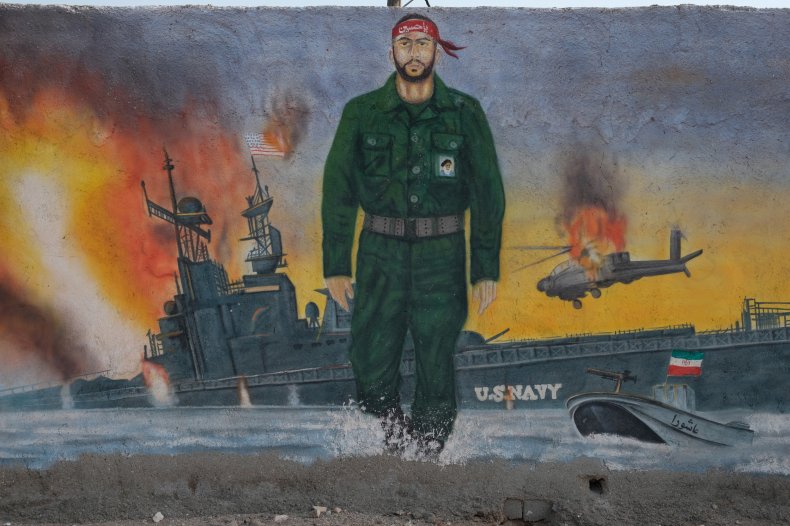 Last year's Iranian attacks on oil tankers and ongoing unrest in the region share parallels with the regional situation in the 1980s. The Iran-Iraq War, in which Washington mostly supported the latter nation, was accompanied by tanker wars near the Strait of Hormuz and neighboring bodies of water. There, the U.S. conducted a massive bombing campaign against Iranian warships in April 1988 in response to mine attacks blamed on the Islamic Republic.
Another major confrontation came less than two months later in July 1988 when the Ticonderoga-class guided-missile cruiser USS Vincennes targeted what was thought at the time to be an attacking Iranian F-14. Instead, the cruiser opened fire on Iran Air Flight 655, a Dubai-bound passenger flight, killing all 290 people on board.
That event, and Washington's refusal to apologize, has long served as a definitive moment in U.S.-Iran relations. Tehran, however, has recently found itself admitting fault after accidentally shooting down Ukraine International Airlines Flight 752 with surface-to-air missile fire, killing 176 civilians just hours after the Iranian missile strike on U.S. facilities in neighboring Iraq.
The U.S. has deployed thousands of additional troops and equipment, including the USS Abraham Lincoln carrier strike group, to the Middle East over the past year as tensions with Iran grew. Iranian officials, including Soleimani's successor, Brigadier General Esmail Qaani, have vowed further acts of revenge in order to expel U.S. forces from the region.