Middle East War Video Shows Saudi Arabia's Explosive 'Invasion' of Iran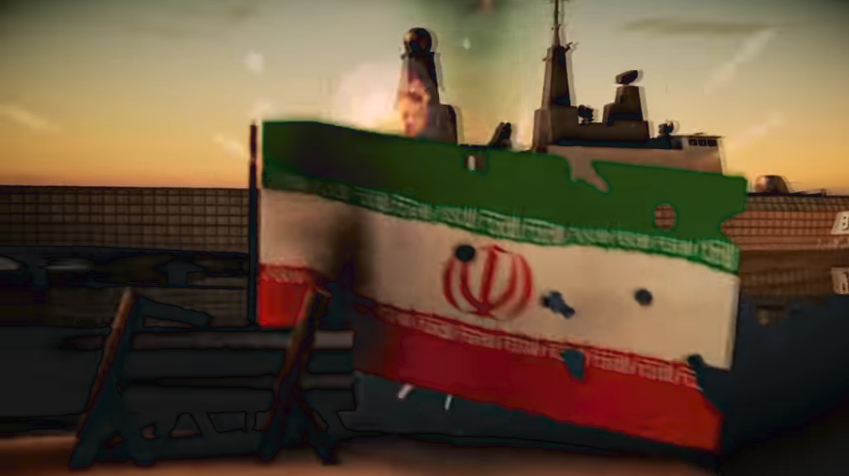 A viral propaganda video depicting a Saudi Arabian invasion of Iran has dominated social media in the Middle East in recent days as the proxy war between the two rival nations has continued to play out across the region to devastating effect.
The animated video, titled "Saudi Strike Force," has been viewed nearly a million times on YouTube and imagines Saudi Arabia's one-sided takeover of Iran following an unprovoked attack on a humanitarian vessel.
Related: U.S. accuses Iran of missile attack on Saudi Arabia launched from Yemen
The independent video verifying group Storyful has traced the video back to a YouTube account belonging to the Saudi Strike Force and a Twitter account of the same name. The nationalistic social media account has regularly reposted videos from Saudi Arabia's Ministry of Defense, though it does not have any official affiliation.
The Saudi Arabian press has said the six-minute video was "produced by young people from Saudi Arabia" but has not given any information about how it was funded.
The cartoon, which has all the production values of a late-1990s video game, begins with an attack by Iranian patrol boats on an unarmed Saudi aid ship, prompting a naval intervention. Throughout the ensuing fiery exchanges, both countries' vessels display their corresponding national flags. At one point, a Saudi chain gun rips through a flag of the Islamic Republic as it sinks a ship.
The conflict escalates and voice actors with American accents introduce pieces of U.S.-made military hardware used by Saudi Arabia: Patriot missiles, F-15 fighter jets, Typhoon fighters and Abrams tanks. All of them destroy their Iranian targets in a series of increasingly large computer-generated explosions.
With little resistance offered—virtually no Saudi losses are imagined by the video's creators—the tanks of the Gulf monarchy roll into Tehran. The country's minister of defense and next in line to the Saudi throne, Crown Prince Mohammed bin Salman, makes a cameo as he is informed of the victory. Qasem Soleimani, the commander of Iran's military foreign operations division and the animation's bogeyman, is captured.
The film, deemed sarcastic in the Egyptian press because of its hyperbole, ends with grateful Iranian citizens welcoming Saudi forces on the streets of Tehran.
After being posted on December 15, the video has grown in popularity in recent days as tensions between Riyadh and Tehran have escalated, particularly over the civil war in Yemen. Elsewhere, Shiite Iran and Sunni Saudi Arabia have backed rival proxies in power struggles in Iraq, Syria and Lebanon, fueling much of the conflict that has inflamed the region.
Following recent missile attacks on Saudi Arabia from Yemen, which Saudi and the United States claim were facilitated by Iran, Mohammed bin Salman has said the acts of aggression constitute a declaration of war by Tehran.