Iran Detained 7,000 Dissidents Last Year in a 'Shameless Campaign of Repression,' Report Says
Iran detained more than 7,000 dissidents in a "shameless campaign of repression" last year, according to a new report.
Amnesty International released the report on Thursday, citing new figures regarding the number of individuals arrested, flogged and held in detention in Iran during 2018. The crackdown targeted female protesters, religious minorities, environmental activists and citizens rallying about growing economic concerns.
"2018 will go down in history as a 'year of shame' for Iran," Philip Luther, Amnesty International's Middle East research and advocacy director, said in a press release. "The staggering scale of arrests, imprisonments and flogging sentences reveal the extreme lengths the authorities have gone to in order to suppress peaceful dissent."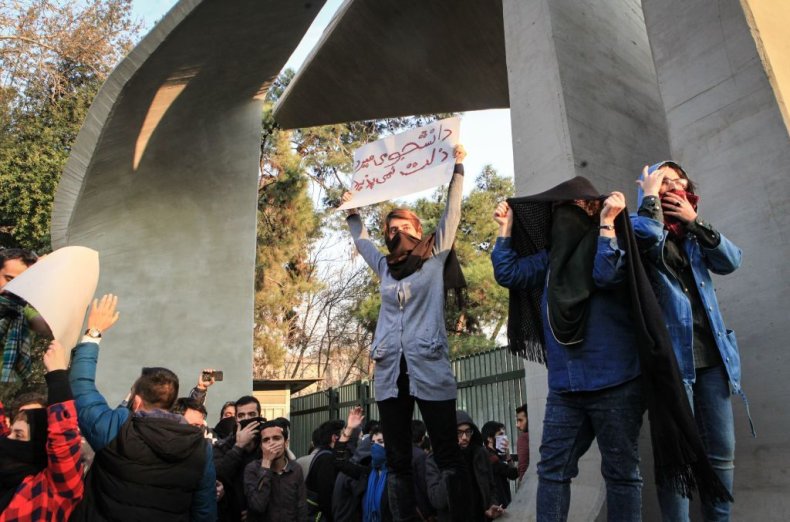 Luther pointed out that those targeted included "underpaid" teachers, factory workers and women's rights defenders. "Governments which are engaged in dialogue with Iran must not stay silent while the net of repression rapidly widens," he urged.
As an economic crisis has worsened in Iran, spurred by renewed U.S. sanctions, thousands of Iranians took to the streets last year on multiple occasions to protest. At least 467 people were detained as a result of these demonstrations, 38 of whom received lashes as punishment, according to the BBC.
Luther also cited a "particularly sinister crackdown" on female activists, with numerous women protesting the compulsory hijab (an Islamic religious garment worn by many Muslim women) being detained. Nasrin Sotoudeh, a prominent human rights lawyer defending the women, was also arrested, as was her husband, who launched a campaign for her release.
At least five environmental activists were charged with "corruption on earth," which can result in the death penalty. Authorities accused the individuals, who were detained along with at least 58 others, of "collecting classified information about Iran's strategic areas under the pretext of carrying out environmental and scientific projects," according Amnesty. Religious minorities, including Sufi Muslims, the Baha'is and Christians, were arrested and imprisoned for practicing their faith.
"Throughout the year—and particularly during the months of January, July and August—the Iranian authorities violently dispersed peaceful demonstrations, beating unarmed protesters and using live ammunition, tear gas and water cannons against them. Thousands of people were arbitrarily arrested and detained," the Amnesty report said.
The report came as Iran has criticized the U.S. for being an "apartheid regime" following the detention of a black American Muslim female journalist who works for Iran's state-owned Press TV. Marzieh Hashemi was detained while visiting family in the U.S. and held for 10 days without charges, British newspaper The Guardian reported. Authorities said she was a material witness for unspecified criminal proceedings. She was released late Wednesday evening.