Conservative hardliner Ebrahim Raisi has registered as a candidate in Iran's presidential elections which he is favored to win, potentially complicating talks between President Joe Biden and the Islamic Republic over its nuclear program.
Biden wants to restore the Joint Comprehensive Plan of Action (JCPOA) struck between Tehran and Washington, DC in 2015 which promised Tehran economic incentives for curbing its nuclear program.
Biden's predecessor, Donald Trump scuppered the deal, reimposing heavy sanctions to try to strongarm Tehran into new talks. Ongoing talks in Vienna between Tehran and the P4 + 1 group of countries has revived hopes of both a new nuclear deal as well as a rapprochement between Iran and the United States.
However, Raisi, who currently heads the judiciary, had previously taken aim at the terms of the nuclear deal struck by incumbent Hassan Rouhani, who is constitutionally barred from running for president again.
During the 2017 presidential campaign he lost, Raisi criticized Rouhani's "weak efforts" in negotiating the JCPOA, according to the Arab Weekly. The publication also reported that Raisi has the support of a wide range of conservatives and hardliners, who want to expand Iran's nuclear program.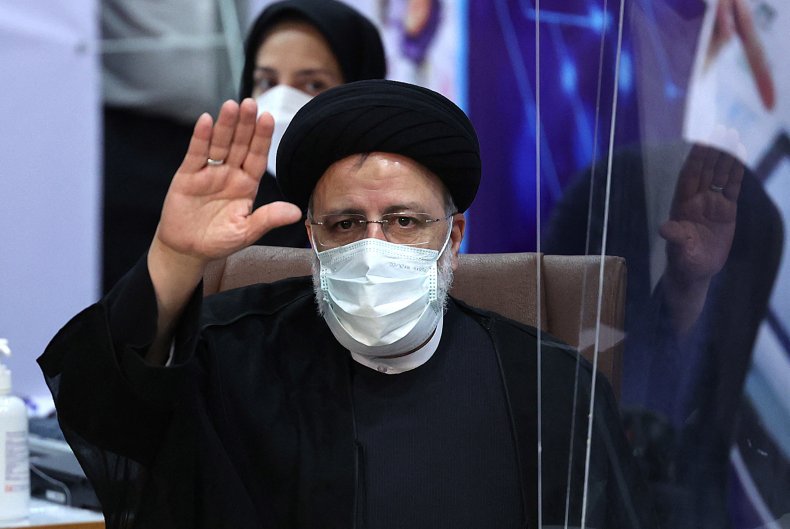 Meanwhile, Raisi's background as a hardline judge has raised concerns among reformists and rights groups. In the 1980s, he was among judges who imposed death penalties on thousands of political prisoners, Reuters reported.
Raisi is a former attorney general and custodian of the Astan Quds Razavi which manages the Imam Reza shrine and was sanctioned by the U.S. in 2019 for human rights violations.
Moves to broker an agreement on Iran's nuclear program comes amid a more positive attitude towards the U.S. in Iran since Biden took office.
A survey by IranPoll in conjunction with the University of Maryland CISSM in February found a majority (51 percent) of Iranians approved of the JCPOA, compared with only 44 percent in October 2020.
However, a clear majority (69 percent) said that Iran should not get involved in nuclear talks until the U.S. returns to the JCPOA and fulfills its obligations. Only 28 percent agreed that Tehran should immediately pursue a new nuclear agreement in talks with the United States.
Raisi promoted his domestic policy credentials in his statement on Saturday, saying that focus of his candidacy would be to "fight poverty, corruption, humiliation and discrimination."
"I have come as an independent to the stage to make changes in the executive management of the country," he added, according to Reuters.
On Saturday, Ali Larijani, a former adviser to the supreme leader also signed up for the election on June 18 in which over 59 million people are eligible to vote.
But there is expected to be a low turnout due to economic problems, international isolation, and a lack of basic freedoms, the Atlantic Council said this month.
Analysis for the think tank by Shahin Milani said that it was uncertain whether the president would even have a "material impact" on Iran's domestic of foreign policy.
"The presidency of the Islamic Republic is not as important or politically relevant as foreign observers might believe it to be," the piece said.