Most Iranians Believe U.S. Should Enter Nuclear Deal First, No New Limits, Poll Says
Iranians overwhelmingly believe President Joe Biden's administration should first reenter the multilateral nuclear deal abandoned by the United States nearly three years ago before Tehran reinstitutes the full range of its own commitments to the agreement, a new poll has shown.
Iranians also rejected any new limitations proposed by U.S. officials seeking lengthier and more stringent measures against their country, the results showed.
The survey was conducted by the Toronto-based Iran Poll in conjunction with the University of Maryland's Center for International and Security Studies at Maryland in two rounds last fall and earlier this year. The findings, which covered a wide range of topics pertaining to security, health, the economy and more, were released Wednesday and shared with Newsweek.
What they show, among other things, is that Iranian ire toward the unilateral U.S. exit from the nuclear deal known officially as the Joint Comprehensive Plan of Action (JCPOA) and subsequent sanctions against the Islamic Republic is not limited to its government, but is shared by its people.
As the Biden administration seeks a calibrated return that demands Iran first reimplement certain restrictions it has lifted in retaliation, most Iranian citizens say Washington must make the first move.
"Posed in this binary fashion, about seven in ten (69%) thought Iran should not get involved in talks until the United States returns to the JCPOA and fulfills its obligations," an accompanying report said. "Only 28% thought Iran should immediately pursue a new nuclear agreement in talks with the United States."
When provided with several approaches to save the JCPOA, a majority of 89% agreed with a scenario in which Iran fulfills its obligations after the U.S. first returns to compliance. A smaller majority of 55% agreed with an outcome in which the two powers adhered to their initial promises at the same time.
A step-by-step approach was rejected at a near-split of 51%-47% against, and a U.S. return after the International Atomic Energy Agency verified Iran's compliance was more widely opposed with 65% disagreeing and only 32% in favor.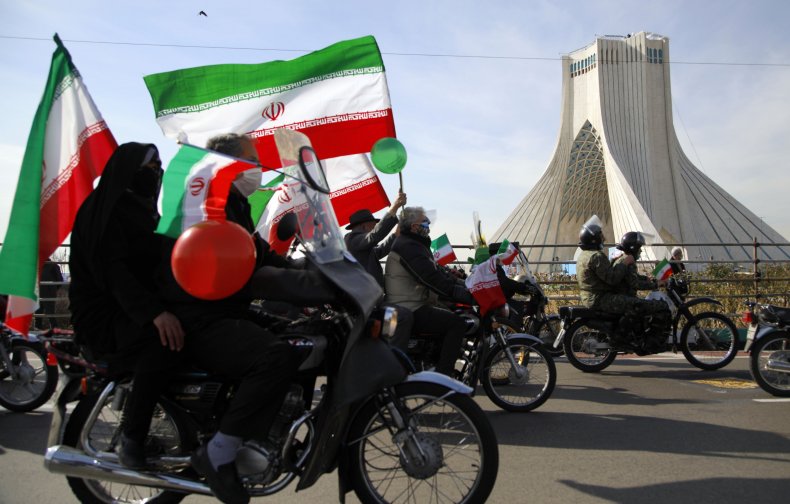 The poll comes amid positive signs for diplomacy between Washington and Tehran, although they officially remain at an impasse over their differing positions.
Following consultations with allied European signatories to the JCPOA, the State Department has announced for the first time that the U.S. would be open to the European Union overseeing a meeting of the original parties to the deal, which also include China, France, Germany, Iran, Russia and the United Kingdom—an offer that Iran has yet to accept.
State Department spokesperson Ned Price told reporters during a press conference Wednesday he would defer further discussions regarding potential diplomacy between Washington and Tehran over the JCPOA to that setting.
"Our patience is not unlimited, but we do believe—and the President has been clear on this ever since he was running for high office—that the United States and he felt that the most effective way to ensure Iran could never acquire a nuclear weapon was through diplomacy," Price said.
Travel restrictions were also lifted from Iranian diplomats in New York, and the previous administration's call for so-called "snapback" against the deal was repealed.
The U.S. also remained silent as Iran announced that it had reached understandings with Iraq, Japan, Oman and South Korea to gain access to billions of dollars of assets previously frozen under pressure from U.S. sanctions.
Washington then praised the International Atomic Energy Agency's efforts to reach a "temporary bilateral technical understanding" with Tehran after Iranian lawmakers forced the government to repeal the Additional Protocol regarding inspections of nuclear sites.
The Biden administration has maintained that economic restrictions will continue until Iran comes into compliance, and that even then the goal would be to establish "a longer, stronger" arrangement, one that also addressed other Iranian activities such as ballistic missile development and support for partnered militias group across the Middle East.
But the Iranian public does not seem to support further concessions.
"Respondents were asked how they would feel about entering such negotiations with the understanding that a comprehensive agreement could include lifting all current sanctions on Iran," the report said. "Two-thirds currently say that they would oppose such negotiations (41%, strongly), while 31% would support them."
All but one of the hypothetical demands were rejected outright by the majority. Some 85% saying they would refuse to "end all uranium enrichment in Iran," as opposed to 9% who would consider this measure, and just 3% who said they would accept it. A similar number, 83%, said they would not agree to "end all ballistic missile testing by Iran," as compared to 9% who may agree and 6% who would.
Lesser majorities of varying degrees opposed "limiting the range of Iranian ballistic missiles," "making the JCPOA limits on Iran's nuclear program permanent," "extending the duration of the JCPOA limits on Iran's nuclear program by a few years" and "limiting the range of the ballistic missiles of all countries in the Middle East."
The only potential talking point not entirely shot down was "limiting the exports of advanced weaponry by arms producers to all countries of the Middle East," a measure 22% said is acceptable, 28% said could be acceptable and 45% said is unacceptable.
Iranians were also skeptical of U.S. designs to curb the missions of Iranian activities such as the elite Revolutionary Guard and allied movements in countries like Iraq and Syria. A "near-unanimous" 88% believed those forces—designated as a terrorist organization by former President Donald Trump in a decision not yet withdrawn by Biden—have made Iran "more secure," with only 10% claiming the contrary.
If Iran were to agree to restrain the Revolutionary Guard, 57% felt it would "make the United States rely on pressures and sanctions to extract more concessions from Iran in other areas," and 19% thought it would "not have much of an effect on other issues," according to the report. An additional 16% argued it would "make the United States more accommodating in other areas of contention."
As the battle to save the JCPOA plays out, Iranian support for the deal has reached 51% this month. The figure is far from the high of 76% a month after the accord was first reached in August 2015, but marks the first time favorability earned a majority since October 2019, when it was speculated that Trump and Iranian President Hassan Rouhani might speak to discuss the deal.
With Biden having arrived in office just over a month ago, Rouhani was set to depart at the end of his first term following election season this summer. The recent survey indicated far more favorable views toward his more conservative rivals who are even more suspicious of the JCPOA than the current Iranian administration, potentially raising the stakes for a speedy resolution of the dispute.